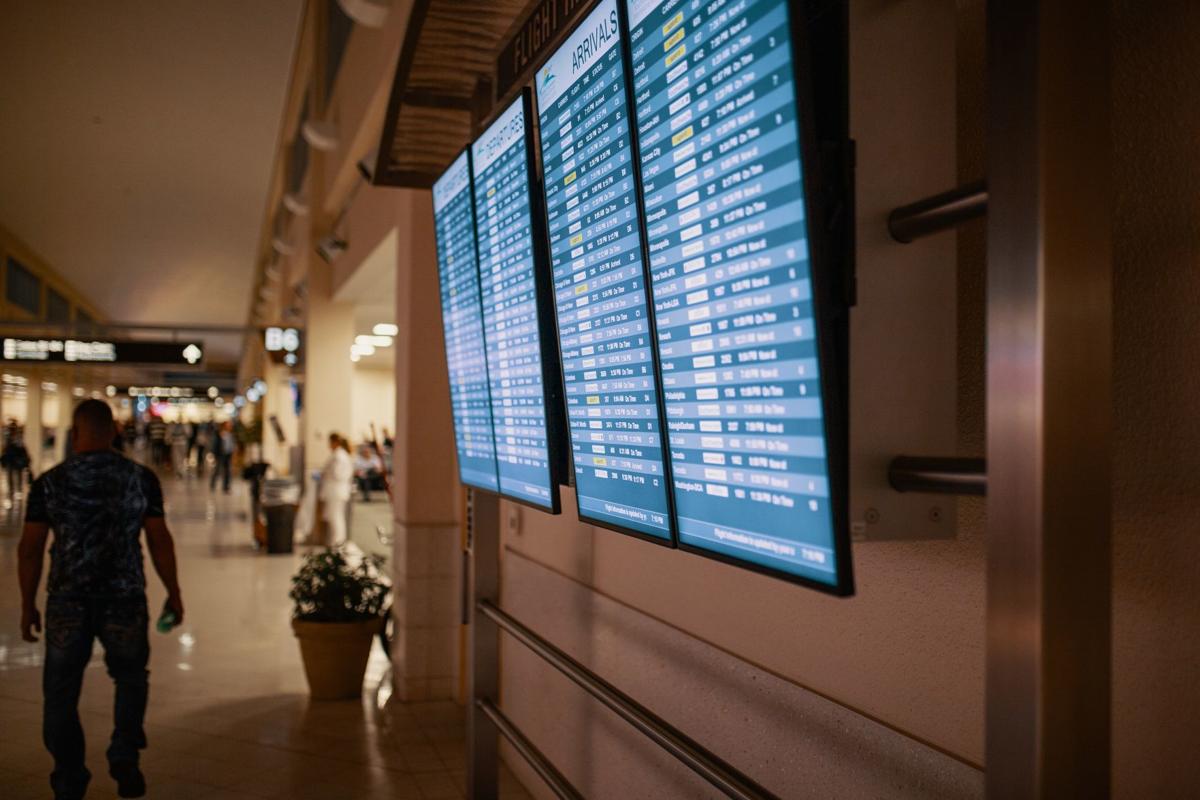 Cancellations and closures
Arts and entertainment
Academy Center of the Arts, all public performances through April 15, more information here
Academy Center of the Arts, Ladies of Laughter: Funny & Fabulous April 4, rescheduled to Sept. 10
Academy Center of the Arts, DANIEL TIGER'S NEIGHBORHOOD LIVE! canceled
Academy Center of the Arts, In the light of Led Zeppelin April 10, rescheduled to Oct. 17
Academy Center of the Arts, An evening with David Sedaris April 16, rescheduled to Sept. 13 
Academy Center for the Arts, Dance Theatre of Harlem, May 2, limited tickets
Academy Center for the Arts, Buddy Guy May 9, limited tickets
Amazement Square closed to the public until May 12
Amherst Glebe Arts Response, Inc. (AGAR) all upcoming programs in March and April canceled. AGAR's acrylic painting classes for residents at CENTRA/Fairmont Crossing and Central Virginia Alliance for Community Living have been postponed until further notice.
Amherst Habitat for Humanity - Working on a Building concert, March 2
Bedford Second Fridays 
Bower Center for the Arts closed to general public; anticipated reopening date is May 18
Commonwealth Chorale spring concerts scheduled for April 5 and April 7
Lynchburg's annual Garden Day April 21, as well as all Garden Week activities
Lynchburg Museum at the Old Court House and Point of Honor closed until April 15
LUMC showing of Little Shop of Horrors is canceled March 18
Maier Museum of Art at Randolph College will be closed and all programs canceled until further notice
National D-Day Memorial in Bedford is closed
Opera On the James: Barber of Seville March 27 & 29 canceled
Patrick Henry's Red Hill will close to the public starting March 25 for a period of 30 days, "at which time we will reassess"
Point of Honor closed until April 15
Renaissance Theatre production of Other Desert Cities is canceled
Thomas Jefferson's Poplar Forest
University of Lynchburg March 16 Documentary Screening and Q&A: "The Lavender Scare"
University of Lynchburg March 17 Lecture by Dr. David K. Johnson: "The Lavender Scare: Homosexuality and Presidential Politics from the Cold War to Pete Buttigieg"
University of Lynchburg March 18 Reading by Terrance Hayes
University of Lynchburg March 19 Climate Change: Educating Future Generations on the Challenges
University of Lynchburg March 20 Concerto-Aria Concert
University of Lynchburg March 23 Faculty Recital
University of Lynchburg March 26 "Fake News" lecture by Dr. Mark Summers
University of Lynchburg March 27 Curtain Call Cabaret
University of Lynchburg March 28 Curtain Call Cabaret
Nelson County Community Orchestra March 15 winter concert
Regal Cinemas 
Second Stage Amherst, Java and Jazz performance March 28
Venue Cinemas 
Education
Virginia public schools - Closed March 16 through March 27
Community college May commencements, including at Central Virginia Community College - Canceled
E.C. Glass High School Band mattress fundraiser - Originally scheduled for March 21, postponed.
E.C. Glass High School Prom - Originally scheduled for March 28, postponed.
Greater Lynchburg Habitat for Humanity has suspended homebuilding activity. Homeownership classes set for March 23 and 24 are cancelled.
Jefferson Forest High School Prom - Originally scheduled for March 28, postponed.
Liberty Christian Academy - Closed through March 27
Lynchburg City School Board - March 17 work session and public hearing regarding 2021 budget postponed.
Lynchburg City Schools - Education Task Force subcommittee meetings scheduled for March 19 and 20, postponed.
North Branch School (Afton) - Closed March 16 through March 27.
Piedmont Virginia Community College - Classes canceled March 16 and 17. Most classes will be moved online effective March 18.
Randolph College - Events until April 3, May 17 commencement postponed
Staunton River High School - Prom originally scheduled for March 21 has been rescheduled for 7-11 p.m. May 16 at the Taubman Museum in Roanoke
Sweet Briar College - Events "until further notice"
University of Lynchburg - May 15 commencement postponed, likely until fall
Virginia High School League: Debate, forensics and film festival state events have been canceled. Since no deadline for the film festival submission was reached, the league will seek a waiver from the Executive Committee to allow films created by underclassmen in the current school year to be entered next year if the school chooses; Robotics — Deadline for submission of portfolio materials has not been reached and entries and the state event are canceled; Creative Writing — Deadline for submission was before the state closure, and all materials are int he hands of judges working remotely. Awards take place by mail. Awards and critiques will be sent as scheduled; Publications Evaluation and Multimedia — Deadline for submission of materials is June 15, judging occurs over the summer and awards and critiques are given at the Media Championships in September. The deadline for entries will remain June 15, and the Media Championships will continue to be scheduled (tentatively) for Sept. 26. Entries will only be accepted electronically beginning this year. Additional information will be made available at vhsl.org beginning May 1.
Libraries
Amherst County's two library locations closed
Appomattox's J. Robert Jamerson Memorial Library in Appomattox - closed until further notice.
Campbell County Public libraries - Closed March 17 through 31
Friends of the Forest Library's annual book sale scheduled for April 16-18 has been canceled
Lynchburg Public Library's Memorial Avenue and downtown branch closed until further notice. 
Jefferson-Madison Regional Library facilities, including branches in Charlottesville, Crozet, Greene, Louisa, Nelson, Northside, Scottsville, and the Bookmobile, are closed to the public until the end of March
Jones Memorial Library - March 18 lecture
Localities
Altavista - All rentals of town facilities March 16 through 31. No rental requests will be accepted during this time
Altavista - Playground equipment at English Park, Shreve Park, Bedford Avenue Park, Avondale Park, and Coleman Memorial Park is not to be used because it is not sanitized; public restrooms at English Park and the Trade Lot Parking Lot have been closed
Amherst County Museum and Historical Society closed to the public until further notice. 
Amherst County administration office open by appointment only through June 10. 
Amherst County 18th Annual Business Awards Dinner planned for May 13 postponed; will be rescheduled at a later date. 
Amherst County recreation department - Senior centers and aerobics for seniors
Amherst County Service Authority Water Office is temporarily closed to the public; payments can still be made on site using a drop box
Amherst County's Commissioner of the Revenue and Treasurer offices closed to the public March 23 through March 27; employees serving public via phone and email. 
Amherst County Social for Seniors - April 20 event
Amherst Town Hall closed to the public effective 5 p.m. March 20 until further notice. 
Amherst County Economic Development Authority meeting for April 8 has been canceled. 
Amherst County School Board meeting for April 9 has been canceled. 
Appomattox County Chamber of Commerce - First Quarter Luncheon March 18 
Appomattox County Commissioner of the Revenue's office - Closed to outside visitors through March 27; business will be conducted via email and phone
Appomattox County Historical Society - Monthly membership meetings
Appomattox Court House National Historical Park - Closed until further notice. The 155th Surrender Anniversary Commemoration scheduled for April 8-12 also is canceled.
Appomattox town Kiddie Park on Hunter Street and Abbitt Park on Main Street
Bedford County government offices are closed to the public; more information is available here
Bedford Town Council - March 24 meeting canceled
Bedford County playgrounds, pavilions, and skate parks are closed. "Trails and open areas of the parks will remain available for the public to use, but residents are urged to practice extreme caution if choosing to visit these spaces," the county said.
CASA of Central Virginia offices closed through April 6; more information is available here
Central Virginia Planning District Commission - March 19 meeting
DMV offices -Until April 2
Lynchburg - Health and Human Services building is temporarily closed; more information here
Lynchburg Parks and Recreation - basketball courts are closed
Lynchburg Planning Commission Meeting for March 25 canceled. 
Lynchburg Regional Business Alliance - All in-person gatherings for at least two weeks, beginning March 18, and all events for the next eight weeks.
Lynchburg Water Resources: Water Plant & Museum, Wastewater Treatment Plant, and Pedlar Reservoir are closed to the public until further notice. Scheduled vendors' visits and deliveries are still allowed
Miller Center, at 301 Grove St.in Lynchburg, will close to the public at 5 p.m. through March 31.
Nelson County has closed some government offices to the public; details can be found here
Nelson County Visitors Center
Region 2000 Services Authority - March 25 meeting
Smith Mountain Lake - Visitor Center until at least March 31.
Smith Mountain Lake's annual spring cleanup initiative
Social Security offices closed to the public for in-person service
Wolfbane Productions - Physical box office closed; phone box office hours are 10 a.m. to 2 p.m. Wednesdays and Thursdays. All performances of "The Hannah Reynolds Story" are canceled.
Missions, Pantries and other Nonprofits
Central Virginia Continuum of Care - April 21 quarterly community meeting canceled.
Lake Christian Ministries' April 4 Easter Dinner distribution is canceled
Life Skills Institute classes are suspended until further notice
Lynchburg Cooks for Hunger Relief canceled
Lynchburg Humane Society closed to public
Park View Community Mission Wednesday evening meals and Clothing Connection
Park View Community Mission's Life Skills Institute closed until March 30
Park View Community Mission's Community Access Network services
Retail
Sports & Outdoors
George Washington and Jefferson National Forest are temporarily shutting down use of all campgrounds, bathrooms, OHV trails, trail shelters and many day-use areas
Liberty University springs sports, except spring football, are canceled
Liberty University's football pro day, scheduled for April 7, is canceled
Liberty University women's basketball Atlantic Sun Conference Tournament championship game at Florida Gulf Coast scheduled for March 15
Mindful Mountain Yoga at Second Stage in Amherst is suspended until further notice
Randolph College's spring sports are canceled
University of Lynchburg's spring sports are canceled
YMCA of Central Virginia Family Centers, Downtown YMCA, Express YMCA, and Jamerson Family YMCA, closed through at least March 29
YMCA of Central Virginia Kidz Gym and Child Watch, youth sports and other programs, birthday parties, special events, swim lessons, masters swim, swim team practice, School's Day Out, Livestrong at the YMCA and Diabetes Prevention Program postponed or canceled for two weeks
VHSL: all spring sports for 2020 are canceled. 
VHSL: Esports official matches for Season Two are canceled along with Season Two Tournament Championships. Students will continue to have access to the platform through the remainder of the semester through PlayVS. 
Virginia Department of Transportation 
U.S. 60 Corridor Study Meetings. Public invited to participate virtually. 
Postponements
Arts and entertainment
Academy Center of the Arts - Empty Bowls fundraiser postponed to Saturday, Aug. 29
Amherst Glebe Arts Response, Inc. is canceling or postponing the LIYA String Quartet on April 5, the opus87 piano Quartet on April 19, "Flat Five Jazz" on March 28, and "Gus Miller and Musicians" on April 24
Appomattox Oyster & Seafood Festival, originally set for April 18, postponed "until it is again safe to reschedule the event"
Amherst County Museum and Historical Society has postponed its March and April programs until later in the year.
Bower Center for the Arts After Jack concert postponed until June 27
Elon Ruritan Club open house in Amherst County planned for March 21 and community pancake breakfast planned for April 4 will be held at later dates to be determined. 
Hill City Pride and Spectrum Arts Society Pride Festival postponed until fall 2020
Nelson County Historical Society is postponing its April 4 opening of Oakland Museum and April 5 annual membership meeting until further notice.
Old Jail Museum in Courthouse Square and Clover Hill Village Living History Center opening
Riverviews Artspace events in March
Riverviews Artspace Indie Comics and Zine Fair postponed until June 13
Sonic-Con at Liberty University, originally scheduled for March 20 through 22; organizers hope to reschedule it for fall
Sweet Briar College - Literary event featuring Madeline Miller and Emily Wilson, scheduled for March 18, has been postponed.
Education
Amherst County Public Schools community wellness fair, originally scheduled for March 21, postponed until May 16.
SAT testing for March 14 at Jefferson Forest High School has been postponed. 
VHSL spring sports season delayed for two weeks. The first spring competition date will now be March 30. 
VHSL Forensics Championships postponed to May 2
VHSL Hall of Fame Induction Ceremony and Banquet, originally scheduled for April 26, postponed until Oct. 14
Health & Nonprofits
American Heart Association's 2020 Lynchburg Heart Walk
CASA Blanca Gala - Originally scheduled for April 3, postponed until this fall
The Free Clinic of Central Virginia is rescheduling all dental procedures except for extractions for the next two weeks.
Johnson Health Center, effective 3/26/20 and in place for the next 30 days:

Closed to patients: Amelon Square Immediate Care, JHC office co-located in Horizon and Bedford Dental

Open for Acute visits, Adults only: JHC Downtown (320 Federal St.)

Open for Well visits, Adults and Pediatrics: Amherst Community Health Center

Open for OB/Acute Pediatrics/Pediatric Dental Emergencies: Lynchburg Women's & Pediatric Health Services

Open for Adult Dental Emergencies: James River Dental

Open for Well visits in the morning, Acute visits in the afternoon: Rustburg Community Health Center and Bedford Community Health Center

Both pharmacies are open and delivery is available

Only allowing ONE visitor to accompany patients to their appointment

Strongly recommend that you wait in your car until your provider is ready. We will give you a call when it is time to come in

For Behavioral Health, most of our counselors and our psychiatrist are seeing patients via telehealth

We do have adult and pediatric providers who will see you via telehealth if you do not want to come into the office

Reminder, Johnson Health Center cannot test for Coronavirus. We can help you determine if you need testing, but we cannot provide the testing in our office
Sports
Central Virginia United soccer activities suspended through March 29
Sweet Briar College events suspended "until further notice"
United Way 5k on the Runway is postponed until Saturday, April 10, 2021
VHSL Foundation Golf Tournament scheduled for May 12 has been postponed to Oct. 5
Boonsboro Volunteer Fire and Rescue Golf Tournament is postponed to July 27. 
Concerned about COVID-19?
Sign up now to get the most recent coronavirus headlines and other important local and national news sent to your email inbox daily.