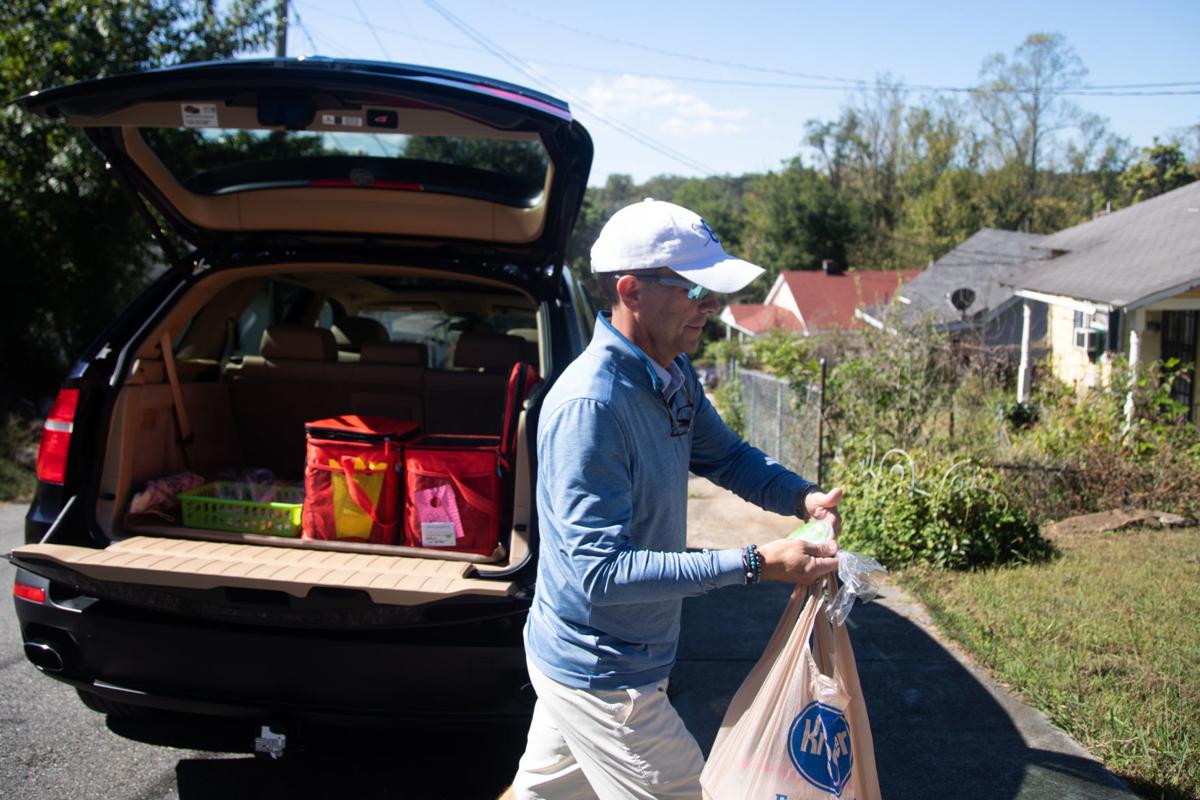 As the coronavirus outbreak continues to spread, driving unemployment numbers up and leaving many homebound or hungry, Lynchburg area nonprofits are working to meet a growing demand in the community.
Among them is United Way of Central Virginia, a nonprofit designed to advance education, income and health in the community by supporting programs, services and collaborations.
This week, it established a response and recovery fund to provide financial support to vulnerable populations during the pandemic.
With the fund, UWCV plans to support the work of area nonprofits in Lynchburg, as well as Amherst, Appomattox, Bedford and Campbell counties to provide direct services for families in need of food, healthcare, childcare, housing, utilities and employment support.
Bill Varner, CEO at UWCV, called the pandemic an unprecedented situation.
"With the number of families facing loss of income or a significant drop in income, this is the prime situation where United Way steps in," Varner said. "This is the work we do. It's just amplified because of COVID-19."
Representatives from United Way, Meals on Wheels of Greater Lynchburg and the Blue Ridge Area Food Bank, all said they are seeing a rising need in the community.
Despite shutdowns that have crippled many area organizations and businesses, these nonprofits continue to provide service to the region during the outbreak.
Calls to United Way's 211 number — a 24/7 free, confidential service that helps connect people to local resources — have gone up, in some cases, more than 300%, Varner said.
These are people who have a need, whether their power is about to be cut off, they are facing eviction, cannot support an elderly family member or are seeking shelter or food.
Even without turning on the TV, Varner said, from the spike in calls alone, the crisis in the community is apparent. Referral specialists in the call center are taking calls one after another.
They pick the phone right back up after setting it down. Voicemails stack up in the mailbox.
"It's something unlike anything we've ever seen," Varner said.
Though they could not provide hard data at this time, Abena Foreman-Trice, media and community relations manager for The Blue Ridge Area Food Bank, said they, too, are seeing an increase in demand.
Kris Shabestar, executive director of Meals on Wheels of Greater Lynchburg, said the already growing service that provides meals five days per week to homebound members of the community saw a spike in meal recipients this March.
With 28 routes serving 450 people every day, Meals on Wheels added about 40 new recipients this month.
"This is entirely unprecedented," Shabestar said. "We have experienced a lot of growth over the years, but nothing like this."
Many of the new recipients are seeking the service after being forced to shelter in place, Shabestar said. Others have been affected by canceled surgeries, while a "vast majority" are people with serious preexisting health issues.
Though they have implemented increased safety procedures to protect the health of volunteers and recipients, like dockside pickup of meals and leaving deliveries on the porch instead of handing them over face-to-face, Shabestar said they have lost about one-third of volunteers, many of whom no longer are able to deliver during the outbreak.
Foreman-Trice said the Blue Ridge Area Food Bank is experiencing a similar volunteer shortage, but people in the community have been stepping up to answer the call.
WD Holland and Frances Cashwell, two showroom employees at Foster Fuels, decided to volunteer at Meals on Wheels last week after hearing about the shortage.
Olivia Beavon, a propane marketer at Foster Fuels, said with COVID-19 altering businesses and lives across the state, it's more important than ever to send help into the community.
"There are so many people in need right now, everyone is going through this," Beavon said. "We have to look past ourselves."
While Meals on Wheels, Blue Ridge Area Food Bank and United Way continue normal operations as much as possible, some components of the organizations — like face-to-face engagements or mobile food bank sites — have had to suspend service during the outbreak.
Varner said alternate strategies, like United Way's newly established response and recovery fund, are surfacing to address both immediate needs and longer-term effects of the outbreak and recovery.
"Hopefully this is a once in a lifetime event," Varner said of the outbreak. "We just need to get through it."
Sarah Honosky covers Appomattox and Campbell counties at The News & Advance. Reach her at (434) 385-5556.
Sarah Honosky covers Appomattox and Campbell counties at The News & Advance. Reach her at (434) 385-5556.