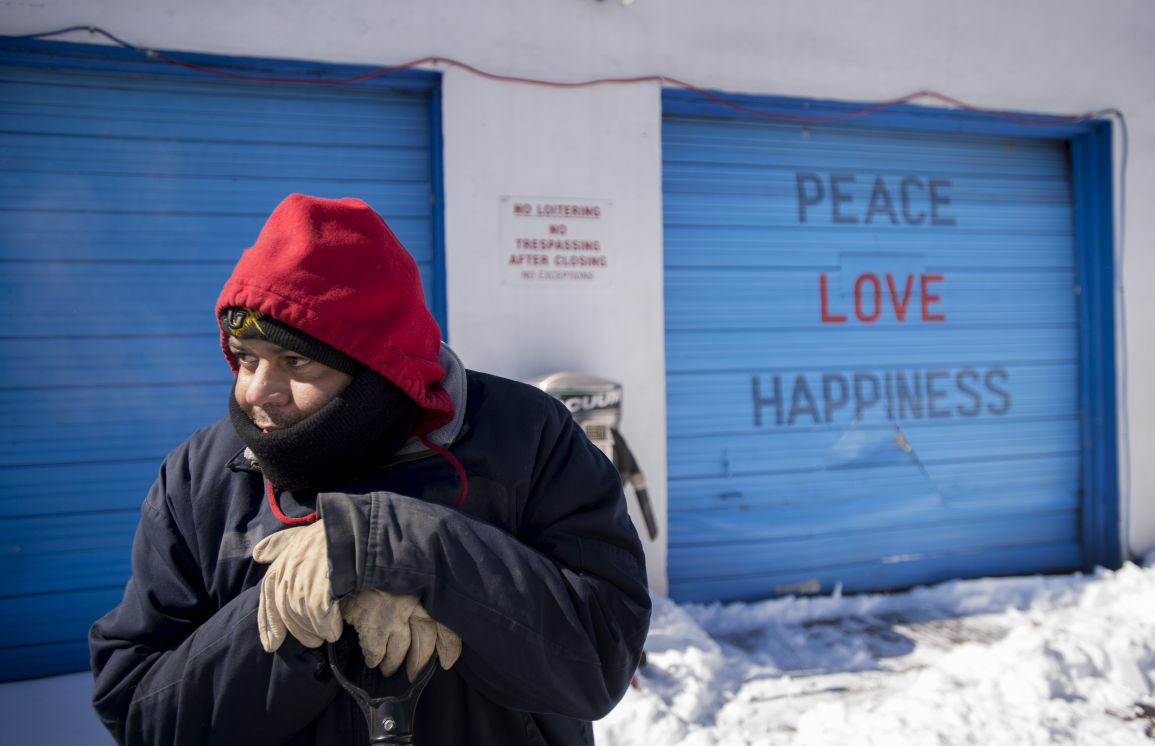 The record-setting cold temperatures Friday morning left many people either stuck inside their homes because of unplowed streets or having to leave their homes due to frozen pipes.
Lynchburg's low temperature of -11 degrees Friday marked the coldest of any day in the city since National Weather Service records began in 1893.
The weather service said the new record was observed Friday morning at Lynchburg Regional Airport. The previous all-time record low for Lynchburg was -10 degrees on Feb. 5, 1996.
The new low came on the heels of snowfall totaling 7 to 9.5 inches in most parts of the Lynchburg area earlier in the week, followed by a string of unusually cold days.
"Obviously this is an unprecedented Arctic air mass that we've had over our region," said Chris Fisher, a meteorologist with the National Weather Service's Blacksburg office.
Fisher said a variety of factors, including the air mass plus calm winds, clear skies and the snow already on the ground, were the "perfect ingredients" to bring the temperature down Friday.
While Friday's low beat the Lynchburg all-time record by only one degree, it topped the daily record for Friday's date, Feb. 20, by a wider margin. The previous Feb. 20 record, 7 degrees in 1896, was 18 degrees higher, according to National Weather Service data.
Lynchburg also set new daily records Wednesday and Thursday. Wednesday's low temperature of 2 broke the record for Feb. 18 of 3, set in 1979, while Thursday's low of 4 broke the record low for Feb. 19, set in 1903 at 8 degrees.
As the bitter cold gripped the region, nearly 6,000 electric-utility customers in the Lynchburg area, mostly in Appomattox County, were without power for part of Friday morning.
Teresa Hamilton Hall, spokeswoman for Appalachian Power, said the extremely cold temperatures likely contributed to equipment failures.
Central Virginia Electric Cooperative — which serves 14 counties, including Amherst, Appomattox, Campbell and Nelson — experienced issues with an offline substation and a transmission company that delivers energy to the area, according to Greg Kelly, member services manager.
Most of the region's outages were resolved by late morning, according to the utilities' websites.
Business was booming for local plumbers who were assisting residents with frozen pipes this week.
The frigid temperatures Friday shattered water pipes, according to several plumbing businesses.
"We've been extremely busy today. We've had some peoples' pipes freezing and bursting. We've had a couple of meters being frozen," said Stacie Tyree, owner of Tyree Plumbing in Lynchburg.
Adam Jewell, president of Randy the Plumber and Son in Lynchburg, said the company has been receiving similar calls "all week long."
"Gosh, we've probably had this week 25 calls for frozen lines," mostly in mobile homes, older houses and crawl spaces, Jewell said.
Sullivan Plumbing Express in Lynchburg normally doesn't do business on the weekends, but ran seven emergency calls for frozen pipes Sunday afternoon, said office manager Bill Sullivan.
"We're scheduling on standby basis now. It's just where our schedule of work flow permits," Sullivan said.
They'll be working with customers until about 10 p.m. or so.
Meanwhile, those looking for warmer weather have a while longer to wait. Fisher said Saturday's forecast calls for another one to four inches of snow and sleet.
While Sunday's high is predicted to reach the upper 40s, forecasts for the following few days only call for highs in the 30s.
On Thursday, truck drivers of the city of Lynchburg's public works department were busy answering "trouble" spot complaints on residential streets still covered in ice and heavy-packed snow despite previous efforts to clear them.
While responding to such a call on Winston Ridge Road near Campbell Avenue, driver Steve Regester said to his knowledge all of the city roads in Ward 2, which he covers, are passable but some roads were not completely cleared.
It could be a number of reasons: the grade of steep hills, some roads are more shaded than others and aren't as exposed to the sun and, most of all, record-breaking frigid temperatures have not cooperated and kept the thick snow in tact in places, he said.
"Some are more covered than others," he said. "So be patient, take your time and be safe. Be patient. We're coming."
The city's phone line for residents to report to public works areas needing attention has been constantly ringing the past several days.
"We had a lot of complaints yesterday but they were taken care of," said Regester, who has worked nearly three years for public works.
Regester is understanding of the mounting frustrations of those who still have heavy snow on their streets. He said on Monday night after his shift, it took him an hour and the assistance of a police officer to park at his home in the Link Road area. He added there is no way to make 100 percent of the population happy but the people he has come across have been understanding.
Using caution and a lot of common sense in driving on the roads goes a long way, he added. As he drove down icy spots Thursday, he said the truck was releasing chemicals to treat the road and give those riding along those spots more traction while driving.
TIPS FOR PREVENTING FROZEN PIPES
-Make sure the areas under your house or mobile home is sealed so wind can't get to underlying pipes.
-Open any cabinets under sinks so air can warm the pipes.
-Increase the temperature inside by a few degrees.
-Leave both hot and cold faucets dripping