The letters on a license plate can tell a lot about a person.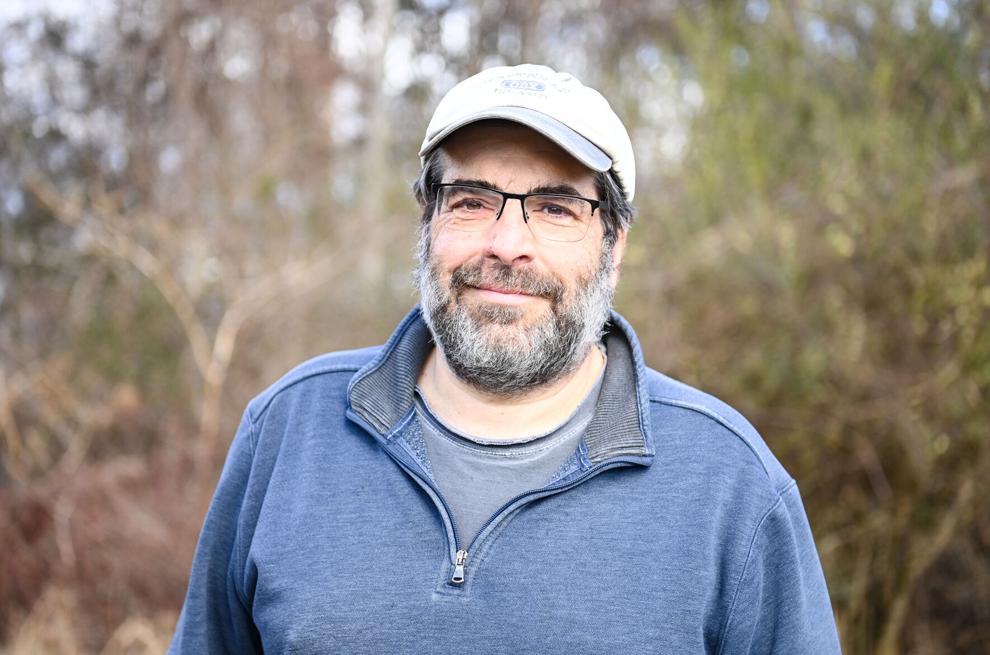 And for years, recently retired Lynchburg Deputy Fire Chief Robert Lipscomb was identified by the one on the front of his personal truck.
"LFDBC, LFDBC4, LFDDC," Lipscomb said, describing his personal truck's plates for the last decade-plus. Each plate describes one of the many positions he held for the city's fire department, such as battalion chief or deputy chief.
Now retired after spending "32 years and some change" with the Lynchburg Fire Department, his truck now sports a new plate: "ROLDBNS."
"Roll da bones," Lipscomb said, gesturing a roll of the dice.
"It's like, 'Hey, I'm just taking a chance. Let's see what it lands on, because I'm rolling the dice, man,'" the former deputy fire chief said with a smile.
That's the mentality Lipscomb said he is taking into his retirement, which became official Jan. 1.
Lipscomb, who started with the department in 1990 as a emergency medical technician, wasn't always sure that a career in public safety was what he wanted to do.
A 1989 graduate of Lynchburg College with a degree in middle childhood education, he said, "If I had my choice at the time, I'd have been a middle school history teacher, a social studies teacher."
After college, looking for work, Lipscomb began a job at Virginia Baptist Hospital in the radiology department because he had family working at the hospital.
"I guess a light bulb went off, like, 'Hey, I can become a paramedic and get into health care,'" Lipscomb said. "So I began with the fire department in July 1990 with the sole intention of being a paramedic for the Lynchburg Fire Department."
After transitioning into a firefighter role after about six years as a paramedic, Lipscomb wore many different hats, ultimately becoming deputy chief for operations.
In 2002, he became the department's public education and public information officer, bringing his education background full circle.
Asked why he is so passionate about education, Lipscomb replied, "I don't know, because I am the first in my family to follow that kind of track."
"I think I just enjoy sharing information with people and enlightening them on things, and helping them understand things that maybe they don't have specific knowledge about," he said.
Enlighten other people he did, according to Lynchburg Fire Chief Gregory Wormser, who called Lipscomb one of the "unofficial historians" of the fire department.
"What I think is most meaningful about him is the vast institutional knowledge that he had," Wormser said. "His thing was history, so he had this incredible repository of things that happened in his tenure ... that he was just able to provide anybody at a moment's notice who asked questions."
He added Lipscomb was "sort of an inspiration" to him, as he recalled meeting Lipscomb two times while Wormser was an upperclassman studying at Lynchburg College and Lipscomb responded on a fire department call Wormser was volunteering on.
"I was kind of like, 'I could see myself doing the work that he does,'" Wormser said about their first meeting.
Their second run-in gave Wormser a "big moment" in his career, a ride along with Lipscomb.
"That was one of the moments that turned for me. I was like, 'You know, I want to be in the fire department. I like what this about. I like what he is doing. I like what he is about,'" Wormser said.
After working in the fire department's training division for years, Lipscomb said, he returned to the field, where he served in positions such as an engine company captain, training chief and battalion chief, before later being promoted to deputy chief for operations.
With a career full of memories at the fire department, many moments still stick with Lipscomb.
The April 30, 2014, derailment of a CSX train carrying crude oil through downtown Lynchburg stands out as a "once in a career call" for Lipscomb, who was the incident commander that day.
Seventeen train cars derailed, and three were sent into the James River. A massive fire ensued, but no one was injured during the incident. The National Transportation Safety Board later said a broken rail likely caused the derailment.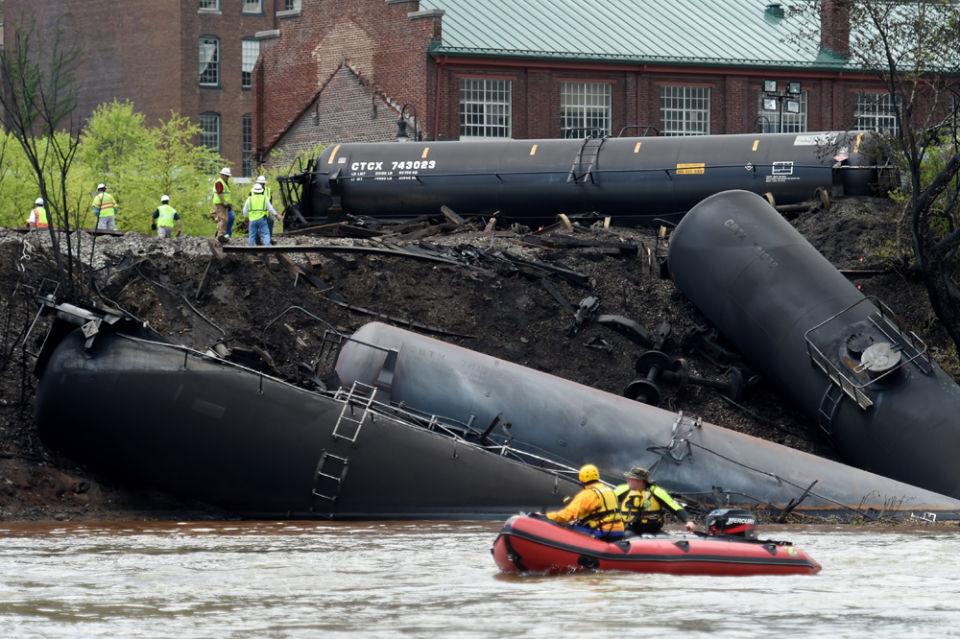 "I think the first memory, to try not to candy-coat it, would be like a 'Holy you-know-what. Like, oh man,'" Lipscomb described.
"There was a bit of fear. I mean it was a big deal. It was a big thing that could have gone really bad, really quick. It was overwhelming in the beginning. And intimidating."
He added because of the nature of the event, he had a "lot of really good help there really quickly" to get everything under control near 9th and Jefferson streets in downtown.
That event led to one of Lipscomb's proudest career moments, he said, describing the opportunity he got to present the work of the department that day during an international firefighters conference in Indianapolis.
"It was kind of just like my teaching experience at work," Lipscomb said about tying his two passions together.
Another moment in his career he is proud of has nothing to do with putting out fires. Instead, he remembers when, in the mid-1990s, he and several other firefighters found several unmarked graves at Presbyterian Cemetery for firefighters who had died in the line of duty.
About a decade after Lipscomb and his team's work, the department restored the graves further and honored the lives of five firefighters who died in the 1883 downtown Lynchburg fire and who were buried in the cemetery.
Lipscomb's work also led to the creation of the department's honor guard, of which he was the department's final remaining original member.
"I worked with the department and members to restore the site and mark the graves, and out of that came the honor guard ... so I'm pretty proud of that because that stuff is very important," he said.
Wormser said he is "super thankful" for what Lipscomb did for the fire department during his career, adding, "He certainly impacted countless lives, both professionally inside the department and as a caregiver outside the department."
Living by the new mantra on his license plate, Lipscomb said he is excited, if not at least a little scared, for this new time in life.
"Nobody knows me as anything other than a firefighter," he said.
After driving the same Ford Mustang to work on his last day in 2022 as he did on his first day in 1990, the retired "car guy" said he is ready to spend his time working on his Mustangs and two 1957 Chevrolets.
He also plans enjoying the "freedom" of not having to do firefighter things; such as getting a haircut, which he has not done since early December; or shaving, which he has not done since his last day on Dec. 16, he said.
"When I die, I'll die a firefighter. I mean, I take that with me for the rest of my life, that I'll always be one," he said.
"I am just waiting on my next assignment."