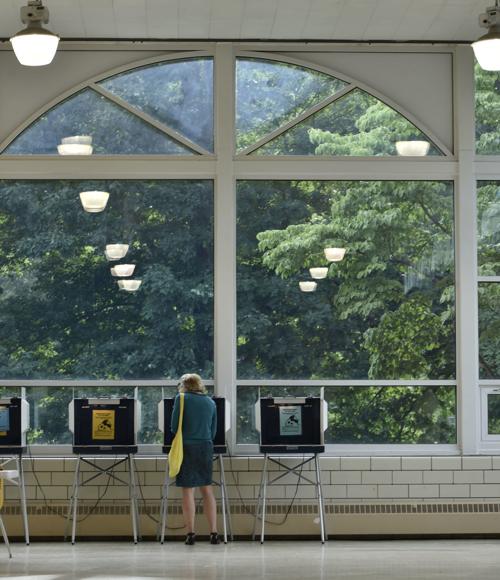 Lynchburg Republican Committee Chairman Wendell Walker won the GOP nomination last Tuesday to run for the 23rd House District seat in the General Assembly.
Walker, 66, narrowly defeated Lynchburg City Councilman Turner Perrow by a 42%-to-39% margin. Ron Berman, a conservative activist and the third candidate in the race, won 19% of the vote.
"Tonight I feel very confident that the 23rd district is going to stay in the Republican hand," Walker said. "We are going to keep that majority for our speaker, Kirk Cox, come November."
Walker rode to victory on a wide base of support among Republican voters across the 23rd district, which includes Lynchburg and parts of Amherst and Bedford counties. Though Perrow captured more votes in Lynchburg and Amherst County, Walker won a healthy vote total in the city and nearly half of the vote in Bedford County.Perrow, an Amherst native, carried his home county with 48% of the vote.
"Tonight is the people's night," Walker told supporters at a victory party. "This campaign was about the people in the 23rd district. It's not about Wendell Walker. But it's about you guys."
The June 11 race was decided by just over 10% of the district's registered voters, with about 5,958 people casting ballots for Walker, Perrow or Berman. Just 147 votes separated Walker from Perrow.
Walker is hoping to succeed retiring Del. Scott Garrett, a Republican and former surgeon from Lynchburg, who surprised both parties in March when he announced he would not run for reelection. Walker will face Democratic nominee David Zilles in the November general election.
Voters in the 23rd House district have historically favored Republican candidates. Garrett faced only one Democratic challenger in his four reelection bids and won by double digits in each race. In 2017, he won nearly two-thirds of the total vote, despite strong gains from Democrats elsewhere in the state.
All 140 seats in the General Assembly will be up for grabs in the fall and Republicans hope to hold onto the district to maintain a slim majority in the House.
As a longtime party official, Walker leaned heavily on locally elected Republican officials throughout the primary. Garrett donated $2,000 to his campaign and longtime Bedford County Sheriff Mike Brown endorsed him days before the primary.
"He has done so much work for so many people for so long," said Sen. Mark Peake, R-Lynchburg. "He's got over 30 years of helping other people get elected and I'm so happy for him."
Garrett credited Walker's victory to his tireless campaigning and ability to connect with local voters.
"Wendell Walker shares the values of the people of the 23rd district," he said. "Whether you're black or white, rich or poor, young or old, men or women, Republican or Democrat, people in 23rd district care about the four Fs. They care about family, they care about faith, they care about our freedom and they care about the future. I think that epitomizes Wendell."
Walker said he plans to step down from his role as Lynchburg GOP chair in the coming days. Eric Harrison, the vice chair and a prosecutor in Campbell County, will replace him.
Walker raised $18,000 for the primary race and spent most of it on advertising, according to campaign finance reports filed with the Virginia Department of Elections. He enters the general election with more than $27,000 on hand, largely thanks to personal loans to his campaign.
Reach Richard Chumney at (434) 385-5547.
Richard Chumney covers breaking news and public safety for The News & Advance. Reach him at (434) 385-5547. 
Get local news delivered to your inbox!
Subscribe to our Daily Headlines newsletter.