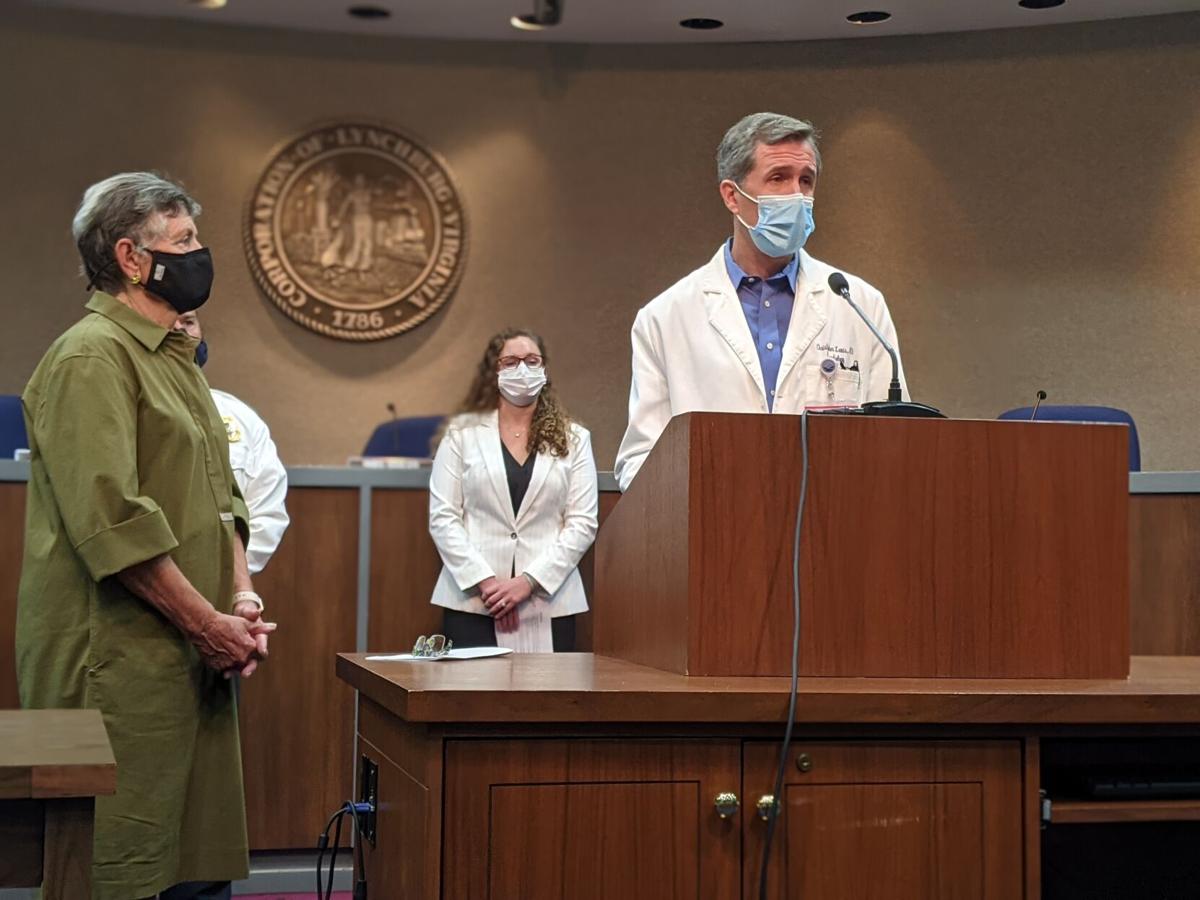 Lynchburg city officials joined with area health leaders Wednesday to detail how surges in local COVID-19 cases are taking a toll on the community, and to implore people get vaccinated and wear masks.
The rate of reported daily new cases in and around Lynchburg has been at an all-time high, surpassing the previous midwinter peak in the pandemic consistently for about a week, and it has recently made the area the most infectious part of the state.
Lynchburg recently has had the highest number of new cases per capita in Virginia, with an average of 134 new cases reported per day, according to data from the Virginia Department of Health. Over the past two weeks, 1,604 new cases of COVID-19 have been recorded, which would translate to about one person in the city out of every 50 contracting the disease.
Those infection rates have been stressing schools and health centers, especially as Lynchburg and the surrounding counties have low rates of vaccination, and protective measures and mandates present during the midwinter peak now are absent.
City leaders called a news conference Wednesday to ask for community help in easing infections back down through more vaccination and use of masks. While Centra Health officials have held news conferences with similar messages several times over the past year, Lynchburg officials have not done so since last summer.
Mayor MaryJane Dolan started off by calling local infection rates "disturbing," and said the numbers have led to a "dire situation" in the city.
What's behind Lynchburg's oversized infection rate
Cali Anderson, an epidemiologist with the Central Virginia Health District that includes and surrounds Lynchburg, said several counties in the district have "consistently maintained some of the highest county [COVID-19 test] positivity rates in the entire state of Virginia."
Low vaccine uptake in the area has translated to the highest infection rates in the state — Lynchburg, Campbell County and Bedford County occupy the top three spots in Virginia for their rate of spread, according to the nonprofit Covid Act Now project, which calculates that rate based on daily case numbers and other factors.
Lynchburg remains one of the least vaccinated cities in Virginia, with just more than 39% of people fully immunized, and none of the surrounding counties have broken a 45% vaccination rate, compared to VDH's 58.1% average for the state.
Anderson said rates of infection in Virginia this year are 8.5 times higher among unvaccinated people than among vaccinated people. Unvaccinated Virginians have died of COVID-19 at a rate of 9.2 times that of vaccinated Virginians, according to VDH data.
She added about 40% of Lynchburg's positive cases are among those 25 or younger, and nearly a quarter of cases are among young adults aged 19 to 25.
City Manager Wynter Benda didn't indicate the city would take any hardline measures to curb infections, mentioning rather that officials are encouraging vaccines and recommending masks "by example."
Lynchburg Fire Chief Greg Wormser said more than half of city employees are vaccinated and the city isn't considering mandating vaccination among them. He attributed a growing number of COVID-19 cases among city staff, largely among unvaccinated individuals, to community spread.
Immunization clinics are continuing, though scaled back from earlier efforts due to lowering demand, and Wormser urged any Lynchburg-area businesses to schedule an on-site vaccination clinic by calling (434) 455-5889, if desired.
In hospital beds
As of Wednesday, Lynchburg General Hospital had 101 COVID-19 patients — occupying close to a third of its total beds, according to Centra Health's Chief Clinical Officer, Dr. Chris Lewis.
Among those, 20 are in ICU-level care and 18 of those 20 are intubated. That means COVID-19 patients now are  occupying ICU beds in other units not devoted to the disease, and hospital caregivers are putting extra work into juggling space to get those patients into appropriate beds. 
"This is challenging because the rate of admissions continues to increase," he said. "Over the last almost two weeks, we have been admitting between 10 and 20 COVID-positive patients every day."
Two new mothers are being treated at the hospital for COVID-19, he said, with their newborns testing negative for the disease this morning.
LGH saw 35 COVID-19 patients die in August and 26 have died in the first two weeks of September — almost two patients per day, a rate Lewis expects to increase.
The hospital — which is treating any COVID-19 patients needing ICU care in Centra's Lynchburg and Farmville coverage area along with patients showing less severe symptoms from around CVHD — is over capacity in terms of standard beds, according to Lewis. That's led to patients waiting for beds in the emergency room, 14 of them there this morning.
"At our worst, we've had over 30 in the ER waiting for a hospital bed," he said. "That is simply not a safe situation. In addition, it limits the care we can give regular patients."
Wormser stressed people should only seek hospital treatment in the case of a true medical emergency.
In classrooms
With Lynchburg City Schools also seeing record infection numbers, Superintendent Crystal Edwards said many families have expressed alarm and school employees are struggling to fill vacancies and keep classrooms running.
In September and October 2020, she said the division saw 13 cases, whereas 55 have been reported in the first two weeks of this month alone. In just more than a month since classes have started this year, the schools have confirmed 94 positive cases.
"Last year, we thought children did not get COVID; they were less affected by COVID," she said. "This year, the delta variant is different."
With no COVID-19 vaccine yet authorized for children younger than 12 and increased transmission because of the variant, health professionals have noted more children needing hospitalization. Lewis has said area pediatricians have informed Centra of more severe symptoms among children that could require hospital-level care. As of Wednesday, the National Center for Health Statistics had recorded 516 COVID-19 deaths among children up to age 18.
Between positive cases and quarantines, teachers, teaching assistants and administrators are all needing to step in to cover classes, Edwards said, and LCS staff is exhausted and overwhelmed.
Virginia schools must stay open five days a week as per a law passed last year, with provisions for remote learning in the case of an outbreak. Some individual schools in Lynchburg and the surrounding counties recently have shut down physical classes for days or weeks at a time after consultation with local health officials, and Amherst County Public Schools shut down all of its schools for about 10 days earlier this month.
Edwards added there's some discussion among state officials about changing the law, saying schools are experiencing negative side effects of a well-intended measure taken when the pandemic looked different.
LCS hired 10 teachers for its virtual academy — planned before the delta variant surged in the U.S. — and Edwards said it has a waitlist of more than 200 students from families wanting a remote option out of concern.
To help keep emergency room care up to speed, keep classrooms running and keep parents at work, the plea from these leaders on Wednesday was the same: Get vaccinated and wear a mask.