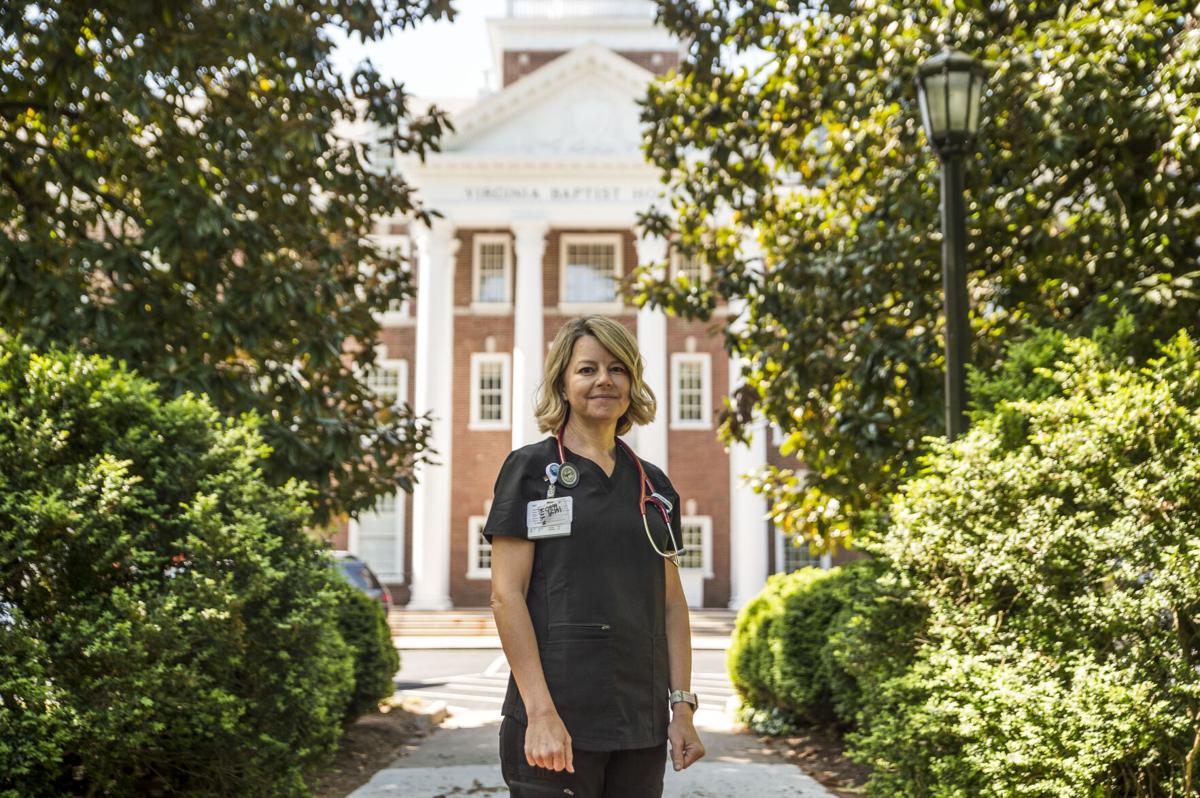 When it comes to maintaining comprehensive and watchful care of a patient, the act of speaking up can be invaluable.
It's something that won Julie Miller the "Virginians Speak Up for Safety" award from the Virginia Hospital & Healthcare Association in early March, which is given to two health care workers in the state each quarter.
Miller, a nurse at Centra Health's inpatient geriatric psychiatric unit, said she's always enjoyed getting to know her patients, talking to them and helping to make positive changes in their lives.
"You can't spend 12 hours a day with 12 patients and not know them — and sometimes they're there for weeks on end, so you get to know them very well," she said.
She's worked with mental health patients her whole medical career, previously working at Centra's adult mental health unit and with Horizon Behavioral Health before coming to the geriatric psychiatric unit a year ago. Miller said she's been interested in how medications — and the way they affect the mind — have changed over time.
Back in early December, Miller was conducting a morning assessment on a patient scheduled to be released from the unit later that day. While getting his vital signs, she said she was having trouble getting a blood pressure reading and could tell from monitoring equipment that something was off.
Listening to the patient's heart, she asked him if he had a history of atrial fibrillation, an abnormal heart rhythm. When he responded he hadn't had it in the past, she recommended to her superiors that he be transferred to a cardiac unit for further assessment.
If the patient had gone home as scheduled and hadn't received further treatment, it could've led to a heart attack or death, according to Alison Hartman, Centra's vice president of quality and safety.
She said the award serves as recognition for front-line health care workers who use skill and safety behaviors in their day-to-day work.
"This award highlights the important role that each of our frontline caregivers play in keeping our patients and staff safe from harm," she wrote. "It is everyone, no matter the position they are in, working together that creates a safe healthcare environment."
Chas Murray, Miller's supervisor, said she's a dedicated nurse with a "questioning attitude and isn't afraid to challenge if she feels something isn't right."
"There are many good catches that happen daily that don't get attention brought to them, so when this award is given it's like saying thank you [to] every person doing good catches," he wrote.
He said some health care workers can be reticent to speak up for fear of not being heard or taken seriously. Though someone might only have a feeling something is off, they might be too afraid to explore that or to find out they're wrong.
Miller said she didn't know much about the award and it was a pleasant surprise when she received it March 4 outside Virginia Baptist Hospital, where her unit is. The plaque now sits on a shelf in her kitchen.
Caring for patients with heavier medical needs that can also affect their mental health, Miller said she's always on the lookout for something that's off, especially among patients with dementia who might not be able to verbalize if there's something wrong.
"It is nice to be recognized as nurses in general," she said. "…[We] are taking care of the patients and then are looking out for people — especially during COVID when they don't have families there also keeping an eye [on them] … so I think we are looking out extra for our patients."