More than 100 people knelt at the top of Monument Terrace on Tuesday morning, crowding asphalt, cobblestone and brick with heads bowed and, in many cases, their arms behind their backs.
In a rally organized by the Lynchburg branch of the NAACP, featuring speeches by city officials, organizational leaders, clergy and activists, protesters gathered to promote "justice for all," hoping to provoke empathy and inspire positive action in the Lynchburg community.
During several minutes of near silence, protesters were encouraged to sit, kneel and lie on the pavement, while leaders shouted the words that have become a common refrain since the death of Eric Garner almost six years ago, and were uttered again last week by George Floyd: "I can't breathe."
Tensions in the city are heightened after two consecutive nights of protests turned violent after dark Sunday and Monday, with police deploying tear gas and chemical agents, protesters and police injured, property damaged and multiple reports of gunfire.
A grid of streets in the heart of the city were blocked by several barricades Monday night, the blue and red glare of cop cars and crowds of protesters filling the darkness.
Tuesday morning's rally — held at the foot of a Confederate monument — seemed to focus on a non-violent way forward and voting, although some speakers were more critical of police actions, and called for systemic changes and a shift in the culture of policing.
Myra Gordon, an activist and professor, demanded "real changes," and said she was not there to condemn people who were doing "so-called looting or violence."
"We have to remember this, where it all started," Gordon said. "It started with police brutality, it started with the lack of accountability, it started with the lack of transparency ... remember who threw the match in the tinder box."
When Gordon spoke out against President Donald Trump in her speech, another protester yelled "this is not a political rally," followed by "go back to where you come from."
In response, a crowd of the protesters linked arms in front of him until he quieted.
"Forget about kumbaya, and let's get serious about changing the culture of police," Gordon said.
Other messages found a different focus, like Mayor Treney Tweedy, who encouraged residents to vote, and said the city must be intentional about its policies, regulations and who residents elect to lead them.
"We just have to let love lead us, we cannot tear up, we cannot break down, we have got to live in our strengths," Tweedy said. "We know how they died, but how will we live going forward?"
She also issued a statement in support of the Lynchburg Police Department and Lynchburg public safety, saying she stands with them, and for them.
Some attendees were critical of the messaging, even if they agreed with the majority of the rally.
Kira Forest said she was there specifically to represent and support black women, and wanted to see more outrage for the black women killed by police, like Breonna Taylor, shot dead in her Louisville home in early March.
She was wary of the curfew initiated Monday by city officials, saying it felt like a way to suppress the voice of the community. And while she said she opposed any violent protests, it is important city leadership begins to listen.
"It started a conversation, and that's what people want. I'm not for the violence at all — I think that could definitely be avoided in these situations — however I am for people expressing their right to protest, especially in this situation where things should be protested," Forest said.
Nineteen-year-old Jaela Stamps said now that she is old enough, she wants to be a leader — to be a "voice of the unheard." With her phone held up, Stamps livestreamed the event on Facebook like it was an extension of the conversation, using the platform to promote other voices and magnify her message.
"I want to see the police actually being heroes they are supposed to be. We are supposed to be able to call the police when we feel like we are in danger," Stamps said. "But instead, it's the other way around. They feel like they are in danger because of us, which is causing them to retaliate against us."
Stamps helped organize another protest Tuesday afternoon outside of Liberty University to speak out against Liberty University President Jerry Falwell Jr.'s tweet involved in inciting protests at Fifth & Federal Station in downtown Lynchburg on Sunday night.
Last week, in opposition to Gov. Ralph Northam's mask mandate, Falwell tweeted a photo of a mask with a racist image and said he "decided to design my own." The racist image from Northam's medical yearbook page — showing one person in blackface and another in a Ku Klux Klan costume — sparked a controversy when revealed last year.
Like many protests in recent days, her afternoon event was a grassroots effort, stemming from posts on social media, rather than a larger, existing Lynchburg organization. Despite the short notice, it drew upwards of 30 people by 4 p.m. Tuesday evening. Protesters gathered at the intersection of Wards Road and CVCC Campus Drive, waving signs and cheering when drivers honked their support.
Among those gathered were Liberty students, like Grace Locke, who said she came out to show she does not approve of Falwell's tweet, and that he should be held accountable for not representing Liberty students "in the proper way."
A group of middle and high school age friends gathered at the corner, hefting their signs high.
Kiana Hicks, 17, said their generation was effected as much as anyone else by the treatment of the black community, and that she wanted to show Lynchburg residents they wouldn't stand for it.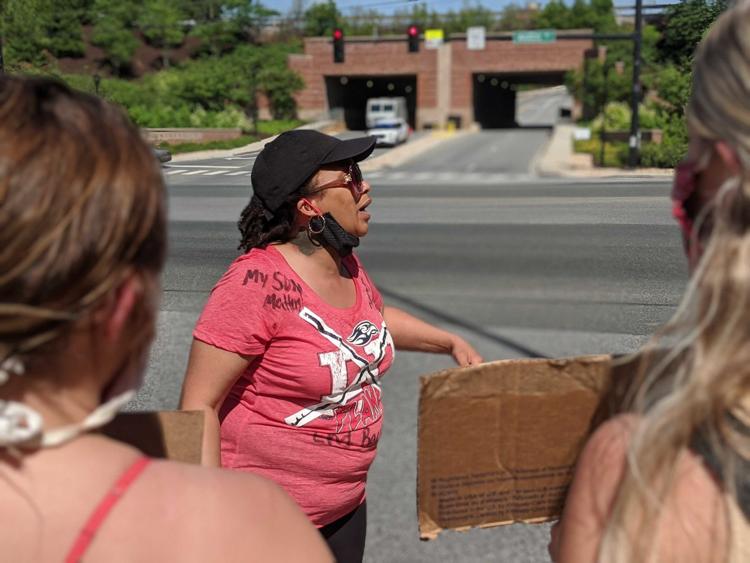 Simone Bradley, whose son was among the young group, said she wants him to be able to walk down the street and feel equal, and people in power must be held accountable for racist actions.
Though much of the passing traffic shouted support for the protesters, the occasional car yelled harassment as they blared by. Bradley told the others to wave it off.
"Let them have it, you're out here making a difference," she said, and gestured at the group around her. "This right here is unity."
At about 8 p.m. Tuesday night Lynchburg's roadways began to empty and the Lynchburg Police Department temporarily shut down a stretch of Wards Road from Glass and Seminole avenues to Atlanta Avenue for the safety of individuals, particularly protesters, walking in the roadway. Individuals appeared to adhere to Lynchburg's 8 p.m. curfew, with largely empty parking lots along Wards Road and police and the National Guard vehicles hovering along CVCC Campus Drive near the Liberty University tunnel.
Through Virginia State Police, LPD Chief Zuidema requested mobilization of the Virginia Army National Guard to "ensure the Lynchburg Police Department has adequate response capability to protect the safety of our residents in light of the violence we have seen in our city and the destruction we have seen in cities across the Commonwealth," LPD said in a news release issued Tuesday night.
Sarah Honosky covers Appomattox and Campbell counties at The News & Advance. Reach her at (434) 385-5556. 
Get local news delivered to your inbox!
Subscribe to our Daily Headlines newsletter.