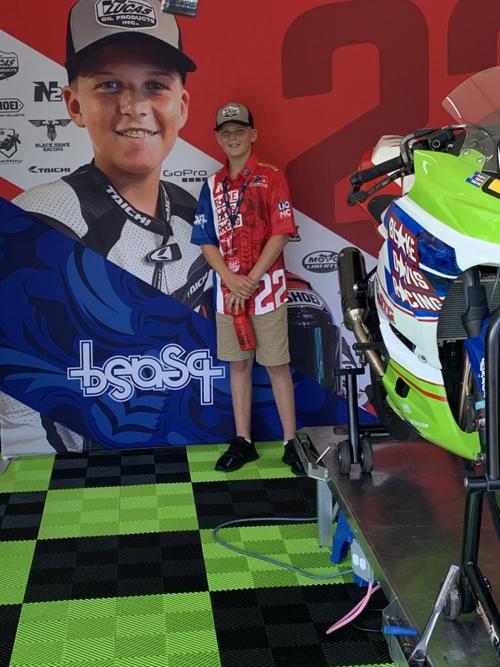 Blake Davis is a normal, active eighth-grader during the school week at Liberty Christian Academy. The 14-year-old runs around the hallways with his friends before the day's classes start. His cousins routinely visit him at his home, and they enjoy activities, like riding bicycles around the area.
Then the weekend arrives, and Davis slides into a racing suit and straps on a motorcycle helmet at one of North America's many premier road courses. The Lynchburg native is racing professionally in the MotoAmerica Series' Liqui Moly Junior Cup class, a series designed for up-and-coming motorcycle racers between the ages of 14 and 25.
Each racer is equipped with the same motorcycle to ensure the riders develop their skills and gain valuable experience racing against a wide range of driving talent.
"It is a lot of fun. Everyone is on the same bikes, and everything is really even. I love the big battles," Davis said. "Everyone is fast there. Usually racing amateur, there's some fast people and then there's some not-as-fast people that you really don't have to worry about. Here, you have to worry about everyone in the class. It's really hard to make a strategy for the races, and that's mostly the biggest thing."
Racing has been a big part of Davis' life. He started racing Motocross when he was 4 and switched over to asphalt road racing on Mini Bikes when he was 6. The progression continued when he turned 10 and began racing on full-sized street bikes.
"We started racing what's called Supermoto," his father, Mike Davis, said. "Supermoto is where you're on an asphalt track and then you go off through a dirt section and back onto the paved track. We started racing that together, the two of us, and then we both started racing road racing. I went back to road racing when he was old enough to get on some of the tracks. It got to a point where I can see him growing as a rider. I'm 43 years old now, that's kind of on the older end for a racer. I knew I wasn't going anywhere, I was doing it for fun, and I needed to focus my time on him."
The two have found a way to balance Blake's racing schedule with his classwork at LCA. Each year, Mike Davis presents his son's racing schedule to the school and works with the teachers on how to ensure Blake maximizes his time in the classroom while preparing for a weekend on the motorcycle.
Blake's day during the week consists of classes, completing homework by 5:30 and then training either with a mountain bike ride or a stationary bike exercise.
It's a grueling routine, but one the family embraces.
"The school has been more than helpful," Mike Davis said, adding his son has been on the A honor roll the majority of his time at LCA. "I really expected by this time that we would have to be homeschooling him, but I would like to keep him in school as long as we can, as long as they're able to work with us."
The elder Davis has been influential in his son's development as a racer. Mike Davis, in addition to racing along the East Coast on an amateur basis, served as a crew chief for two of the bigger teams in MotoAmerica — Tuned Racing and Pure Attitude Racing — and he has passed his knowledge of working on motorcycles to his son.
"He has always worked with me on the motorcycles," Mike Davis said of his son. "Anytime I make adjustments, I make adjustments and I explain to him what I'm doing and why. I think that's helped a lot. I was fortunate enough to be able to work for a couple of the larger professional teams as crew chief over the last few years. I kind of had the experience, I guess you'd say, to be able to help him out on that end of things."
Blake Davis credits his father's tutelage with his feel for the motorcycle while he's racing. His father is one of his two coaches, along with Aaron Stevenson, who owns a school called Cornerspin in Spencer, North Carolina.
Blake has the ability at a young age to give detailed feedback on what he's feeling when he's on the course so the crew can make the necessary adjustments.
"A lot of it is nature," he explained. "A lot of people, they'll get on a bike and they just don't feel what it's like. They don't feel what the bike is doing wrong. That's really a big thing, being able to pay attention to what's going on with the bike and what you're doing. That's one of the big things.
"Right when I was real young, just starting to get on the pavement and stuff, I could tell them that the bike didn't feel right going different places. I really didn't know how to explain it then, but I knew that it didn't feel right. I told them kind of what I felt in my words — again I was 6 — so I really didn't know how to tell them, but I kept telling them that the bike just didn't feel right. That's really how I started. That's pretty much it."
The two train primarily on a dirt track built on Blake's grandparents' ranch, and they also train at asphalt go-kart tracks, like Virginia International Raceway, and with other riders in the region such as Josh Herrin, Stefano Mesa and Xavier Zayat.
"Everyone has something different to teach," Mike Davis said. "By learning from lots of different riders, I feel like he's putting together a really good skill set."
The training on the dirt has been especially helpful for Blake in his progression. The motorcycles slide frequently on the asphalt tracks, and he's been able to learn the feel of the motorcycle when it's sliding and how to balance his weight in order to remain calm and keep going fast through the turns.
"That's helped a lot just because if it starts to slide, you know what it's going to do next," he explained.
Blake turned 14 on July 23 and became eligible to race professionally. He brought a strong resume to the professional ranks after being named the 2018 AMA Youth Road Racer of the Year and winning the Nicky Hayden AMA Road Race Horizon Award at Barber Motorsports Park in Leeds, Alabama, in October 2019.
His father said the coronavirus pandemic, which put a pause on the MotoAmerica season, was a blessing in disguise. That meant when Blake became old enough to race professionally, he only missed four races and wasn't playing catch up with the rest of the field.
Blake's first professional race was Aug. 1 at Road Atlanta in Braselton, Georgia, and since then he has raced at Pittsburgh International Race Complex; The Ridge in Seattle, Washington; New Jersey Motorsports Park; and Barber Motorsports Park.
The remainder of the schedule includes stops at legendary tracks Indianapolis Motor Speedway and Laguna Seca in Monterey, California.
"It's really exciting. I can't wait till I go to Laguna and Indy, I haven't been to either of those yet," Blake said. " … I'm super excited to go to those places."
Get local news delivered to your inbox!
Subscribe to our Daily Headlines newsletter.