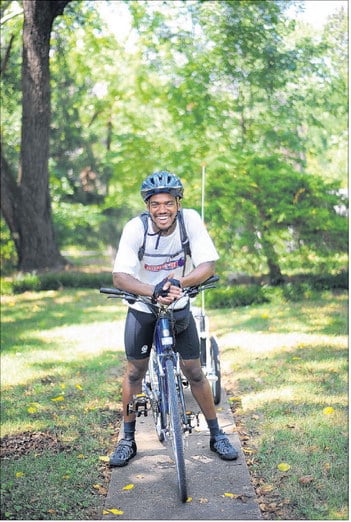 Andre Block doesn't believe in worrying. It is, literally, against his religion.
"Every bad situation I've been in, God has helped me out of," Block said Thursday, two days before beginning a oneman bicycle pilgrimage from Lynchburg to St. Louis. "So why worry?"
Never mind that Block's recent experience with bicycles has been a little harrowing. Most recently, while trying out a small but heavy pull-behind trailer, he failed to negotiate the corner of 12th and Main and flipped bike and trailer over.
"People were sitting out on the deck of that Mexican restaurant there, watching me," Block said, "so I just jumped up and said, 'I'm OK!'" Then there was his meeting with Steve Bartholomew in Riverside Park.
"I was going down a steep hill and saw Steve coming up it," said Block. "That's when I realize I didn't have any brakes, so I yelled down 'On your right!' I should have said 'On your left!" but it all worked out. I missed him, and I finally got the bike stopped.'" This narrow escape triggered a conversation between the two men that eventually worked its way around Block's plan to bicycle to St. Louis to reunite with his son, Andre Jr.
"Steve was so impressed with Andre," said George Caylor, "that he suggested that our Bible study group pay for his trip."
So the group, made up of members from Rivermont Presbyterian Church, bought Block a new bike, the trailer, and some provisions for the way west.
"I hope we're doing him a favor," said Caylor with a laugh, citing Block's recent two-wheeled mishaps.
Block's trip actually has a dual purpose. He is eager to see his son again, and also plans to collect pledges for the Free Clinic of Central Virginia en route.
"He's a great kid," Block said of Andre Jr. "He's big into track and plays football, and he's already doing biological research at the age of 16. Going out to see him on the bicycle is my way of showing him how much I care about him. He's excited that I'm doing it."
The trip will have to be carried out on back roads, since bicycles are not allowed on interstate highways.
"That's why I'm taking along a fishing rod," Block said. "I figure I can get some food that way. And Trail Mix — I'm a Trail Mix addict."
"It's got to have those little white chocolate pieces in it," he said.
The trailer will contain clothing, some equipment and a tent.
On Thursday, as he ate lunch at George and Joanne Caylor's Rivermont Avenue bed & breakfast, Block wore a T-shirt that read "Accept No Limits."
"My only purpose is to help people," he said. "I just travel around doing that, although it looks like I'm going to be in Lynchburg for awhile. I've already enrolled at CVCC."
He came to the Hill City because of an Internet connection with a local woman. "She was trying to see a motorhome," he said, "and it sounded like it had some problems. So I came here from Atlanta, got it working, and we managed to get it sold. Later, she sent me a $250 debit card to thank me."
He later returned to work on the woman's aging house.
Block said he has worked with teams doing storm repairs ("I used to live in Tornado Alley"), as well as less noticeable "random acts of kindness."
"The kind of person he is made it easy for us to help him out," said John Flora, another member of the sponsoring Bible study group. "You don't run across people like Andre very often."
Block has taken a ride to Charlottesville to test his long-distance legs, and reported no problems.
"I think I can do this [the St. Louis trip] just fine," he said. "I'm figuring 14 to 16 days."
As of Thursday, he planned to leave Lynchburg on Saturday.
Like most of Andre Block's life, however, that is always open to change.
"He reminds me of a line from one of the Indiana Jones movies," said Caylor, "where Indiana Jones says, 'I'm just making it up as I go along.'"
Get local news delivered to your inbox!
Subscribe to our Daily Headlines newsletter.