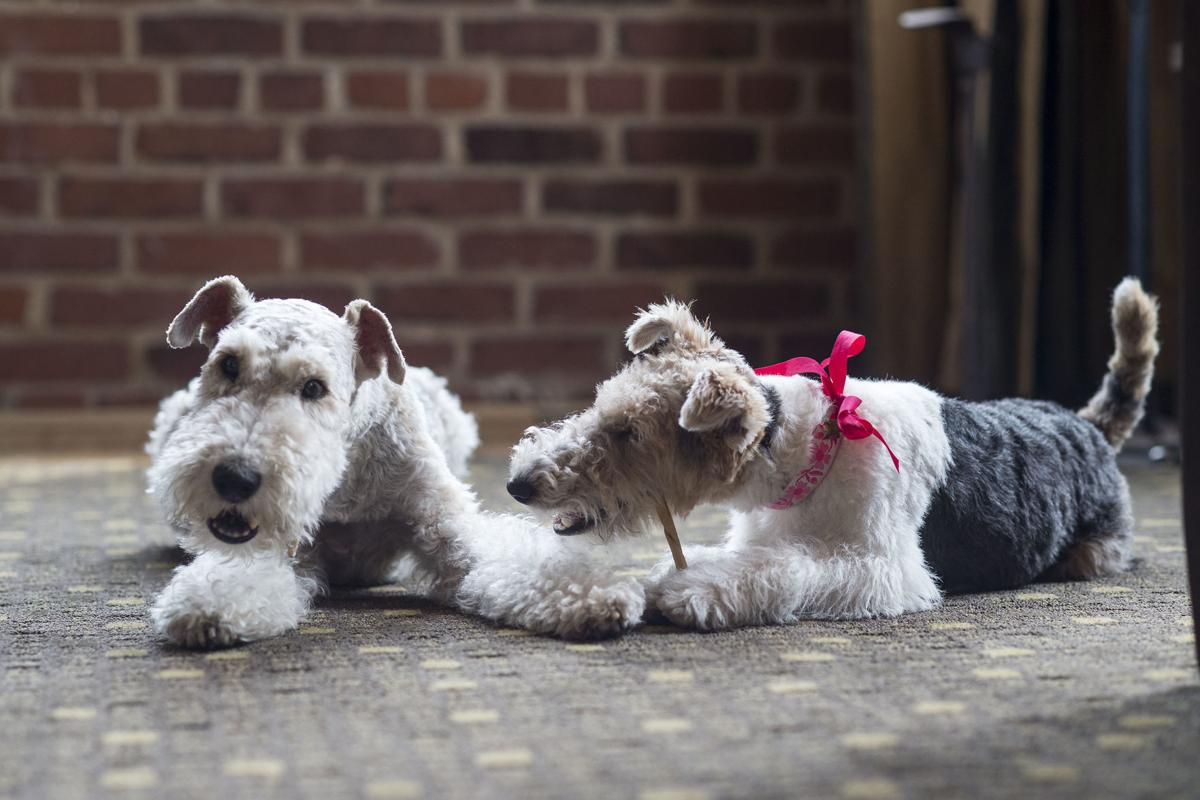 A series of low barks rang out from the wirehaired fox terrier performing tricks for visitors in the Craddock Terry Hotel's lobby on Friday.
Buster Brown, the downtown establishment's official hotel dog, can sit, roll over and stand on his hind legs with poise and refinement on command. He should; he's been doing this for almost a decade.
"It's surprising how many times people come in and they immediately walk right by the front desk looking for Buster," said Todd Swindell, hotel director of the Craddock Terry. "And if they don't immediately see him, they'll turn back and then look over to whoever is there and say, 'Hey, where's Buster Brown at?'"
Buster's refined reserve falls apart the moment a white and brown streak with a pink bow around her neck barrels into him, jumping onto his back with a happy yip.
The streak is Penny Loafer, the 9-month-old puppy who has recently joined the Commerce Street hotel's staff, and while guests have come to associate Buster Brown with the Craddock Terry, Penny's furry face will soon replace her brother's as the hotel's official greeter.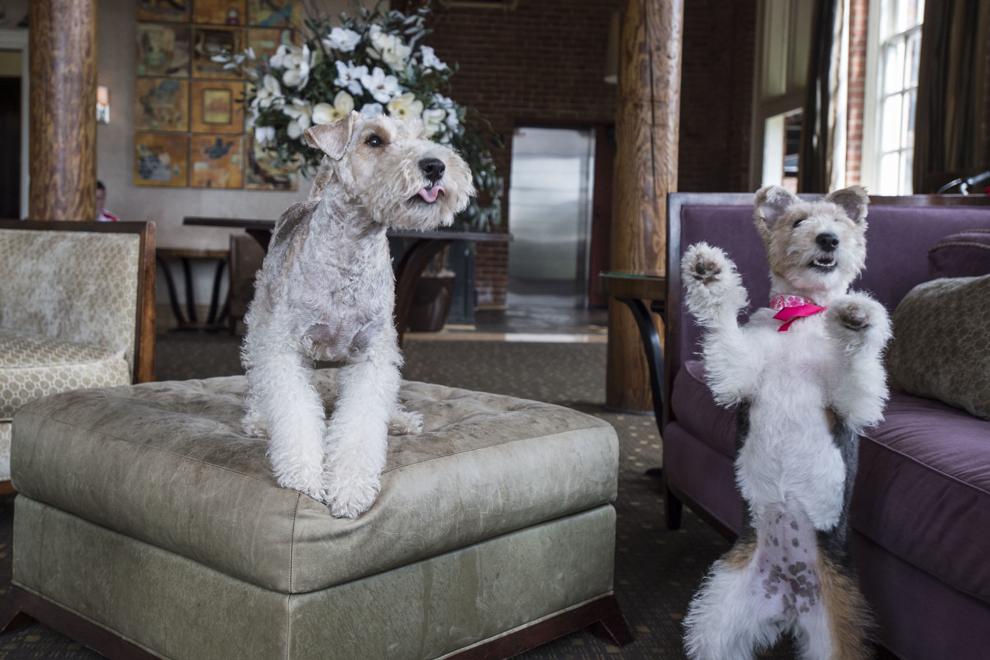 "I think Buster's ready to retire," said Jessica Tanner, one of the front desk supervisors. "He's kind of over being a star."
When the Craddock Terry opened in 2007, it adopted a dog-friendly policy with the goal of creating a home-away-from-home atmosphere for guests, said Deputy Hotel Manager Christin Fox. Two years later, the decision was made that bringing a dog to live and work in the hotel would add to the feeling.
After some research, the staff chose the wirehaired fox terrier because of famed shoe designer Manolo Blahnik's preference for them, Fox said, who noted the hotel always likes to reference its origins as an old shoe factory.
In 2009, the hotel flew in Buster Brown, then only weeks old, from a breeder in the Midwest and named him after the Brown Shoe Company's kids shoe brand from the early 1900's. Since then, he has lived in the lobby of the hotel, greeting guests and playing with their dogs.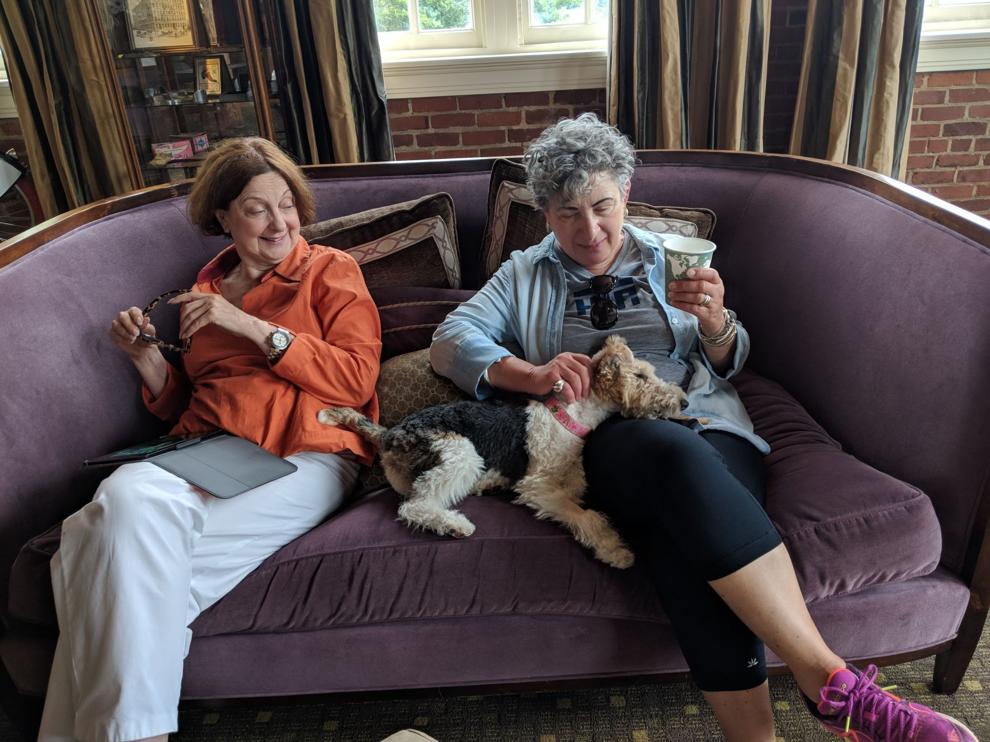 "He brings happiness because everybody that comes in and sees him, you just can't help but smile," said regular guest Kathy A. Atkins, who has been staying at the hotel with her own dog since 2007.
Knowing that her yellow labrador, Saint, will have a playmate when they visit from their home in Maryland makes all the difference, said Atkins.
The official dog greeter at the Craddock Terry does not have set duties like animals at other hotels, such as the Peabody Hotel in Memphis, which has featured the famed Peabody Duck March performed by its webbed hotel workers since the 1940s.
Instead, the Craddock Terry's hotel dog is there simply to add to the overall experience. The dog spends the days lounging on the plush couches and ottomans with visitors, entertaining with tricks and joining in on room visits.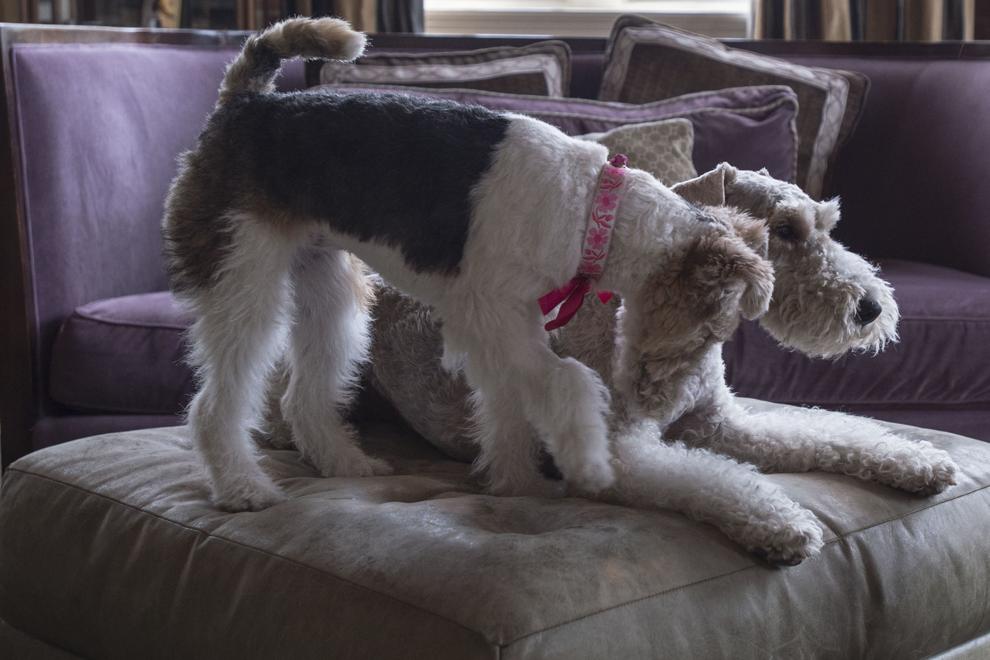 As a puppy, Buster had a propensity to jump into bed with guests on those trips, though he was never allowed to spend the night in a guest's room, said Fox.
"Guests are able to take him on walks, and people in the downtown area recognize him while on the walks as the Craddock Terry dog," added Fox, who, along with other members of the staff, regularly walks her four-legged coworker.
These walks often include stops at McCraw's Furniture Company on Main Street — Buster's choice likely because of the treats Fox said the employees feed him — and the bank, his human companion's choice.
"He's sort of the community dog," said Donna Harvey, a teller at the SunTrust Bank on Main Street, noting his visits are a real pick-me-up to the staff. "He's kind of like everybody's dog."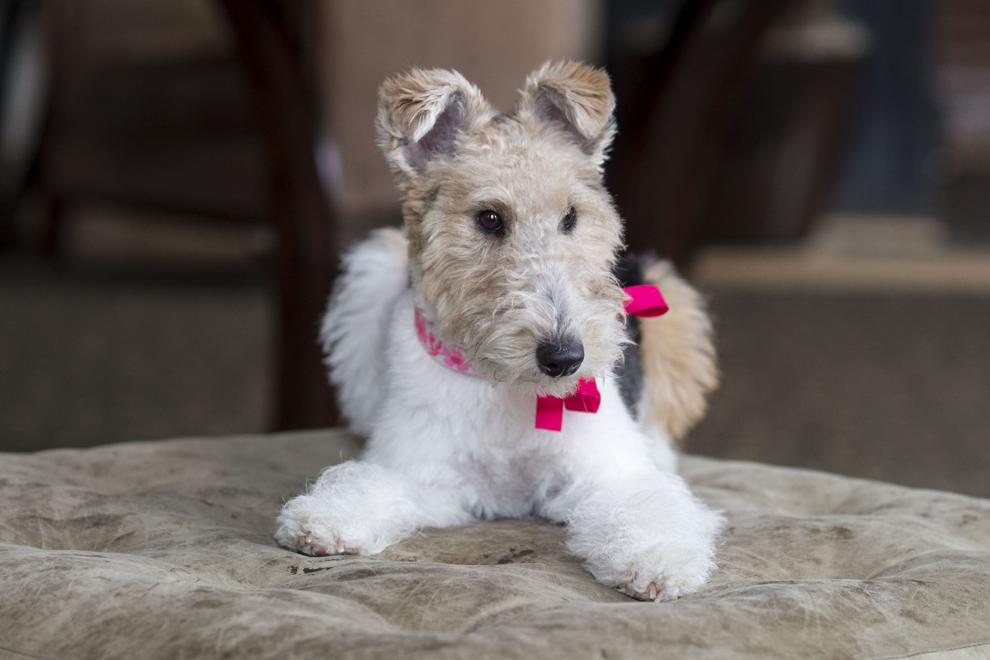 The choice to retire the almost 10-year-old Buster from hotel life came after much deliberation on the part of the staff.
"We wanted to make sure he still had some spunk and was able to still enjoy some of his senior years without so much on-call duty," Fox said.
The timing was chosen so that Buster Brown could help train Penny Loafer, who, like her big brother, has also been named after a classic shoe.
"Our hope was that with Buster, he's been so great at welcoming guests and hanging in the lobby that she would follow suit, see what he did and take a cue from him," said Todd Swindell, the Craddock Terry's hotel director.
Fox said the plan is for Penny Loafer to take over the official role of dog greeter around her first birthday, which falls at the end of November. At that point, Buster Brown will move in with her.
In the months leading up to retirement, Buster has been accompanying Fox home to get used to living with her, her husband and her two other dogs, Milo and Holmes.
"I've just been working here since he was a puppy and since I was the main one on property taking care of him, in my eyes he became my dog," she said. "I would never have wanted to see him go anywhere else."
Everyone said that while Penny has big pawprints to fill, they expect she will rise to the occasion with her new duties. She might even bring something new to the Craddock Terry.
After spending time with Penny on one of her recent visits, Atkins called the puppy a social butterfly filled with spunk and sassiness.
"Buster looks like a statue most of the time anyways; he just sits there," said Tanner. "She's the loud one."
This change in management doesn't mean guests have seen the last of Buster Brown. Fox said she still expects to bring him by the hotel to visit his little sister even after he moves in with her permanently.
"This will always be his home away from home," she said. "He's excited to go back in the mornings, but you also have to literally drag him out of bed."