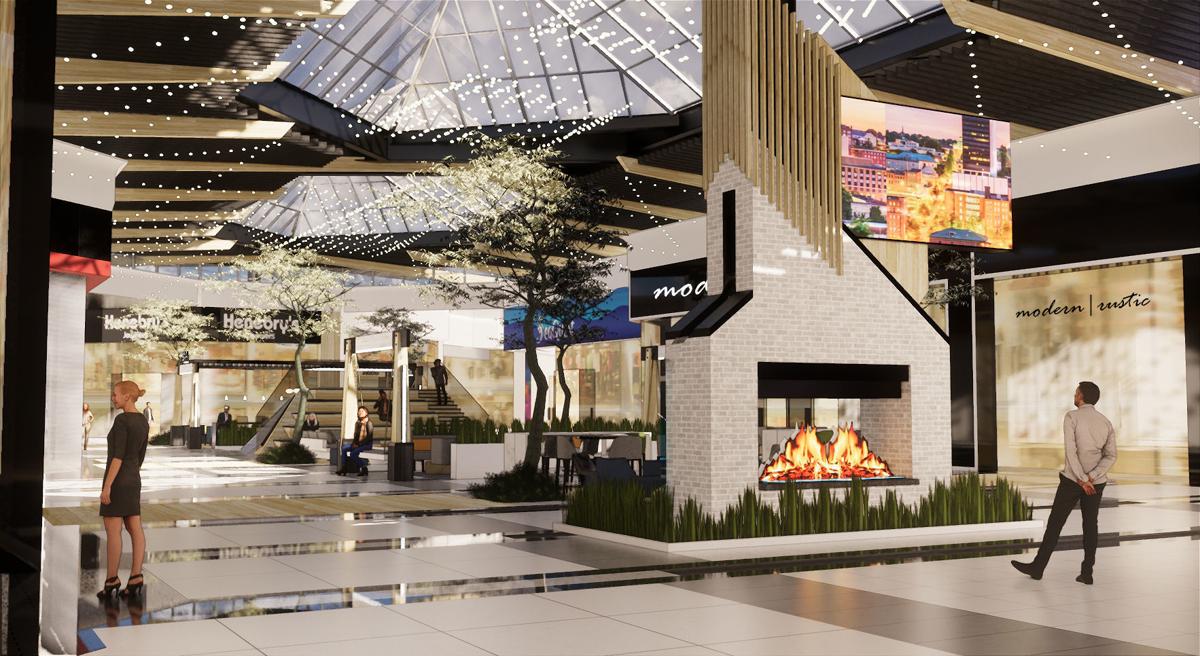 An indoor amphitheater, a wine bar and new fire and water features are part of a two-year redevelopment plan that will be underway this summer at River Ridge mall.
River Ridge, along with mall owners Liberty University, have announced plans that also will include a kiosk for food and beverages, cell phone charging stations and new amenities such as new flooring, soft seating and greenery, general manager of the mall, Louise Dudley, said in a news release.
The first stage of renovations will take place in what is referred to as "The Great Space," located near American Eagle Outfitters, Belk, News York & Company and the SeaQuest Interactive Aquarium set to open by the end of the summer.
All stores will remain open during the remodel.
Craig Pettitt, vice president of retail real estate at Liberty University, said there will be more seating around the new bistro area, where mall-goers can find more options for food and beverages. The amphitheater also will have seating for students, families and other individuals to sit and have lunch or just hang out and do work, as there will be charging stations and community Wi-Fi.
The space will hold programming and entertainment throughout the rest of the year, especially during the holidays, by hosting bands, choirs and concerts as well as yoga and events for kids.
"We want that area to be a place you feel comfortable going to," he said. "You can just sit there and enjoy it."
He added the fireplace will have a water feature and will help that area of the mall achieve a lodge-like feel.
The trees that will be installed are an ode to the past, Pettitt said, when the mall once had lush flora in the 1990s in the center spaces.
"We are so thrilled to show the community that we are truly committed to renovating River Ridge mall and creating a retail destination mall," he said Wednesday. "This is just the first of many great things to come to the property."
Construction is planned to begin in late June and is anticipated to be complete by mid-November. Construction for the remainder of the interior of the mall will continue after the holidays, in early 2020.
"We plan to have the first phase of the development complete for the opening of the holiday shopping season," Dudley said.
Katie Farris, manager of retail marketing at the mall, said the property was in need of upgrades. Officials are aware of community nostalgia about how the mall looked in its heyday, after it opened in 1980.
"I think they still look back on those times and those old photos and comment on all the wonderful memories they had back when it first opened," she said Wednesday. "We want to reintroduce the mall to the community so we can have those happy memories, good times and share beautiful photos for Lynchburg and the surrounding areas so they can really enjoy it once again."
She said she is excited for the completion of the first phase so shoppers can experience the new space as they begin their holiday shopping.
"It will be a holiday shopping season like no other," she said. "This is just the beginning."
Future plans include demolition of Macy's and Sears by the end of the year, which will be replaced by a mix of national, regional and local retailers, entertainment uses and restaurants, Pettitt said.
Rachael Smith covers local businesses and nonprofits. Reach her at (434) 385-5482.
Rachael Smith covers local businesses and nonprofits. Reach her at (434) 385-5482.