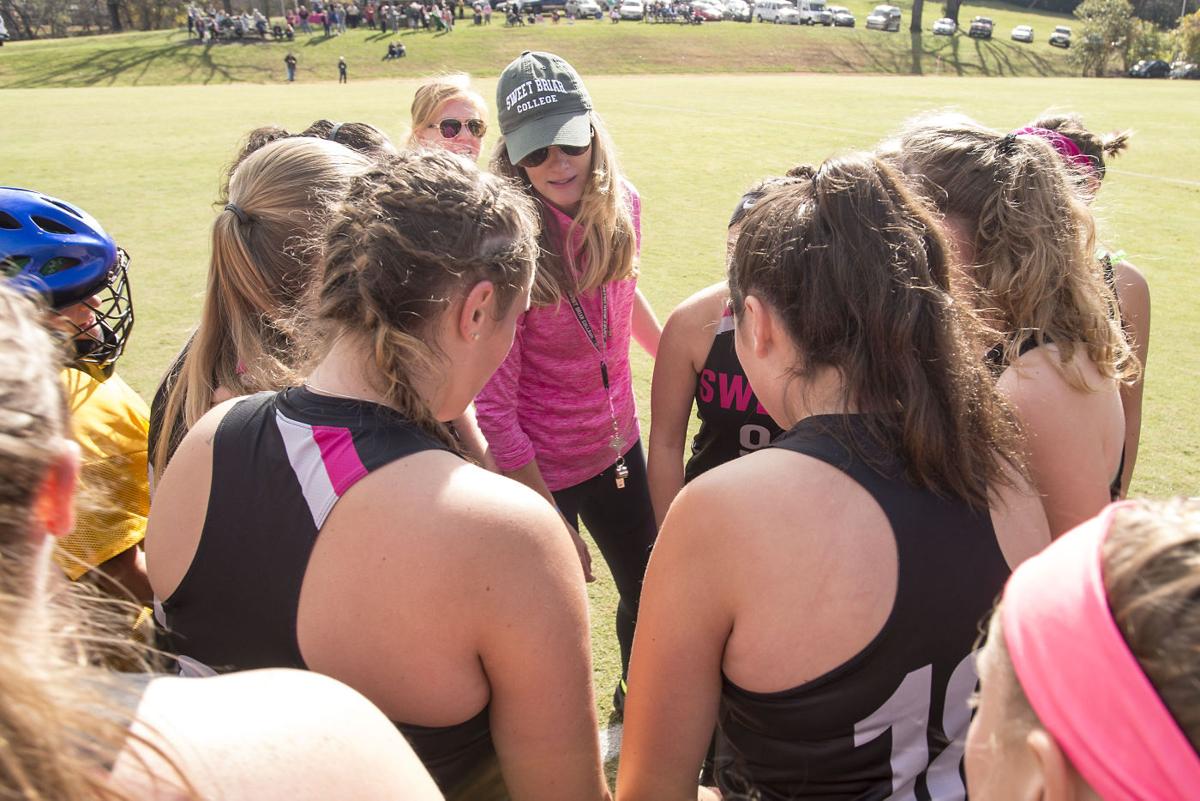 The women of the Saving Sweet Briar movement were hard to miss.
Dressed in bright pink and green, Sweet Briar College alumnae and students stood in the rain with professors, friends and other supporters outside the Virginia Supreme Court in Richmond, looking for a chance to save their school.
The overflow crowd for the June 4 hearing was such that one state court worker said he'd never seen anything like it.
After leaders of the college announced March 3 they planned to close the school in August, it was difficult to guess what could stop it.
"According to our legal adviser, the board dotted every 'i' and crossed every 't,'" said James Jones, then-president of the college, shortly after the closure announcement. He and others argued the school faced financial challenges that meant it could not survive long term.
Yet alumnae and their allies won a new beginning for Sweet Briar with a mixture of grit, determination and faith in the mission of their school. That makes them The News & Advance's 2015 "Person of the Year."
"I think Sweet Briar itself has character to it that makes it a college that women will fight to save," Saving Sweet Briar board member Brooke Linville said. "How amazing is it that this college gave us the skills to save it?"
Sweet Briar's supporters face a paradoxical situation as they work to secure more students and donations for their school.
Saving Sweet Briar founder Tracy Stuart learned of the planned closure through Facebook. By the end of the night March 3, she'd posted a note in one of the new Facebook groups opposed to the closure saying she planned to go looking for a lawyer.
"My instinct was that we weren't going to get anywhere just talking about it," she said.
Linville had similar thoughts. After spending some time in the new "SBC Professional Roundtable" Facebook group, she took it upon herself to create savingsweetbriar.com.
Linville, who lives in Idaho, attended Sweet Briar for only two years before transferring to George Washington University, in hopes of pursuing international public health.
She'd always kind of regretted that decision, she said, and she ached for students who would be forced to transfer.
That afternoon she'd listened in on a conference call between Jones and alumnae.
"For me, the tone of the call was all wrong given what was happening, and that's what sort of changed my feelings from sad to mad," she said. "I think if I'd stayed sad, I don't think I would have felt immediately engaged."
By the middle of the month, Stuart had hand-picked an all-alumnae board of directors for her new nonprofit, Saving Sweet Briar Inc. With just one exception, these were women she'd never met, chosen by recommendation from across generations for what she thought they might bring to the table.
Critically, Stuart had married her legal effort to Linville's website, which already was starting to gather momentum securing donation pledges.
Lynchburg-area alumnae like Jen Staton, Shannon Beasley and Debbie Thurman threw themselves into the challenge of fundraising, planning a juggernaut of events for the weekend of the school's alumnae reunion in May. Professors, students and supporters pitched in, too.
Meanwhile, the lawyers Stuart hired had been busy, trying to deal with a thorny problem. It wasn't clear alumnae would have legal standing to bring a complaint about the closure against the school. Due to some interesting provisions of Virginia law, they thought a county attorney would have the standing.
Saving Sweet Briar Chairwoman Sarah Clement said the Troutman Sanders attorneys Stuart hired decided to approach Amherst County Attorney Ellen Bowyer, who'd previously worked for Troutman Sanders, to lay out the situation and suggest she might have an avenue to pursue a challenge if she so chose.
"Ellen had to review the facts on her own," Clement said.
In a March 30 legal complaint filed in Amherst County Circuit Court, Bowyer charged that, in pursuing the closure of the school, leaders had violated the state's Charitable Solicitations Act and Uniform Trust Code.
April and May brought a torrent of legal proceedings and a series of hearings that played out in the court of Judge James Updike in Bedford County.
While Bowyer brought her challenge on behalf of the commonwealth with assistance from the Troutman Sanders lawyers, two other parties not connected to Saving Sweet Briar's legal efforts raised separate challenges.
One was a collection of current students, parents, and alumnae. The other was a group of the school's current faculty.
All three battles raged at once, with Bowyer's attempt to seek temporary injunctions barring the closure of the school and installing new leadership eventually leading to the June hearing at the Virginia Supreme Court.
Based on a technical point, the Supreme Court justices asked Updike to take a second look at his earlier decision to deny most of Bowyer's temporary injunction requests.
Despite the narrowness of that message from the Supreme Court justices, many people associated with Saving Sweet Briar felt the momentum had turned in their favor.
"In my own heart, I thought, 'OK, we've won,'" Clement said.
True victory came June 20, through a settlement agreement worked out between the college and the legal challengers through Virginia's Office of the Attorney General. The college would get new leadership and a new board of directors. Saving Sweet Briar Inc. pledged $12 million in donations by Sept. 2 — a pledge it delivered.
"I think they are an amazing group," Bowyer said. "They raised a remarkable amount of money in a very short period of time, and they demonstrated just an extraordinary amount of cohesiveness during a very stressful period."
Robert Lambeth, president of the Council of Independent Colleges of Virginia, watched the story of the uprising unfolding.
"They had some very smart and very sophisticated people," he said of the movement. "Other colleges have been in trouble and not been saved."
Opponents to the closure, he said, had diverse professional skills, a good legal strategy, money to give and an ability to focus their time on the project.
They hit good luck, he said, on several fronts — for example, the fact Updike turned out to be a relatively sympathetic judge and Phillip Stone, former president of Bridgewater College, was willing and able to step in as president of the Sweet Briar with the new board.
He called Mark Rubin, the director of the Virginia Center for Censensus Building, who mediated the settlement agreement on behalf of the Attorney General's office, an unsung hero in the saga.
Still, he said, "You have to give the credit to the group that fought the fight."
Get local news delivered to your inbox!
Subscribe to our Daily Headlines newsletter.