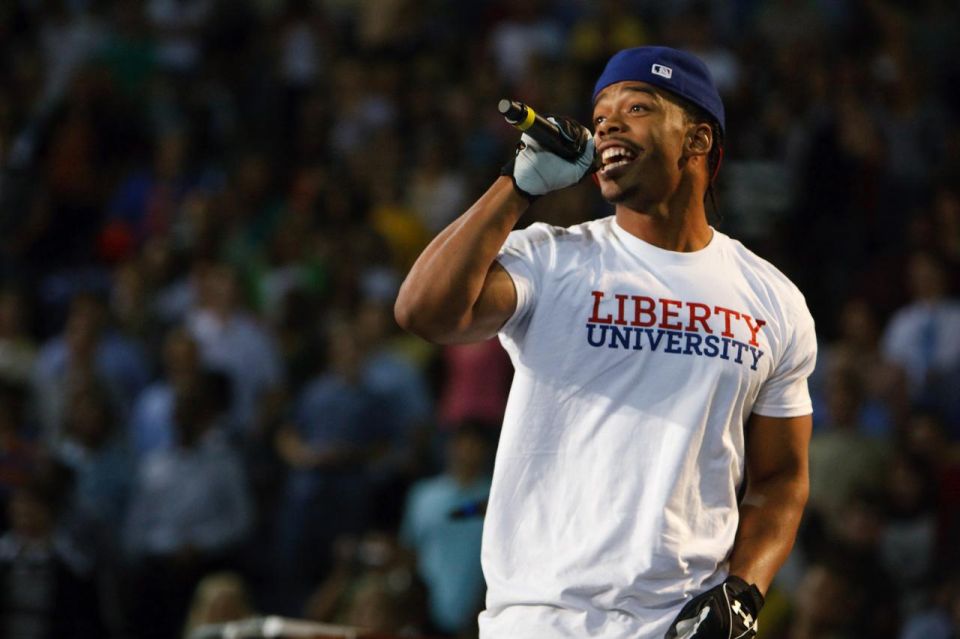 Jason Lewis, who performs under the hip-hop name "Humble Tip," busts a rhyme in front of the pillared facade of DeMoss Hall, Liberty University's main academic building.
His body thumps to the beat as he unleashes a torrent of quick-tongued lyrics.
"I go to Liberty U, where the motto sounds/ If we turn away from Christ, burn our school to the ground."
Those lines pay homage to a saying of the late Rev. Jerry Falwell, said Lewis, an LU alum and graduate student.
The scene — Lewis rapping in front of DeMoss Hall — is featured in his music video for the "Liberty University Anthem," which was released in late October.
The music video went viral within the LU community, amassing more than 20,000 views on YouTube within a week of its release.
The song's intent was to capture the Liberty experience, Lewis said, and break down some of the stereotypes about the school.
"We're not a bunch of students who stand outside dorms and pray 25 hours a day, eight days a week," Lewis said. "We do enjoy healthy social activity, we could just do without the sin."
The music video follows an apathetic high school student whose mother cajoles him into taking a tour of campus. (Spoiler alert: The prospective student is sold on Liberty by the end of the song.)
When the chorus revs up, the video cuts to Lewis rapping in front of throngs of cheering Flames fans, including a live performance at Liberty's first football game in the renovated Williams Stadium.
The song pays homage to all things LU, from the school's devotion to Christ to its notoriously strict rules.
Lewis debuted the song to a stadium full of Liberty students during convocation in August.
Anita Ross, an LU junior, was among the pack of cheering students during the taping of the video's crowd scenes.
"I think I just like that it's a hip hop song," Ross said. "I think that the lyrics are pretty good. I think that it gives a really positive image that the school is not boring, it's exciting."
Devin Coogan and his fiancé Katelyn DeMarco, both seniors, are fans of the song.
"I think it's cool," Coogan said.
"As far as something that's relevant, it was well done," DeMarco said. "I think with that style it puts a certain kind of flavor on everything and I don't think that all the students are that bold."
The lyrics in "Liberty University Anthem" do not shy away from taking on Liberty's controversial reputation.
"Where the Spirit of The Lord is, that's my school/ No drugs, sex or drinking, we define what's cool/ A lot of people do not like us, but that's just fuel/ That helps the flame burn brighter, we refuse to lose."
The song has rankled some older alumni, Lewis said, who prefer traditional gospel music to hip hop beats.
The music video has also sparked some heated comments, positive and negative, on YouTube, where anyone can post comments anonymously.
The mixed reaction has not fazed Lewis.
"Times are changing. It's simple. Times are changing," Lewis said. "You know Liberty was started in 1971 but it's not 1971 anymore."
Lewis, who discovered Christian hip hop music during his freshman year at Liberty, has released two albums and is recording a third next fall.
Through his music, he rejects secular hip hop culture for a life centered on God.
"Ultimately I want my music to direct people to the Lord," Lewis said. "Because if it directs them to me, I don't got nothing for them. I mess everyday just like them."