Guests staying at the Courtyard by Marriott on Murray Place in Lynchburg will notice an unusual new staff member rolling through the hallways and up and down the elevator.
It will bring guests anything from towels, snacks and coffee to menu items from the Bistro, the hotel's café.
But instead of offering a smile and a handshake, this newest employee is 36 inches tall, with a touch screen and a round metal body with a tuxedo design on its front.
The hotel's new autonomous robot, named Murray after the street, was installed at the end of March and went live on March 30.
Murray has a touch screen that allows guests to rate their delivery and service. If Murray receives a five-star rating, it makes a happy, robotic sound and spins around with glee.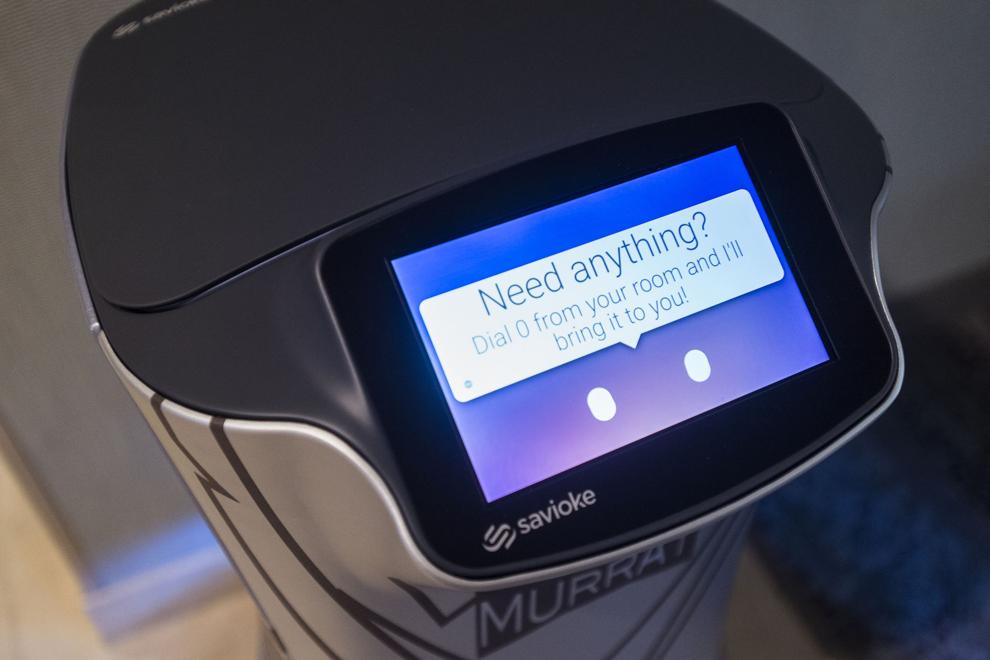 Richard Pietrafesa Jr., the hotel's owner, saw the robot at a hotel industry show in New York City a year ago. At the time, there were only 10 installed nationwide, all at boutique or urban hotels, so it took him some time to get the Courtyard brand "comfortable" with the concept, he said.
"But they were very receptive, as they are to all things that enhance the guest experience," he said.
Savioke, the California-based company that created the robot, was founded in 2013 and sold its first onein 2015. More than 100 have been sold since.
The closest hotel robots are in New York, Boston and Chicago, saidLauren, Savioke vice president of marketing and sales.  There are seven robots working in a logistics facility near Nashville, Tennessee.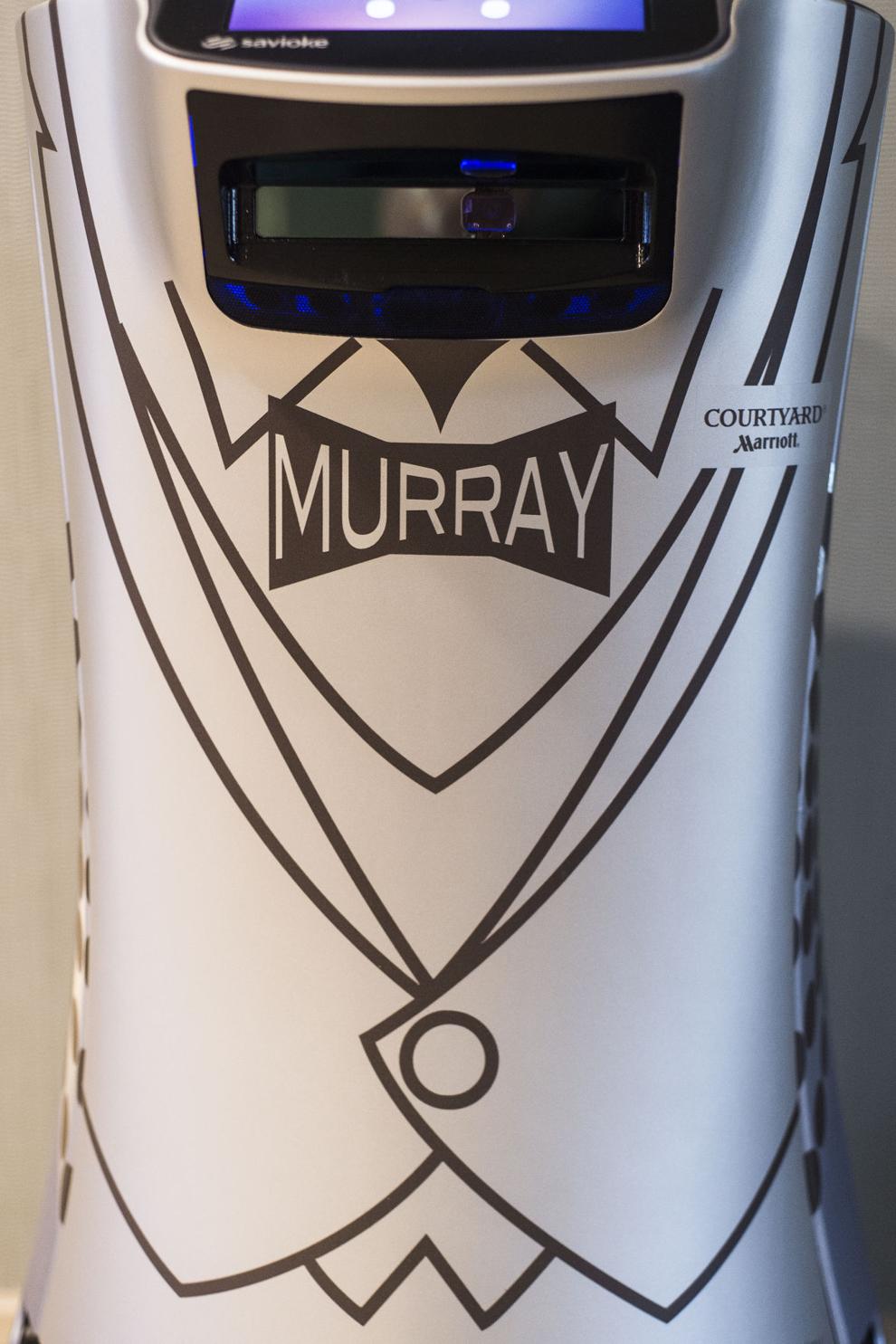 The robot cannot be purchased. It is sold as a service.
"Like most tech companies today, it is a 'software as service' agreement," Pietrafesa said. "So we pay a monthly fee for the software and support, and get the robot for 'free.'"
Pietrafesa would not say how much the hotel pays for the robot's services.
David Keaney, elevator integration manager at Savioke, stayed at the Courtyard by Marriott in Lynchburg for a week last month. He programmed Murray, taught it the layout of the hotel, corrected glitches — such as when it would stop in the middle of a delivery — and set up delivery drop-off spots within the hotel.
Sometimes the robot's sensors will detect objects or motions it doesn't recognize, like housekeeping carts and large crowds, and the machine suddenly stops. Keaney said there always are ways around those glitches.
In most cases, Murray will see obstacles and people and will navigate around them. If it can't go around or find an alternate path, it will stop and wait for the obstacles to move.
"After a few minutes of waiting however, he may determine that the pathway is blocked and head back to his charging dock conveying the message that the delivery could not be completed," Schechtman said.
The company offers 24/7 techsupport for Murray.
"It's a complicated device, so sometimes we run into unique issues we have to address," he said. "We find different solutions and have to address them. Every property is different."
After each delivery, Murray returns to its charging station in the lobby.
Its lid doesn't open unless it senses a door opening or a guest presses a button for it to open. Murray can hold a maximum of about 10 pounds.
Politeness is part of Murray's programming — itcan find itsway around a crowded room without running into guests or hotel staff. When confronted with a full elevator, it will give up its attempt to board and wait for the next one.
Pietrafesasaid Murray is the city's first hotel robot. In fact, Murray is onlythe 45th model made by Savioke in its five-year history, so it is rare in general.
In Pietrafesa's opinion, visitors to Lynchburg are much more savvy and sophisticated than area hotels give them credit for.
"Our guests are accustomed to hotels in large metro areas and expect similar amenities," he said.
His biggest hope for Murray is for it to "delight" regular guests with a new and convenient service.
There is no fee for guests to get deliveries from Murray.
Thomas Deans, operations manager at the hotel, said though he never has worked with a robot, he thinks it will be a way to give guests quicker service.
"I think the guests are going to really love having coffee sent to their room and not having to come down," he said. "Even though we provide coffee in the room, sometimes they prefer Starbucks, which they can get at the Bistro."
Jane Dunn, director of sales for the hotel, said the goal is for front desk agents never to have to leave their post. When guests call, staff members sometimes have to leave for up to 10 minutes.
With Murray on hand, Dunn said, "If they get a call, they don't have to put the sign up; they can send the robot without leaving their room."
Automation replacing human workers is a hot topic in business circles these days. But as far as the potential of Murray replacing hotel staff, which amounts to about 24 people, both Dunn and Pietrafesa said it's not a concern.
"With Murray, we can offer guests a hot Starbucks coffee with their wake-up call, while the regular staff does what they need to do for guests in the morning," Pietrafesa said. "Murray can deliver dinner from the Bistro while the staff handles guest needs face-to-face. Need a late-night [Coca-Cola]? Murray can bring it up, even if we only have one person at the front desk."
Working in hospitality, staff is always on the go, Deans said, so the robot offers an "extra pair of hands."
"I wouldn't say it takes the place of staff, because if we can run the coffee, we're going to do that versus letting the robot do that," he said.
The entire staff has been trained on how to operate and interact with Murray.
"Because of Murray's artificial intelligence, he is actually easy to send on a task," Pietrafesa said. "I can even do it remotely from another city. So it should become part of the family in no time."
With 90 rooms, the hotel doesn't plan to purchase a second robot anytime soon.