RICHMOND — Get ready for yet another winter storm to hit Virginia on Thursday.
This one will feature a full range of precipitation types in central Virginia: snow, sleet, freezing rain and rain.
Ice currently looks like the biggest concern for metro Richmond, though we could start off with another blanket of snow and sleet, too. The northern and western parts of Virginia have the best chance for a heavy snowfall.
At best, this is the kind of icy mix that's sure to disrupt travel. And at worst, another round of damaging ice will lead to more outages.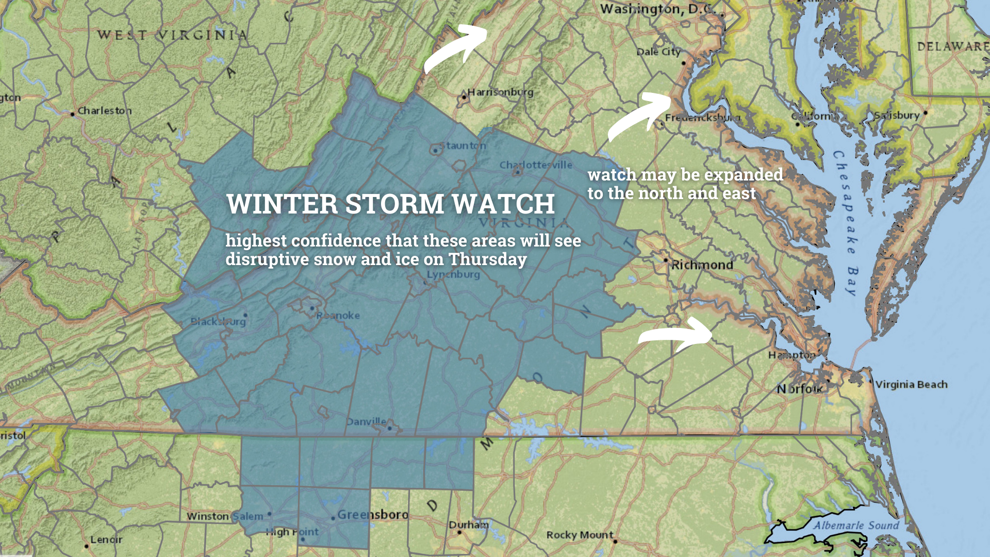 The National Weather Service has already posted a winter storm watch for most of the Piedmont counties west of metro Richmond, including Louisa, Goochland, Fluvanna, Powhatan, Cumberland, Buckingham, Amelia, Prince Edward, Nottoway and Lunenburg.
This is where they have the highest confidence that ice and snow will be a problem between Wednesday night and Thursday night.
Other areas facing winter storm conditions include: Charlottesville, Staunton, Lynchburg, Danville, Roanoke, Martinsville and Blacksburg.
That watch may be expanded to include metro Richmond, Fredericksburg and Northern Virginia as forecast details come into view later today.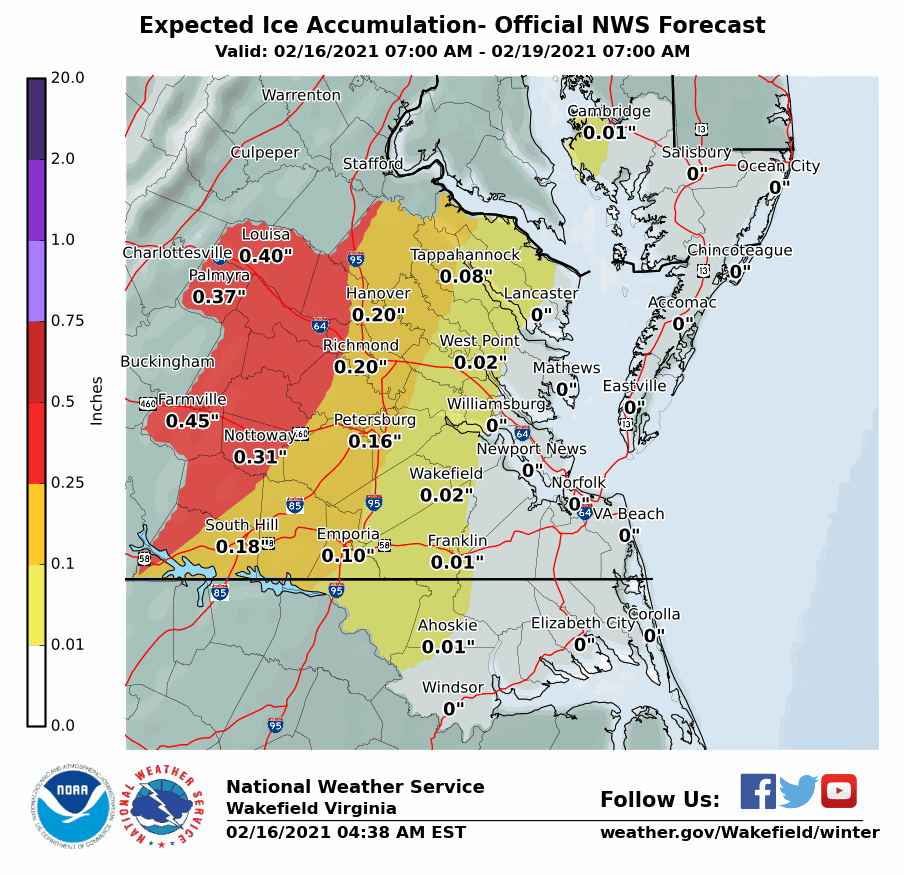 What's similar to the last storm: the potential ice amounts could be at or above one-quarter inch, which is enough to bring down trees and power lines.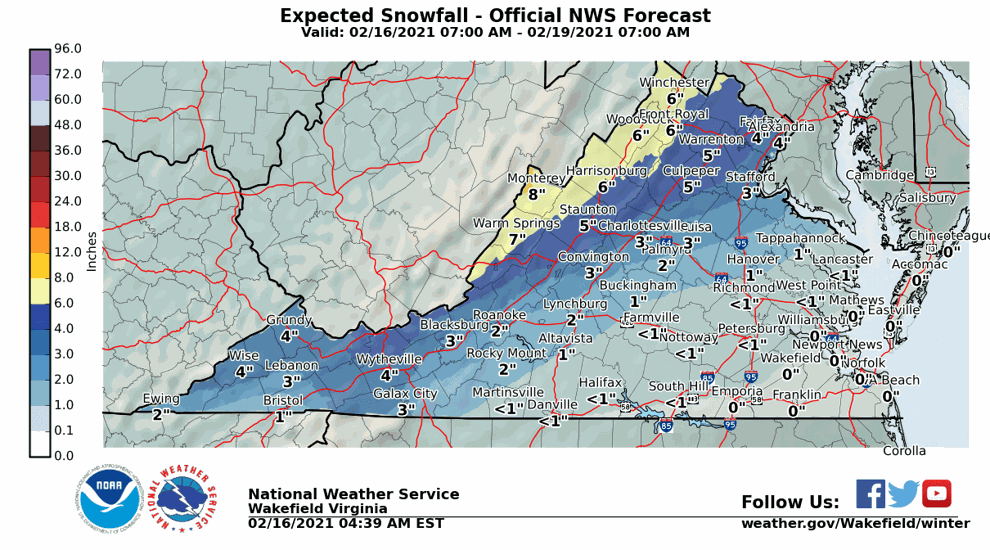 What's different from the last storm: this probably won't be exclusively freezing rain. There would be some snow or sleet to start early on Thursday morning, and some ordinary rain to finish by Thursday evening or night.
That makes the forecast trickier. If temperatures aloft manage to trend colder, we'd see a tradeoff involving less ice but heavier snow. The alternative is heavier ice but less snow.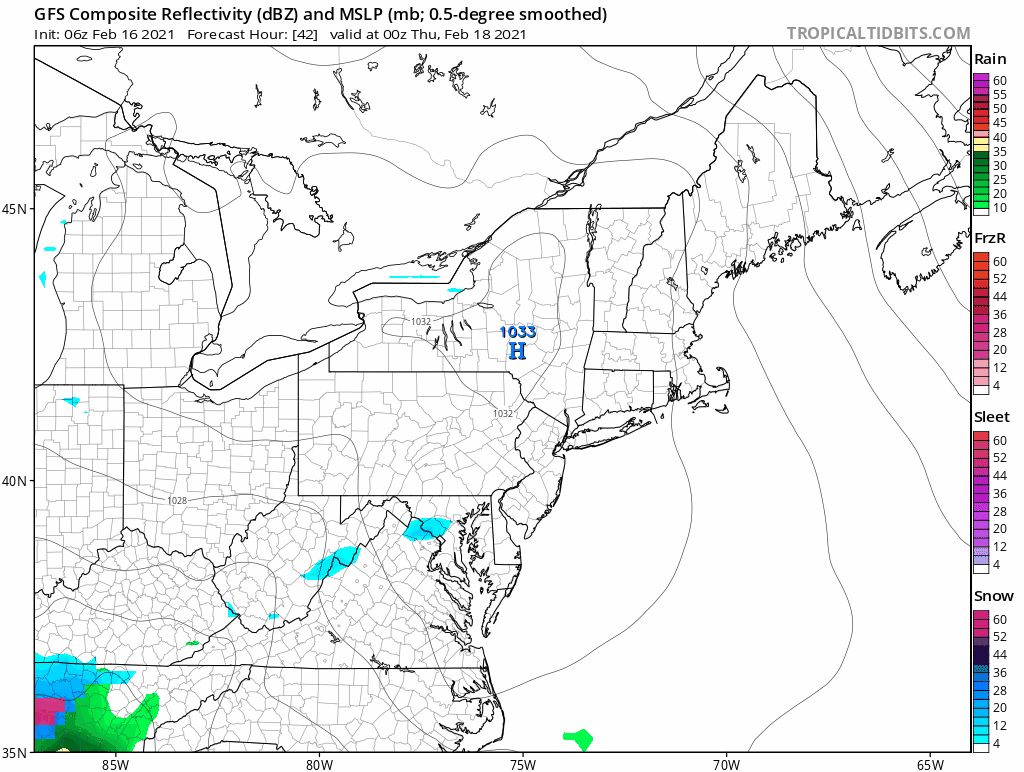 Bearing that uncertainty in mind, our starting point for this forecast in metro Richmond involves a coating of snow and sleet between early Thursday morning and midmorning, totaling 2 inches or less. To that, we'd add a 0.25-inch glaze of freezing rain by midday or afternoon, but possibly more.
There doesn't seem to be a scenario where we avoid wintry weather entirely. But most models do show temperatures rising above freezing as rain continues to fall on Thursday night, which may help wash away some of the accumulations.
The sheer amount of moisture in this system means Thursday will be a messy day even in Tidewater where most or all of the precipitation will be rain. Creeks and rivers in southeastern Virginia are already running high after the last soaking and more minor-to-moderate flooding is expected.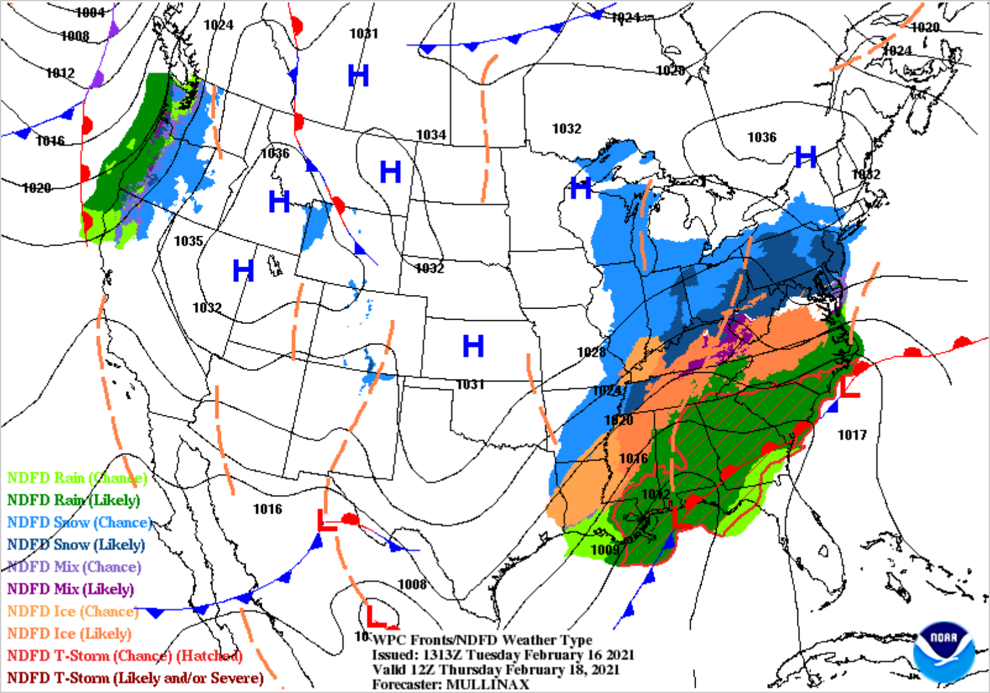 Beyond Thursday, we'll look for clearing and breezy weather on Friday, then a dry but wintry cold weekend. Though temperatures will stay below normal with highs in the 30s and lows in the 10s or 20s, Virginia will avoid dealing with the extreme cold currently hitting the Great Plains.