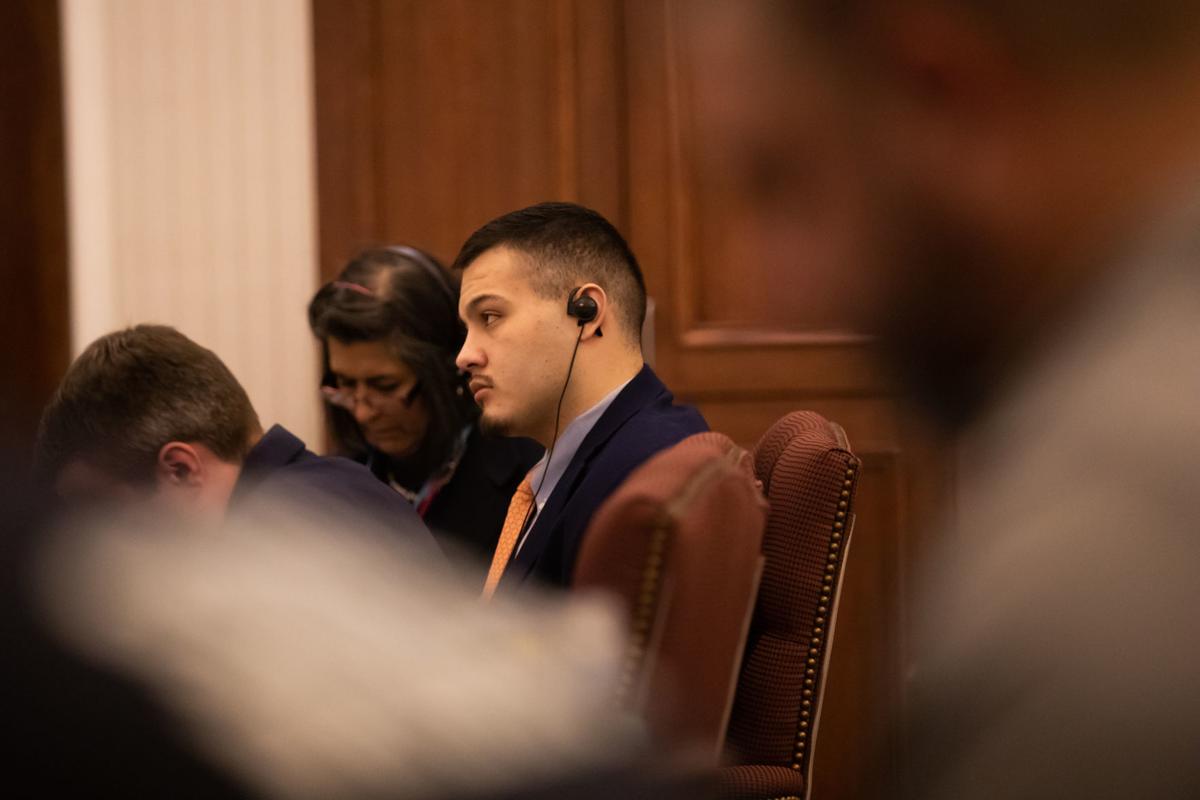 BEDFORD -- A small gasp cut the tension in Bedford Circuit Court Wednesday as a member of the MS-13 gang was pronounced guilty of capital murder.
The case of 22-year-old Kevin Josue Soto Bonilla has played out over the course of eight days. His charges stem from the March 27, 2017 death of 17-year-old Raymond Wood.
He's the second of his co-defendants to stand trial: Victor Arnoldo Rodas was convicted last year of first-degree murder among other charges and was sentenced to 55 years in prison.
Two others, Lisandro Antonio Posada-Vasquez and Juan Martin Hernandez, have pleaded guilty to capital murder and being an accessory after the fact to murder.
Along with the capital murder charge, the jury found Soto Bonilla guilty of gang participation and abduction for pecuniary benefit after deliberating for about two and a half hours.
He was found not guilty of a robbery charge.
Wood's mother, Marjorie Stagno, hugged several people who've worked on the case before leaving the courthouse with her friends and family. Friday she'll learn whether her son's killer will spend the rest of his life in prison or be sentenced to death.
As Bedford Circuit Court Judge James Updike went over the procedures for the final phase of the trial, Soto Bonilla kept his gaze downcast, leaving the courtroom that way to return to jail for the night.
He was one of four men sent down to Lynchburg from Maryland to help in Wood's killing, according to testimony in the case. Rodas and another gang member living in Lynchburg decided to kill him after they exchanged threats and having decided to take Wood's marijuana business from him.
The group drove to Wood's Coronado Lane home that night under the pretext of a weed deal, pulled him into a car and drove to Roaring Run Road in the Goode area of Bedford County.
There, they dragged him out of the car, stabbed him with a knife a number of times, cut his throat, severed his right hand and fled on foot when a passing motorist noticed Wood's body.
Soto Bonilla and one co-defendant were able to escape and lived on the lam for about six months before they were arrested.
More than a dozen witnesses took the stand for four days' worth of testimony, including three self-admitted MS-13 members who took part in the events surrounding Wood's death.
In closing arguments Wednesday, Bedford County Commonwealth's Attorney Wes Nance said Soto Bonilla's guilt was laid plain.
"You have the evidence before you, and frankly, it is overwhelming," he said.
After Wood's death, Soto Bonilla started to go by the name "carnicero," or butcher, and spoke to higher-up gang members about sleeping on sofas with a co-defendant, and keeping a low profile, Nance reminded the jury.
Aaron Houchens, a lawyer on Soto Bonilla's defense team, called his client's charges "complex crimes."
"There's no question that a crime was committed," he said, acknowledging there was evidence that showed Soto Bonilla participated in what would be first-degree murder.
But he disputed whether Wood was robbed, abducted for some kind of benefit or that his death met the criteria of capital murder -- namely, that it happened during the course of a robbery or abduction for benefit.
Houchens said the money and weed found in the car Wood was abducted into were littered with everything else in the vehicle, since he fought and struggled after being pulled into the car.
He pointed out that testimony never mentioned any gang members planning a robbery, only planning to "make a soup," or kill someone.
Nance presented evidence that members of the gang wanted to expand its reach by selling weed in Lynchburg, telling the jury that killing such a "financial chavala," or rival, would serve to set a gruesome example for others not to disrespect MS-13.
Houchens said it "doesn't add up" that they would want to take away the small-fry drug business Wood had -- questioning the "pecuniary benefit" aspect of the abduction charge. He said the killing was instead borne of a personal vendetta.
The jury will hear evidence Thursday before deciding whether to sentence Soto Bonilla to life in prison or to death.