The knowledge of Mars for most eighth-graders is it's a red planet with dirt on it.
This is not the case for the eighth-grade students at Forest Middle School enrolled in Caitlin Unterman's "Science Exploration" class.
Students are working on mock missions to Mars and will present their findings at the end of the year to members of the Chemistry & Mineralogy X-Ray Diffraction team, or CheMin, who are working with the Curiosity Rover on Mars.
They plan their mission from start to finish, including using satellite and thermal imaging to map the planet, selecting a launch site, determining launch and landing methods, mapping the terrain and picking research sites. Some students are working on satellite imaging and others test flying quadcopters to learn about air resistance and replicate how the Sky Crane lands the Mars Curiosity rover.
During first semester of the class, the discovery of recurring slope lineae was made by the Curiosity Rover, acknowledging water drainage patterns on the planet, allowing Unterman to incorporate the finding into the class.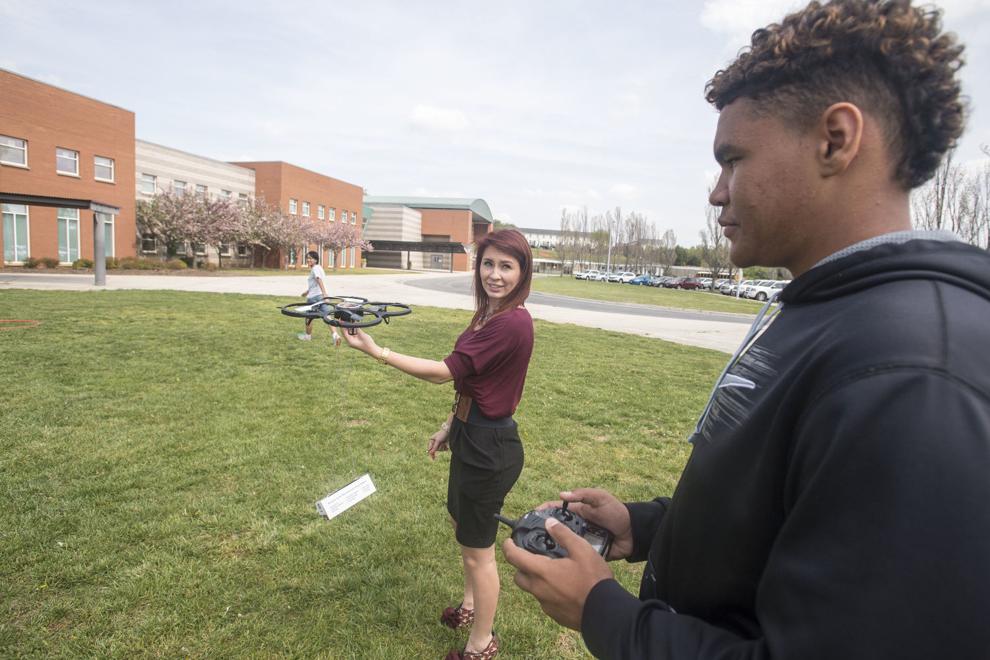 "It doesn't get any more real than that; that spikes interest," Principal Scott Simmons said. "It's something really going on; there are discoveries being made now. It's really a dynamic course."
Last week, students held a Skype session with Shaunna Morrison, a member of CheMin, who answered questions from students about Mars and their projects to help ensure their missions are scientifically plausible.
"In talking with the students, I was most impressed by their insightful, creative ideas and questions," Morrison said. "They've been given a difficult mission, one that has been completed successfully few times, and they tackle the problems from many different angles. That's what makes this class so valuable: It ignites creativity and problem solving."
On Thursday, students practiced their skills with two different drones trying to land them in specific places on the lawn outside of the school.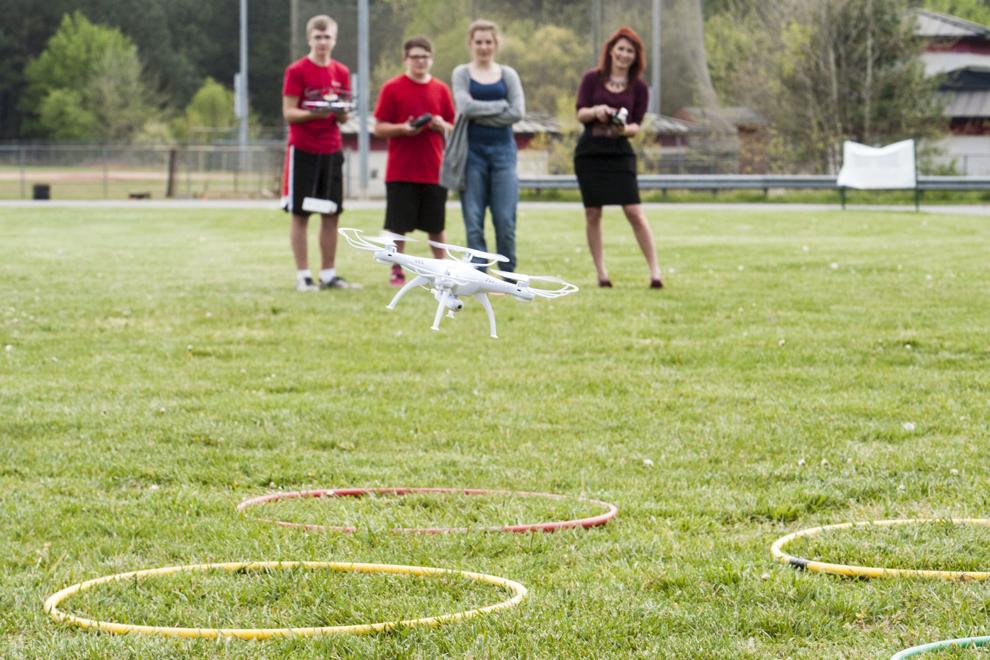 Unterman, a fourth-year teacher, placed hula hoops on the ground. Green hoops represented the ideal landing spot, yellow was safe but not ideal, red represented the rover landed but was damaged. If the rover landed anywhere else it crashed.
The quadcopters are very sensitive to humidity and wind, she said, so if there is rain the day before, the students cannot fly the instruments. High winds, meanwhile, do not accurately replicate the Martian atmosphere and can damage the quadcopters.
A class that began as a desperate act to get a science elective back into the curriculum has become a great success.
"We had an elective class a few years back and it was something over time students really didn't pick as their top choice," Simmons said. "It wasn't something that we felt was benefitting the kids, so we did away with it."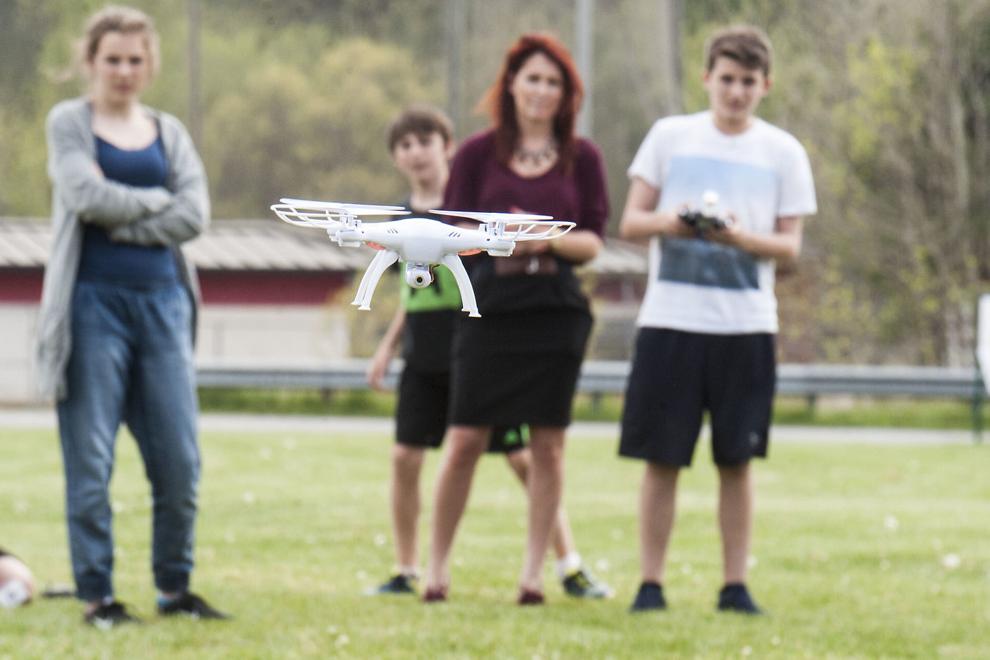 Wanting to bring back something students would be interested in, Simmons and Unterman worked together to create a course that incorporated rovers on Mars.
"We had all kinds of ideas first," he said. "I told her to take it and run with it. It's still brand new but has gotten a lot of attention and the kids are enjoying it. We now have tons of requests for kids wanting to get in."
During the summer, Unterman visited Morrison in Arizona and devoted herself to developing the curriculum. She came back at the beginning of the school year and started the class for the first time. It now is in its second semester.
She said the first semester was by trial and error and didn't catch much momentum until her students began actually flying the drones.
"I get students who come in and say, 'I do not like science,' and they leave saying, 'I love science,' she said. "That is what motivates me to make it even better. I have kids who are discouraged about the topic and they leave wanting more."
Melanie Pratt, an eighth-grader who took the class last semester, still helps out students in the current class as she developed a real liking to space and became attached to her project, unable to delete it to this day. Her group ranked the highest on their project.
"Even though it's not a core class, it's the realest experience we've had so far in school," she said.
 "Hopefully, more people will want to do it," she said. "It's a lot more independent than other classes. [Unterman] will guide you a good way through but when it gets down to it, it's all you."
Dyson Yuille, an eighth-grader, smiled and said the class was just "different."
"I've liked science my whole life so why not try something new?" he said. "It just turned out that I enjoyed it. I thought it would be like a regular science class learning about the ocean and stuff, but when I found out it would be about Mars, I thought, 'That's great!'"
Along with science and technology, the students also are learning job skills, teamwork, critical thinking, public speaking and presentation techniques. The class is based around personalized learning — Unterman guides the students and makes sure they are on track, but the students do all of the work and have all of the choices with their project.
"I don't actually go up and teach anything; they do everything themselves," Unterman said. "They lead the way, I'm there for them to ask questions, too, and make sure everyone is on task. They're not used to that highly personalized classroom, and by the end they love it."
 Morrison said STEM-based learning is not only critical for the student's future careers, but also for the advancement and sustainability of society.
By her knowledge, Unterman said no other school is doing what her students are, including working with scientists who are having experiences with Mars right now.
Yuille said he feels lucky to be in the class.
"It's only one class in the whole country," he said. "I feel almost honored I get to be in it."
Unterman said she hopes to expand the program, get more money for technology and take her students on field trips to a space museum. With money from the school and from grants, she thinks she has spent less than $2,000 on the program.
"We really want to expand to make it larger than life," she said.
"I get students who come in and say, 'I do not like science,' and they leave saying, 'I love science.' That is what motivates me to make it even better. I have kids who are discouraged about the topic and they leave wanting more."