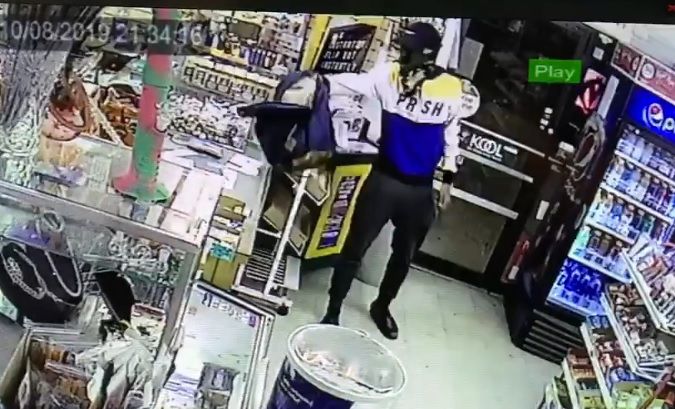 A man robbed two stores in Lynchburg on Tuesday night, police said.
Officers responded to the Z Mart at 1401 Park Ave. at 10:26 p.m. and the Mr. Food at 1600 12th St at 10:42 p.m. for reports of armed robberies.
In both incidents, the same man brandished a knife during the robbery and left on foot afterward, police said.
He did not get money from Z Mart, police said, but in a security-camera video released by police from that robbery, the man appears to put some items in a backpack before leaving. He stole cash from the Mr. Food store, police said. 
Police described the suspect as a light-skinned black man, about 6 feet 2 inches tall, wearing black pants, black shoes, a black Nike hat and a blue-and-yellow sweatshirt with a white stripe and the letters "PRSH" across the middle.
Police ask anyone with information about these incidents to contact Detective Duncan at (434) 455-6178 or Crime Stoppers at (888) 798-5900. Enter a tip online at http://p3tips.com or use the P3 app on a mobile device.
ALERT: We are investigating armed robberies that occurred at Mr. Food and the Z Mart earlier tonight. We are looking for the suspect in the video. If you have info, call Det. Duncan at (434) 455-6178 or Crime Stoppers at (888) 798-5900. pic.twitter.com/qfkO2vLpK0

— Lynchburg Police (@LynchburgPolice) October 9, 2019
Get local news delivered to your inbox!
Subscribe to our Daily Headlines newsletter.