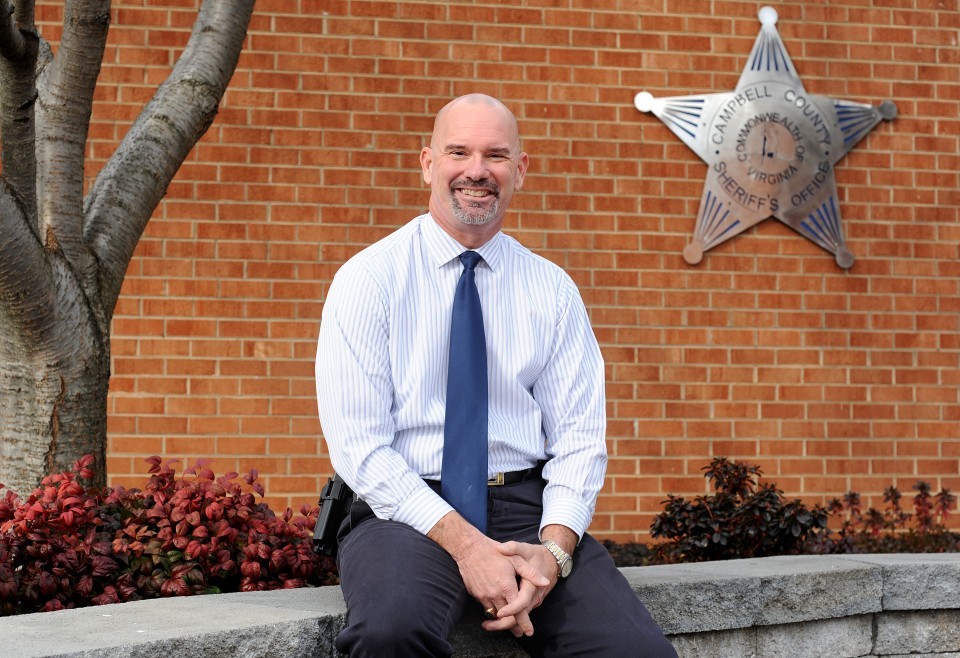 Altavista Police Chief Mike Milnor will resign July 1 after spending more than two years rebuilding and stabilizing the department.
Milnor said when he took the position, he knew he would serve two or three years to accomplish his objectives for the department, including a fully staffed, 13-member force and updated equipment.
Before taking over as chief, Milnor served the Campbell County Sheriff's Office for more than 30 years after joining the department at age 19. He worked as an investigator for the majority of his career but also spent time as Campbell County's first Director of Public Safety and served as an interim sheriff for the county. Milnor retired from the sheriff's office in December 2012.
He left retirement in April 2016 to serve the town of Altavista, which pays its police chief $76,993 annually.
"I gladly came down [here] because I really wanted the challenge of helping get this agency back on its feet," he said. "I am just so humbled and honored to have been able to have been here and done everything that we have done as a team over the last few years."
One of these major accomplishments, Milnor said, was taking the force from reactionary to proactively policing the community. When he first arrived, officers were "in a fetal position," working hours of mandatory overtime with uncertain schedules because they were four to five positions down.
Milnor worked to fill those vacancies with energetic, young officers and gave them goals that reduced overtime costs by almost $5,500 from 2016 to 2017 and increased productivity, with DUI arrests up from five in 2016 to 11 in 2017. In 2013, the town had one drug arrest and finished 2017 with 18, according to a December letter Milnor sent Town Manager Waverly Coggsdale.
Deputy Chief Kenny Moorefield has been a member of the Altavista Police Department since 2005 and said Milnor's public safety experience was invaluable to officers and the town.
"He holds a lot of respect in the department and outside," Moorefield explained. "His style of leadership is 'get it done,' and he has supported his people 100 percent."
Milnor's most significant accomplishment, according to Moorefield, was building back the town's confidence in its police force. He said everyone in the department is sad to see their leader leave, and he hopes Milnor's goals for the department will continue with the next head of the force.
Coggsdale said Altavista also appreciates the turnaround the chief made to the police force.
"I think the most important thing is the commitment he brought to the employees of the department and bringing some people in who were trained up in a way that they could be successful," he explained. "He has really elevated the professionalism and camaraderie of the department, and I think they've got a really great team."
Mayor Mike Mattox agreed and said the community owes Milnor a debt of gratitude.
"I think he has done right by us and has done a tremendous job," Mattox said. "… I personally thank him for his great work in our community and what he has accomplished."
Milnor cited the Senior Watch and Altavista Night Out programs as successful initiatives that have helped rebuild the town's trust in the department after it was plagued with scandal when his predecessor, Kenneth Walsh, retired after the Virginia State Police began a criminal investigation involving him. In 2016, Walsh was convicted of 15 felonies, including forgery and embezzlement.
Staff morale is up, Milnor said, adding "the community has just wrapped its arms around the officers and myself." He also expressed gratitude for the men and women who make up the Altavista Police Department.
"My officers are what have made this possible — their productivity, their drive, their pride in this agency is the one thing I'm most proud of," he added.
The chief said he gave five months notice because he wants to be involved in the search and selection of his successor, which he envisions as a long-term leader for the department. Milnor said he has gotten the police department to a stable point and hopes the new chief can continue the optimization.
"They actually can come in with a long-term vision and do some pretty amazing things with this agency," he continued.
Coggsdale said the town will begin the search immediately and hopes to have the job announcement finalized within the next week.
Milnor envisions the next chief as "young and energetic," matching the current dynamics of the force. He also said it is important for his successor to have a good understanding of both small-town policing and national standards of law enforcement and criminal justice to "apply the most modern standards with a small-town twist."
After his departure, Milnor will devote more time to his consulting firm Justice 3D, which provides sexual assault and domestic violence training to prosecutors, detectives and law enforcement.
Before he leaves, Milnor has said he wants to enable a "top-quality, full-service" police department by adding an investigator position. This would allow the Altavista police force to provide the best level of service to its citizens, he has explained.
He wished the department and next chief the very best and said he always will be a phone call away if they ever need assistance. Milnor also thanked the town for its support.
"In my 36 years, I can honestly say I have never been in a position in law enforcement where I was as supported and just felt so welcomed by a community as I have here," he said. "… If I ever were to take another chief position, that next community is going to have some big shoes to fill because I've been spoiled by this community. It's just been amazing."