In a rural oasis on the outskirts of Lynchburg, one donkey, two miniature Jersey cows, two geese, a sheep and a handful of goats are chomping away at holiday décor past its expiration.
For the past week or so, after a farm owner used social media to ask for donations, the animals have found themselves in for a treat of pumpkins for breakfast, lunch and dinner.
Pumpkin seeds contain an amino acid called cucurbitin, which acts as a natural effective deworming agent against tapeworms and other intestinal parasites.
That means one man's trash is another goat's treasure.
Anna Dudley, whose family owns OBIC — One Body in Christ — Ministries off Leesville Road in Campbell County, put out a request to the users of the popular "Living in Lynchburg" Facebook page in early November asking for people to drop their used pumpkins off at the 160-acre farm instead of trashing them. The farm received about 50 donated leftover Halloween pumpkins.
"It's actually really good for them," Dudley said. "The animals don't get a lot of fresh food and I mainly wanted them for the seeds."
The animals graze on bales of hay all day and receive a grain mixture once a day to tide them over, but they're overjoyed when they get a special pumpkin treat.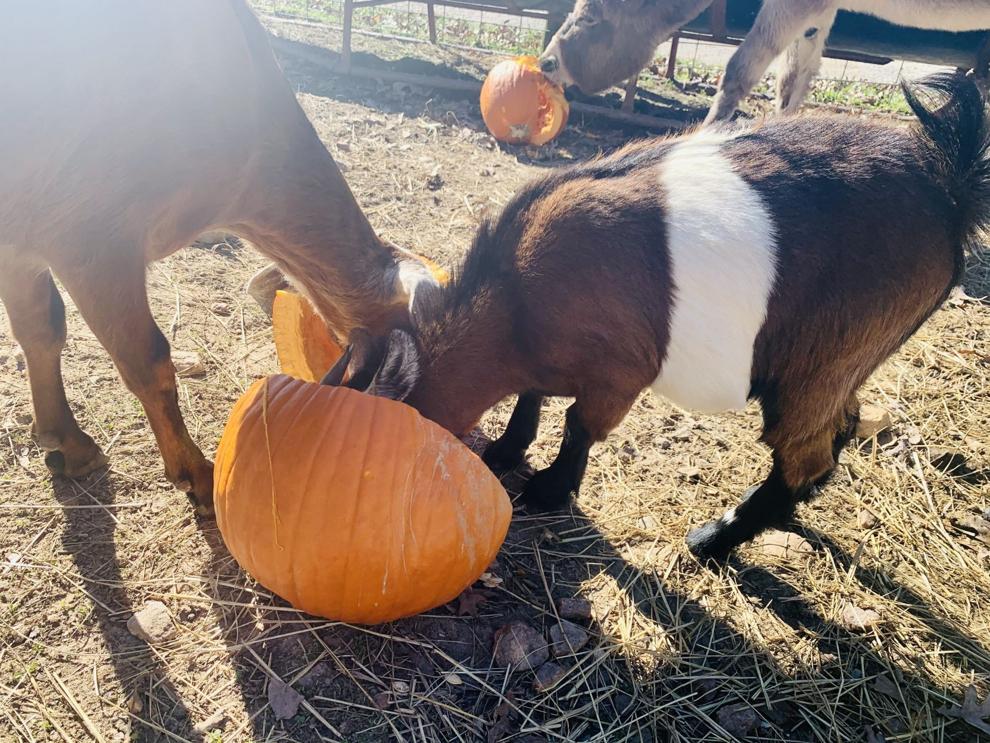 Three or four times a day, Dudley throws a pumpkin in over the fence, hard enough for it to crack open. From there, the barnyard animals swarm to share the delicious orange treat.
Lindsay Leonard, a Bedford County resident, said she and her husband and two children, Penelope and Joey, carve pumpkins every year for Halloween and always throw them away after the holiday.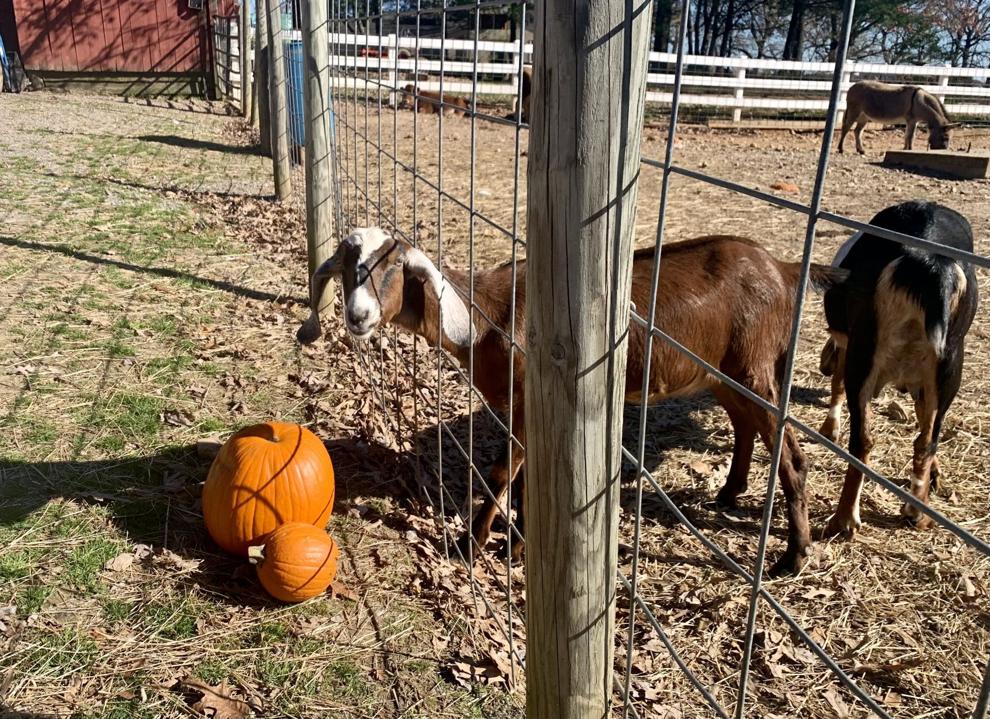 "This year, however, I saw the post on Living in Lynchburg about donating the pumpkins to the animals at OBIC," she said. "I thought it was a really good way to not only get rid of the pumpkins but also feed the animals at no charge to them."
The family loaded up four jack-o'-lanterns in a box and threw in three pie pumpkins they never got around to using.
"We actually got to feed them, which was adorable. We broke off pieces of the jack-o'-lantern and they ate right from our hands," she said. "We decided to donate here in the future and maybe even collect pumpkins from the neighborhood."
The family also does some vegetable growing in the spring and summer and plans to donate some of those crops next year.
Sandra Bermudez, a Lynchburg resident, said she was scrolling through Facebook one night and came across the feed from Dudley's post.
"We had a few [pumpkins] at home and I had just done a trunk-or-treat for work in Bedford, so that Saturday afternoon my two daughters, my granddaughter, and I drove over," she said. "We placed the pumpkins in the pen just as Anna had suggested and the goats got right to work on them."
Bermudez said one of the pumpkins didn't crack open so the family watched as a goat attempted to break it in the pen.
"My granddaughter is almost two so she enjoyed watching the goats and the geese," she said. "We walked over to see the horses too."
Dudley said the farm is open year-round from dawn until dusk for families to visit the animals, use the lake for fishing or the ballfields for play.
"A lot of people find these animals therapeutic," she said. "People can come out anytime as long as they sign a waiver."
Dudley said if people missed their chance and already tossed their pumpkin, they can save their Christmas tree to donate to the goats, who can make food out of just about anything found in a forest.