Following Campbell County supervisors' recent resolution opposing new statewide COVID-19 restrictions, about 300 people — including local militia members and elected officials — gathered Saturday to show they also reject the new rules.
Last month, Gov. Ralph Northam announced new health and safety mandates that, among other things, cap certain public and private gatherings, both indoors and outdoors, at 25 attendees and require face coverings for all Virginians five and older in indoor public spaces.
On Saturday, the crowd at Timbrook Park in Campbell County included representatives from militias in Campbell, Appomattox and Bedford counties; other residents of these counties and Lynchburg; and elected officials. Members of the Campbell County Sheriff's Office directed traffic. 
Campbell County militia leader Wes Gardner said the gathering was a way of demonstrating First Amendment freedoms. 
"You should have the ability to come out and assemble to air grievances against the government," Gardner said.
On Tuesday, the Campbell County Board of Supervisors unanimously passed a resolution declaring the county a "First Amendment sanctuary," rejecting the governor's executive order and directing the county to oppose the newest guidelines. Supervisors in Bedford and Appomattox counties are considering similar resolutions. 
"They [Campbell County supervisors] had a duty to stand with the citizenry, and the citizenry stood up and said, 'We do not want this here,' and as representatives, that's their job, is to do what the people want," Gardner said. "And the people don't want that stuff here in Campbell County." 
As of Saturday, 1,290 Campbell County residents have tested positive for COVID-19, 41 have been hospitalized in connection with the disease caused by the novel coronavirus and 12 have died since the pandemic began in Virginia in March, according to the Virginia Department of Health. 
Gardner said Northam's recent mandates infringe on the freedom to assemble and he wanted to give residents a chance to show Northam that "we can't live like that." 
Aaron McMullen, public affairs officer for the Campbell County militia, said the gathering was a way to represent unity in the county. 
"We're tired," McMullen said. "We understand we're in a state of emergency, but we also understand that at some point someone's got to stand up and not put up with this. It's been eight months now."
McMullen said the militia has handed out more than 2,000 meals in the past months, picked up trash on the side of the road and helped the community in a number of other ways. 
"The militia is about citizens helping citizens," McMullen said. "And that's what we're doing today, we're standing up for the rights of the people in this county."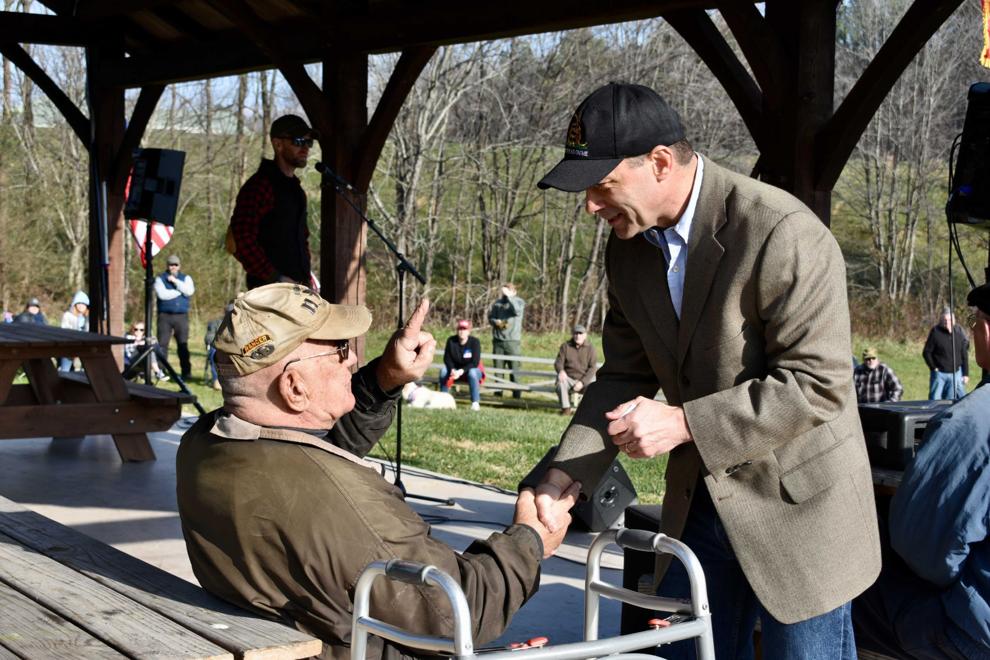 U.S. Rep.-elect Bob Good, R-5th, a former Campbell County supervisor, spoke at Saturday's rally, thanking local leaders who are opposing the governor's mandates. 
"We are here to demand our First Amendment rights," Good said. "Our First Amendment rights to assemble, our First Amendment rights to worship, our rights to be a free people."
Matt Cline, who represents the Concord District on the Campbell County Board of Supervisors, said the resolution was a message to the governor and law enforcement that residents will not comply with the mandates. 
"That resolution was much more than symbolic," he said.
John Hinkle, Appomattox County supervisor representing the Falling River District, spoke Saturday in support of the resolution Campbell County passed and the work the militia is doing. 
Hinkle said the Appomattox County board is set to consider a similar resolution at its Dec. 21 meeting. 
Forest resident Kurt Santini attended Saturday's rally campaigning for governor. Santini said he fears he won't be able to reach voters unless events are allowed to take place. 
Lynchburg City Council members Jeff Helgeson and Chris Faraldi — representing wards III and IV, respectively — spoke at Saturday's event in support of the counties' resolutions and against the governor's mandates. 
"Liberty and freedom is not amended by the circumstances of the day," Faraldi said. "If my freedoms are dictated by a virus or by any other means... they are not inalienable rights."
Faraldi said he does not think city resources should be used to enforce the governor's mandates and could see Lynchburg City Council consider pursing a similar resolution to state that "if that's what it takes."