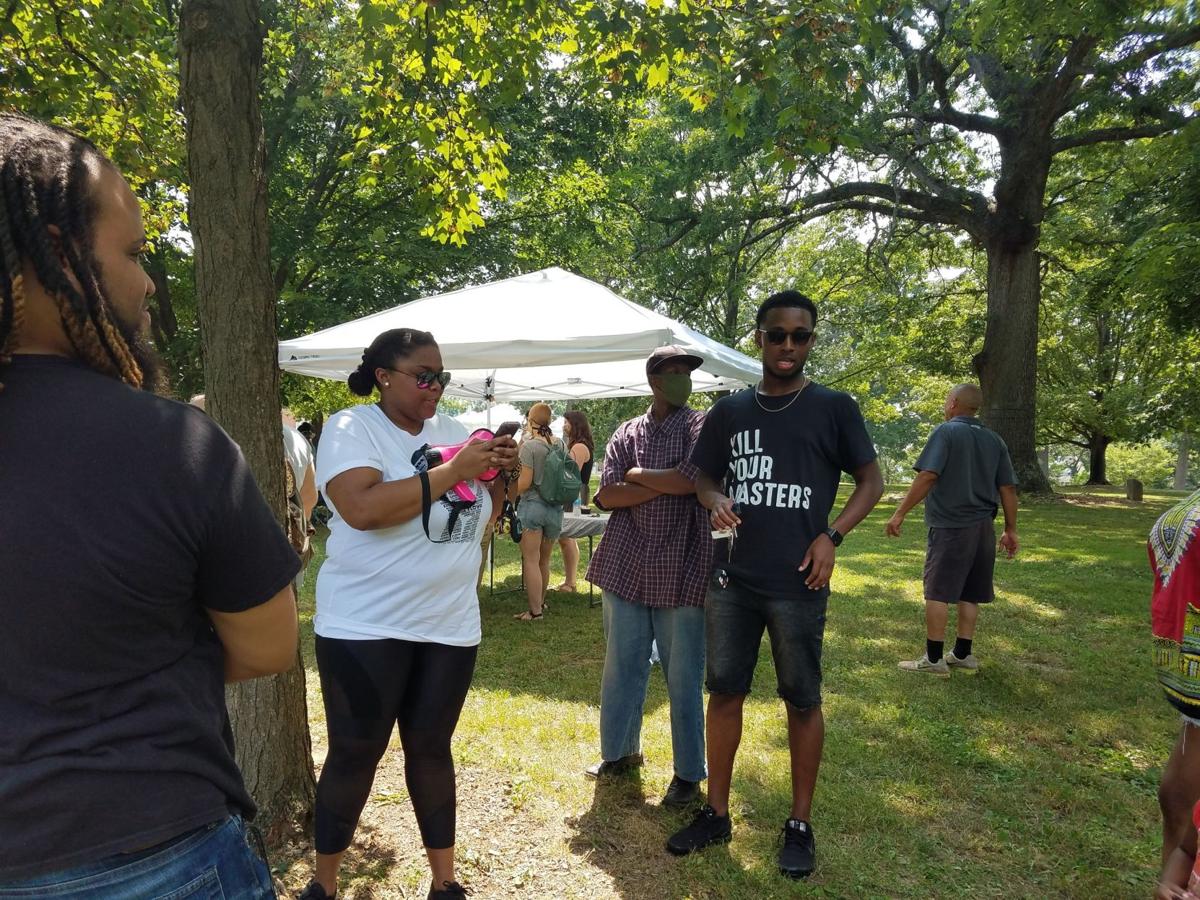 As the 3 o'clock hour closed in Sunday afternoon, Justina Sandidge turned on her hot pink bullhorn and asked the small crowd for a "woo-hoo" if they could hear her.
Receiving a small cheer in response, she thanked the nearly 50 people gathered for coming out in support of the Black Lives Matter movement. With that said, dozens of men and women slowly withdrew from the shade of Miller Park's gazebo in preparation to walk down Memorial Avenue and Langhorne Road, back to the park.
Standing in the shade with his friend Jashaun Clark, Jamie Cabell said he was there because he wants to see systemic change. He doesn't want to see history keep repeating itself. During the event, he planned to collect a list of resident's concerns so he could take them to local officials and push for change.
Clark, a member of the NAACP, said the movement emphasizes all lives matter, not just Black lives.
"We're in a time where we are hurting and we need to be healed," Clark said. He wants to come up with a Black agenda that outlines how the community can prevent things like mass incarceration, police brutality against Blacks and involve more Blacks in the leadership structure.
Seated behind the Lynchburg RISE information table with her committee members, Lynchburg's Verna Lamb said people have been putting a Band-Aid over racial issues for years, and though it's a cliche, enough really is enough. Lynchburg RISE, which stands for Reaching Inclusivity and Systemic Equality is a local grassroots group that started after the death of George Floyd. It has swelled, with members creating and joining various committees to tackle problems on the ground.
Sunday's march was one of several gatherings that have been held in the greater Lynchburg area since George Floyd died May 25 at the hands of Minneapolis police.
As visitors stopped at the table to fill out a questionnaire or pick up Medicaid flyers, Lamb said she needed to participate in this movement physically for one very basic reason. "I want to make a difference," she said. "I'm at a point where I can write a check, but, yeah, that's not enough."
As Brea Lyons-Cassel made her way to the table, the colorful metal water bottles on her daughter's stroller clinked and clanked. She confidently handed her handmade sign to her husband that said, "All mothers were summoned when George Gloyd called out for his mama #BLM Silence is violence."
Sunday was her first BLM march.
"I brought my child because I want her to be part of something great," she said as she came back to the stroller.
Amy Trent is the Editor. Reach her at (434) 385-5543
Amy Trent is the Editor. Reach her at (434) 385-5543
Get local news delivered to your inbox!
Subscribe to our Daily Headlines newsletter.