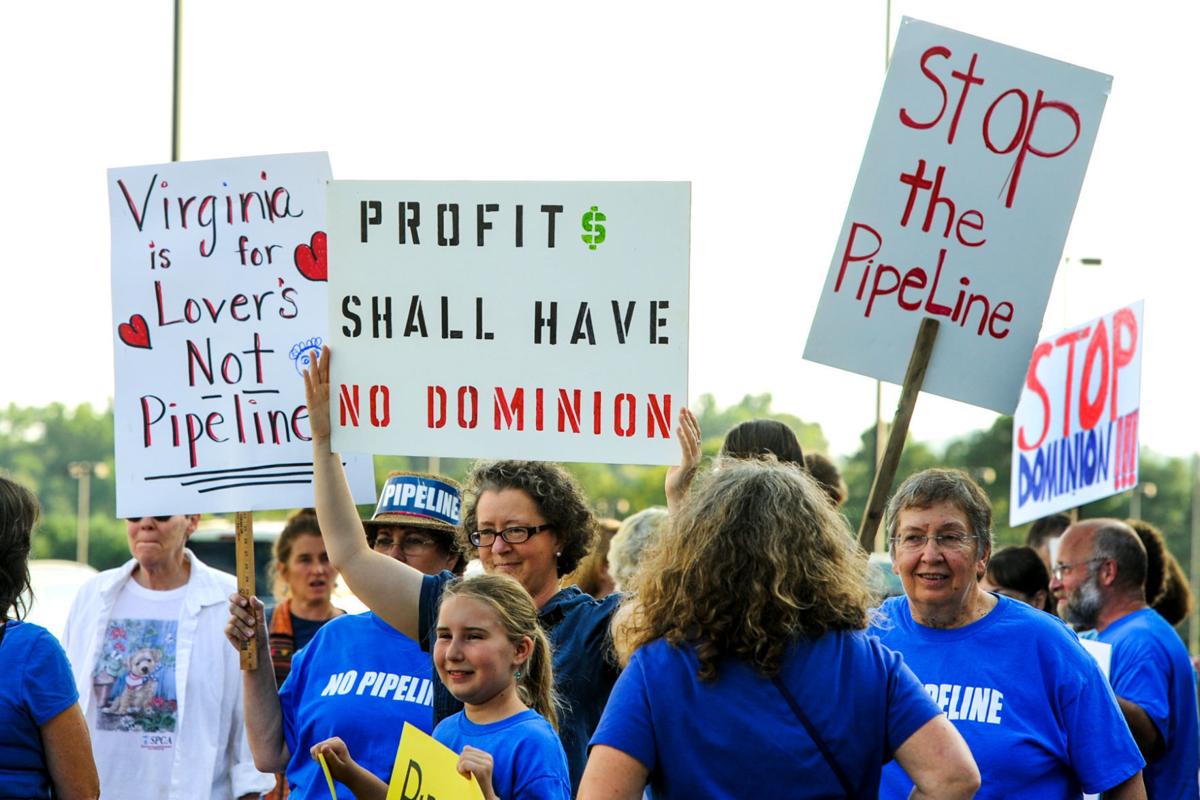 Half a decade of their lives were devoted to fighting the Atlantic Coast Pipeline. As news of its demise broke Sunday, those dedicated to the anti-pipeline cause in Nelson County were overcome with emotions.
"Tears. For real. Tears of relief and joy," Richard Averitt, a Nelson resident who entered the fight initially to preserve private property rights, said of his reaction. Since then, he and his family have put into the fight what he estimates to be about two days' worth of work per week.
So less than 24 hours after the decision by majority ACP partner Dominion Energy and Duke Energy to abandon the ACP was made public, Averitt's answer to "How are you?" was laced with a noticeable air of delight.
"It's hard to imagine being better," he said.
The tears came amid a flood of celebratory responses. The Averitts also shouted into the expanse of their Nellysford property from their front porch Sunday before popping open a bottle and letting the champagne flow. The property, slated to be crossed by the pipeline, is now safe, providing relief that was missing for years.
Years after its approval by the Federal Energy Regulatory Commission, the pipeline remained mired in court challenges.
The natural gas project — which had been planned to cross 27 miles in Nelson along the 600-mile route through West Virginia, Virginia and North Carolina — won a battle in the United States Supreme Court that allowed the pipeline to cross beneath the Appalachian Trail near the Nelson border. But other hurdles remained. The project was more than $3 billion over its initial budget and years past the originally planned late 2018 in-service date when Sunday's decision was announced.
One of the biggest challenges facing the ACP came in the form of a federal judge in Montana, who vacated a federal water quality permit needed to cross hundreds of water bodies. The ruling and subsequent decision by a U.S. appeals court to deny a stay of that decision left a perilous path forward for ACP.
"It's the best news I've heard for a long time, and I just really commend those who stuck with it [in] opposing it," Tommy Harvey, Nelson's North District supervisor and chairman of the board said. "I think Nelson County is on the map now that our people stick up for what they believe."
Swaths of Nelsonians quickly joined the fight to stop the pipeline, loudly voicing disagreement with the project every step of the way in the form of protests, comments to federal, state and local officials and legal challenges.
"I did not have a choice but to fight," said Alice Clair, whose family's land would have been used for construction access.
Clair, now 22, began educating herself about the project and the environmental issues surrounding it when she was a 16-year-old student at Nelson County High School.
She felt Sunday like the years of work she and others had put into the battle have paid off. A gush of emotions followed. The only appropriate response, then, was to sob.
"I honestly couldn't stop crying for a while yesterday," she said.
Many Nelson County residents like Clair coalesced, uniting in their efforts against the pipeline and forming Friends of Nelson.
"The odds were definitely stacked against us then," the group, which was lauded by Harvey on Monday, said on its website. "But enough of us decided then and there that the ACP was fundamentally wrong, and we not only had to oppose it, but to actively fight it. … Friends of Nelson is grateful beyond words for each and every person, group, and organization that participated as we all worked together to bring about the demise of the ACP."
Former Friends of Nelson president Ernie Reed, now the Central District supervisor in Nelson County, described his reaction Sunday as disbelief, "but I think I always knew that this project wasn't going to happen."
Reed, like others in the county, said when he heard six years ago about the project's proposal, he wasn't sure how long a fight would take, or what exactly would lead to what he was convinced would be its end.
While the voices of pipeline opponents often rang out loudest, other residents supported the ACP.
"I hate to see corporations, which are made up of lots of well-meaning folks, made out to be demons from the start," said Paul Busch, a Lovingston resident who said the pipeline was planned for his back yard. "It was never a fair discussion of the facts. Instead, it was illusions meant to fear monger and deceive the public."
Larry Saunders, a former county supervisor, said based on his more than 50 years of experience in the pipeline industry, he believes the ACP would have served to generate tax revenue, spur economic development in the area and create jobs.
"It was just a win-win situation as far as I was concerned," said Saunders, who wasn't an outspoken proponent of the ACP during his time in office.
"I'm not surprised, but I was disappointed, and I don't think it's over with. ... I feel like a majority of the people didn't understand the pipeline, and most of the people didn't understand the benefits to Nelson County."
There still are issues to be worked out going forward, including what will happen with easement agreements ACP and Nelson landowners entered into during the past several years. Landowners who'd already received compensation will be able to keep the money.
"In the coming months, we'll decide our best path forward," said Ann Nallo, spokesperson for the ACP.
ACP opponents say there's more work to be done when it comes to energy projects and environmental issues, vowing to also fight the Mountain Valley Pipeline, another interstate natural gas project crossing Virginia that is under construction.
For now, though, opponents are reveling in Sunday's news. They never quit, they argued, and the ACP didn't win — the fulfillment of a philosophy held by Averitt and family, who always were convinced they'd see the result they'd hoped for.
"We won the impossible fight," he said.