Angeline Hodge watched as her small, two-wheeled robot smashed into another small robot in the enclosed arena.
Angeline, 6, raised her elbows as she pressed harder on her controls. She was at eye-level with the battling robots in the arena, watching as she maneuvered her bot around the floor aiming for the other robot.
After about 2 minutes of battling, her robot, Scrappy Dappy Die, was declared the winner of the first battle during Vector Space's Hill City Robot Battle at Virginia Episcopal School Sunday.
With a big smile on her face, she turned and gave her dad, Tim Thompson, who introduced her to bot fighting, a high-five. The crowd of at least 75 people cheered.
Angeline's robot was one of 15 bots registered for Vector Space's third annual robot battle Sunday. Some competitors, like Angeline, were battling for the first time, while others were veterans.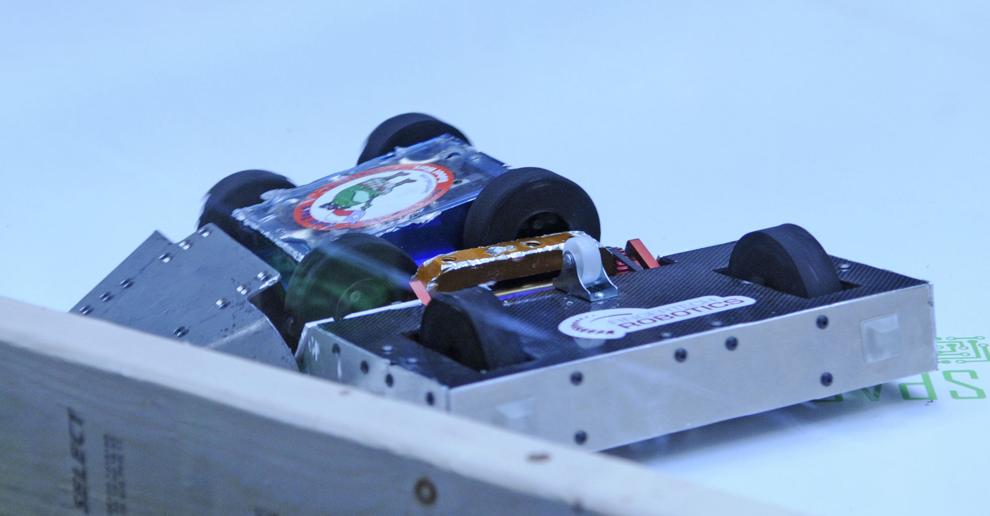 Vector Space Executive Director Elise Spontarelli said this year's tournament was intergenerational as some teams consisted of parents and their children and others were college students or adults.
People came from all over the state of Virginia — including Lynchburg, Arlington and Strasburg — as well as North Carolina to compete.   
Todd Rogers, of Timberlake, North Carolina, said Lynchburg's competition was the closest robot battle he could find.
"It's totally awesome. I don't feel quite so isolated," Rogers said. "[It was exciting] just meeting folks and learning from other people."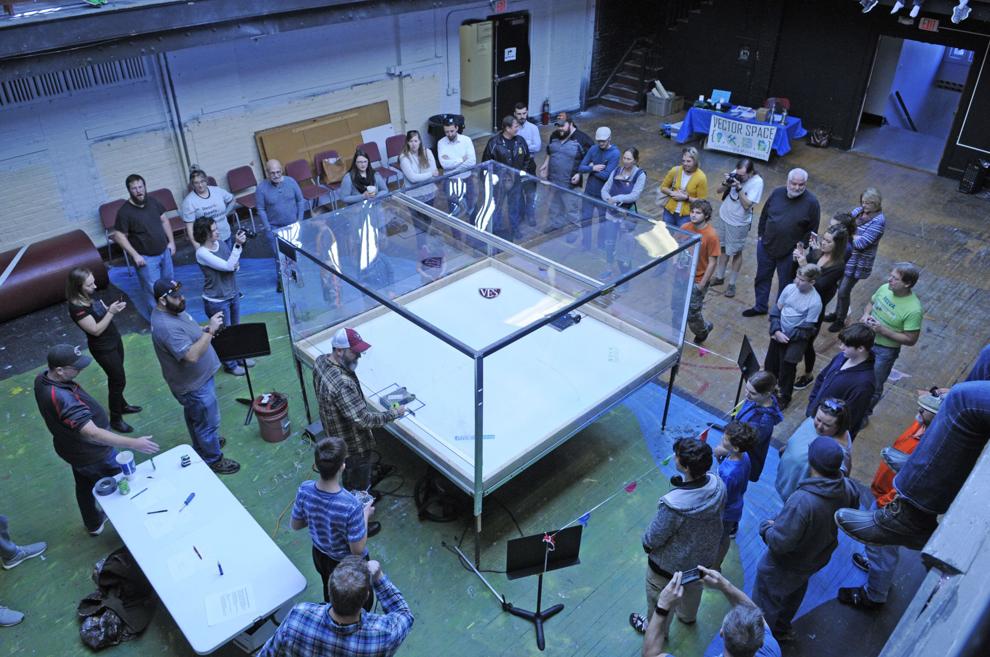 Unlike past years, the arena was an enclosed 8-by-8-by-4 foot polycarbonate transparent case.
"When we did it in the past, there were no walls. It was just an open arena, so the weapons were really minimal for safety reasons. This time, we have… [an] enclosed arena so the weapons are scarier and more fun to watch," Spontarelli said.
Some bots were equipped with sharp spinners to tear into the competition while others had devices to flip or go underneath other robots.
Robots were divided into two weight classes: robots weighing about 1 pound, also known as the ant weight class, and robots weighing about 3 pounds or the beetle weight class. Sunday's battle was a double elimination tournament within weight classes with each weight class having a final rumble where "all remaining functional robots" got in the arena to "hash it out," Spontarelli said.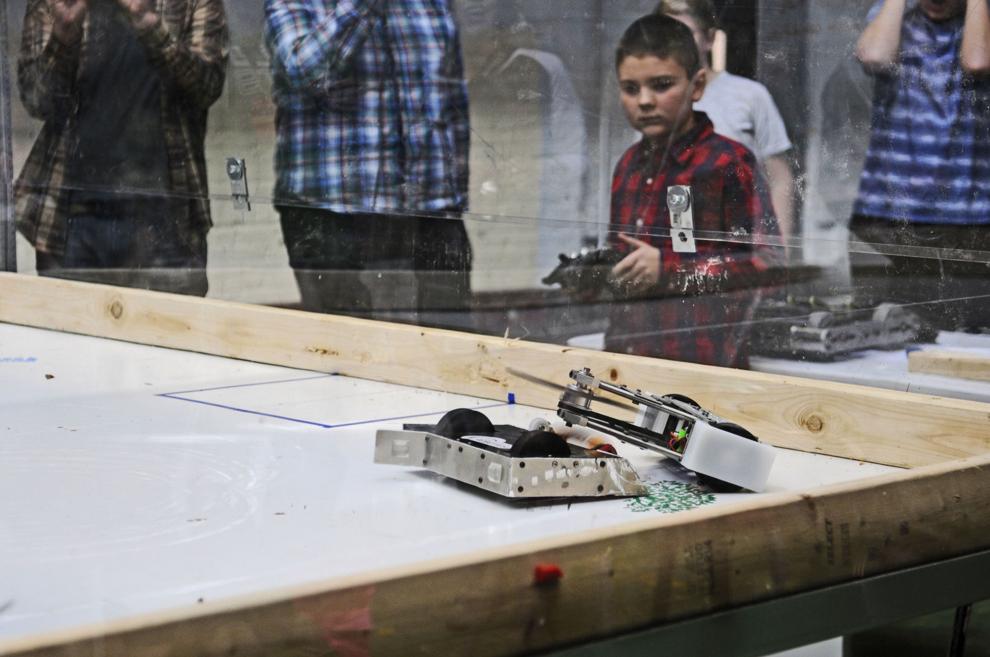 Some battles saw pieces of robots smashed off during collisions causing the audience watching on the ground and the upper level to shout. After really destructive battles, someone would use a broom to brush the pieces to the side so competitors could gather their bots scattered remains.
Spontarelli said robot competitions are a way to combine learning and fun.
"We're really about education and fun and showing how all the things you learn in school, how you can actually apply them to things you want to do in your own life," she said.
Some competitors spent hours building their bots while others spent months creating their robots of destruction.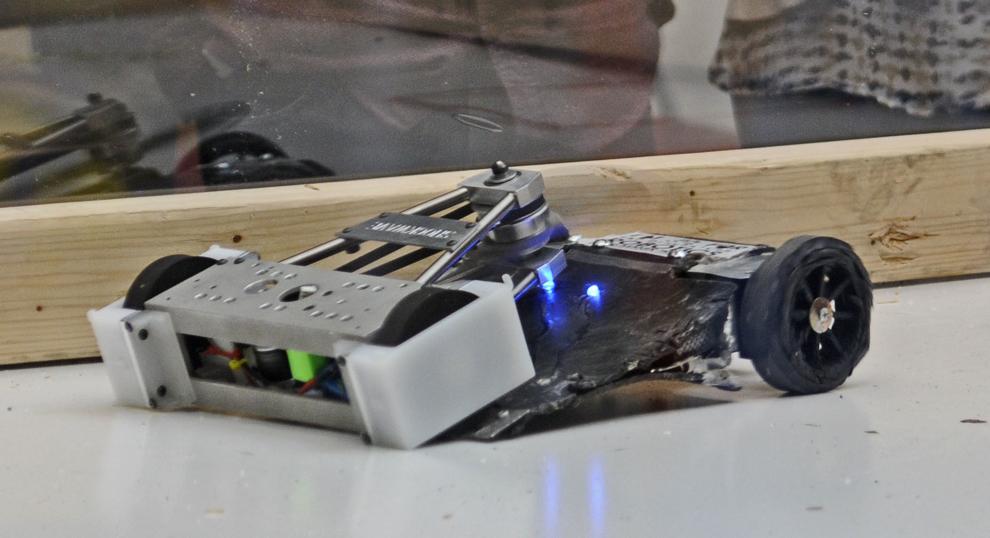 For some competitors, robot battles have become a family affair. Will Ashley, 10, and his dad Larry traveled from Arlington to participate in the competition. Lynchburg resident Chris Donovant uses robots and the competitions to teach his three sons who are homeschooled.
Angeline and her parents Mikayla Pariso and Thompson, from Strasburg, each brought a robot to compete.
"I love [competing as a family]. I think it's so much fun, and it's nice to do something all together," Pariso said.
At one point in the tournament, Angeline went up against Pariso for a mother-daughter battle. In less than a minute, Angeline's robot bashed into Pariso's robot causing the tires to fly off the robot. Angeline jumped for joy as Pariso stood laughing in amazement.