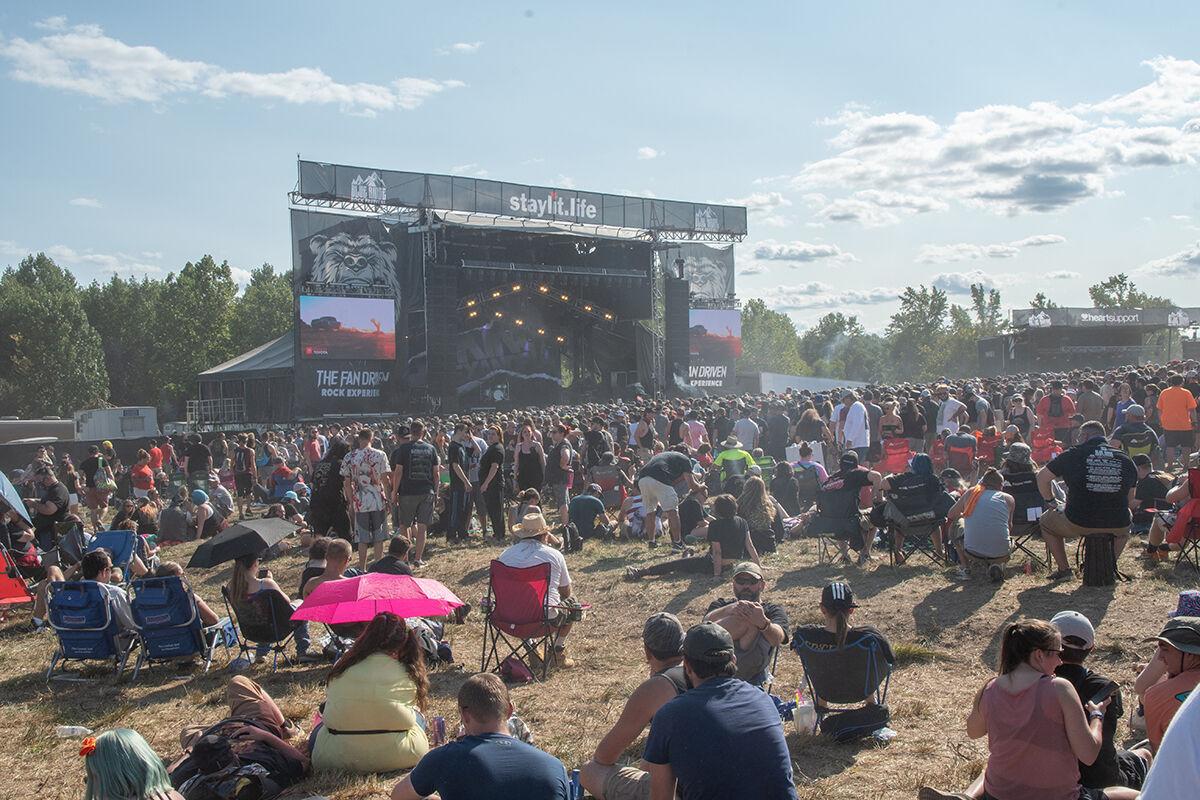 A September rock festival that drew a record-breaking 33,000 people to Pittsylvania County over a four-day period triggered very few COVID-19 cases, despite some people showing up at the event knowing they were sick.
As of Friday, there were 25 suspected virus cases statewide linked to the Blue Ridge Rock Festival in Blairs, said Brookie Crawford, a spokesperson for the Virginia Department of Health.
Locally, only eight infections are confirmed from the Sept. 9-12 event that had mostly maskless people standing shoulder-to-shoulder listening as bands performed on multiple stages.
"So far the Blue Ridge Rock Festival has had little to no significant impact to our area," Chris Garrett, the local emergency coordinator with the Pittsylvania-Danville Health District, told the Register & Bee this week.
Chris Andrews, an epidemiologist with the local district, recently said some people from other health districts were "clinically ill before they arrived at the festival but chose to stay due to mild signs."
Most of those were discovered from interviews conducted outside of the local health district.
The event triggered worry among medical professionals in the Dan River Region as cases continued to climb blamed on the delta variant of the novel coronavirus.
"Just as people came from many places for this festival, it is quite likely that several brought the virus with them," Dr. Scott Spillmann, director of the local health district, told the Register & Bee recently.
Even though this was an outside endeavor — often viewed as a safer environment amid the pandemic — Spillmann said they urged using face masks, but without an emergency declaration in place, there was no way to mandate it.
"Some cases were ruled out as associated with the festival because they experienced symptoms before the festival," Crawford said Friday.
She also said an exact number may never be known because often there's not enough details to "definitively say the person caught COVID at the festival."
Other cases are still being investigated, she said.
"As the first event of this scale in Pittsylvania County's history, this four-day music festival, which was attended by approximately 33,000 fans daily, was extremely successful and will serve as a springboard for future events," county leaders wrote in a statement Sept. 13.
The festival was expected to bring in about $100,000 to county coffers from food and beverage taxes collected by visitors.
Another festival postponed
Another event, the Blue Ridge Country Festival — originally planned for Oct. 1-3 at the Blue Ridge Amphitheater — was postponed to next spring after organizers cited worries over COVID-19.
However, a permit for the event was never officially issued since Purpose Driven Events — the company operating the Blue Ridge Amphitheater — did not provide final details like parking, traffic and security for this month's planned events and never paid the required permit fee, Pittsylvania County reported in a news release.
It was on Sept. 21 that Pittsylvania County Administrator David Smitherman wrote to the company saying the permits were rescinded.
A few days later, "the event promoter informed Pittsylvania County that it was highly likely that the event would be postponed due to the COVID-19 pandemic and said that, as a result, he would not move forward with providing the requested documentation," the news release stated.
On Sept. 27, ticketholders were notified that event had been postponed.