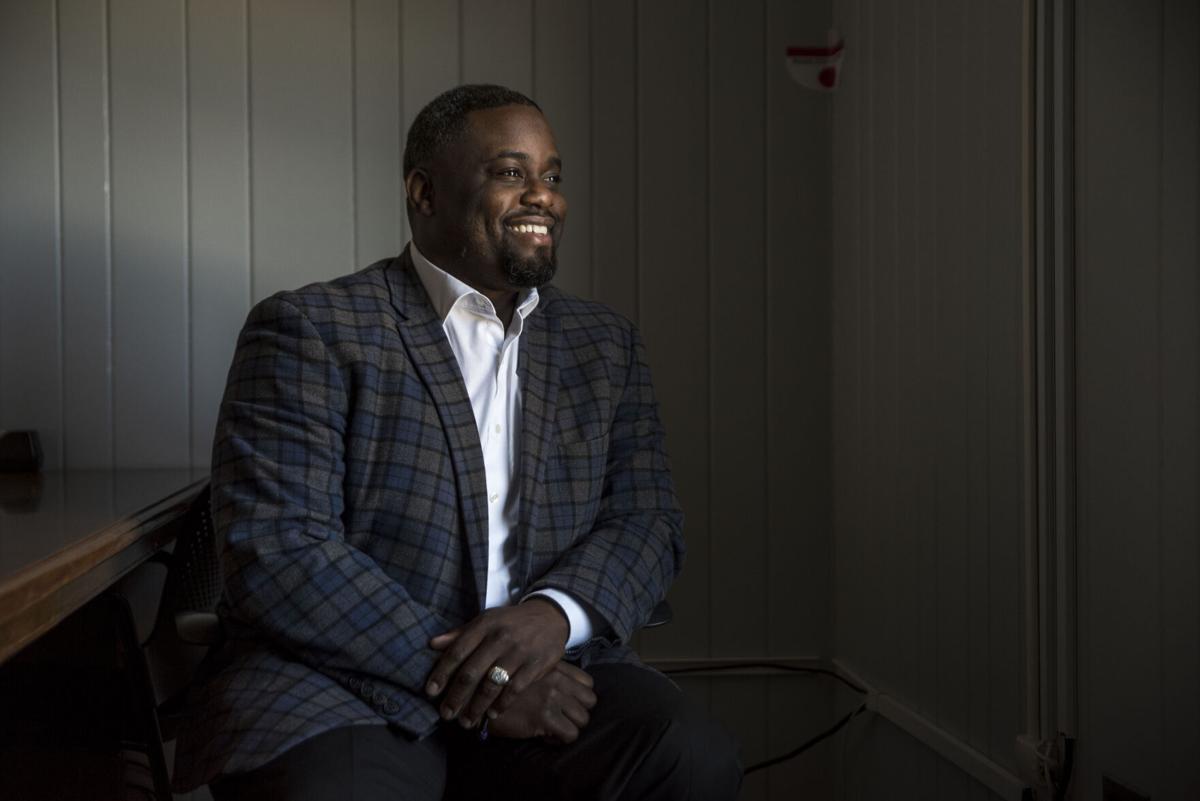 Gary Campbell, CEO of Johnson Health Center, describes Justin Mercer as the type of friend everyone wants to have.
Mercer's genuine, outgoing persona makes him approachable and easygoing, and it's important to him that people in his community feel connected, invited and included, no matter who they are, Campbell said.
Campbell said Mercer — who recently became associate director of inclusion and diversity at Johnson Health Center — is the ultimate servant leader.
"He has a tireless work ethic, he's passionate and he cares deeply," Campbell said. "Whatever you need, whenever you need it, he would be there for you. He's very humble and is always seeking to learn."
Mercer, 36, is new to the job — he started last October — but has worn many hats leading up to the role that ensures the health center continues to provide quality and affordable healthcare for all people.
The role encompasses four main things: recruiting and retaining a group of skilled and diverse providers — which include doctors, advanced practice professionals and anyone who sees patients; increasing supplier diversity; handling external relations; and building a first-class inclusion and diversity program that enhances JHC's culture of belonging.
Johnson Health Center is a nonprofit health care provider serving Lynchburg and the counties of Amherst, Bedford and Campbell. Such community health centers were created with medically underserved areas in mind, and JHC "is proud to offer comprehensive primary health care services to anyone seeking care in the community," according to its website.
The work being done in JHC's inclusion and diversity program has been written into the center's strategic plan both from a provider recruitment perspective but also from an inclusion and diversity perspective, Mercer said.
"So we have a number of objectives that we've set out to successfully achieve with in the next three years," he said. "Another measure that we put in place since I've been employed is every new hire that goes through their orientation will hear about [JHC's] concern and its efforts to be a more diverse and inclusive and equitable organization."
He added he also has been working with the center's chief compliance officer to build a training program to highlight advocacy and awareness for the disabled community.
Mercer already was serving as the chair of the diversity committee for JHC's board of directors when he decided to apply for the job.
"I said, 'I would love to try to throw my name in the hat and interview,'" he said. "So they took me through a rigorous interviewing process. They did not treat me like a board member and they didn't just hand me the job. This further proved that I applying to the right company."
Campbell said the inclusion and diversity program was launched at the clinic in January 2020.
He said Mercer had expressed interest in the position and already had worked with similar programs at Liberty University.
"He brought a wealth of experience with him and we hired him because he's a passionate and core values-driven person," Campbell said. "He brought a lot of credibility to what we were working to build here."
He said he wanted to make sure physicians and staff members feel included and said the center wasn't doing enough at attracting minority candidates.
"I don't want anybody to feel excluded anywhere. I want everyone to feel included, so we looked at building and pushing a diversity program," he said. "I did some research and companies that really focused and were intentional about the focus on inclusion and diversity were the companies that tended to be more successful."
Mercer studied biological science at NC State, and was a running back on the university's football team from 2002 to 2005.
After he graduated in 2007, he began working in the health care sector in the Triangle area, which he said helped prepare him for part of the work he does for Johnson Health Center.
He worked as a health unit secretary within the psychiatry department at the University of North Carolina at Chapel Hill Health System and also performed physical therapy as a technician within the UNC hospital health system as well as a nurse assistant.
Then he worked as a health information technologist for Vidant Medical Center in Greenville, North Carolina.
Beginning in 2012, he took on several roles at Liberty University, starting as the director of orientation and retention and concluding as the deputy diversity officer for the Office of Equity and Inclusion.
In 2015, Mercer became the pastor of Faith Temple Church in Rocky Mount and today he pulls double duty serving his congregation as well as providers at JHC.
He said the church has expanded and has started new ministries, such as a clothing and school supply giveaway helping hundreds in the Franklin County area.
Mercer has five children with his wife of 11 years, Lori, and enjoys spending quality time with his family, reading, and listening to music.