RICHMOND — Jonathan Richardson parked his Toyota Tundra in a dirty, grease-coated and garbage-filled alley on Grace Street on a recent morning.
Along the walls and behind the dumpsters, he found a live rat in all eight traps he had set the night before.
It was the first time in his career he achieved a perfect score.
The rats darted back and forth in the cages and squealed. Richardson carefully picked up each cage and placed it in the truck's bed.
A biology professor at the University of Richmond, Richardson and his team of undergraduate researchers are conducting first-of-its-kind research on the city's rat population, the diseases the rats carry, and the risk humans face of contracting those diseases. The city's homeless and low-income residents are likely the most vulnerable, because less attention is paid to these communities, for pest mitigation, infrastructure and sanitation, Richardson said.
One such disease is leptospirosis, which can cause a wide range of symptoms. In 2017, a New York City resident died after an outbreak believed to have come from rats. On average, between 100 and 150 cases of human illness are reported in the U.S. each year, according to the Virginia Department of Health. The disease has also affected dogs in the state, according to media reports.
Richmond's rats have been making headlines for more than a century. In 1912, Orkin Pest Control set up its first office here. Its founder, Otto Orkin, became known as "Otto the Rat Man." Later, the city of Richmond contracted him to keep rats and other pests out of city buildings for $25 a month.
In 1940, Richmond's mayor declared an "all-out war" against rats, estimating the city's rat population at 400,000, or two rats for every person. Three years later, two infants at St. Philip Hospital in downtown Richmond were bitten by rats. One died, though doctors later said the rat bite didn't cause the baby's death.
It's unclear how many rats inhabit the city now. Orkin recently named Richmond the 33rd-rattiest city in America, slotting it between Phoenix and Nashville, Tennessee. But those lists are unreliable, Richardson said. Rat rankings are based on the number of rat complaints Orkin receives, but too often residents call complaining of rats when a different animal is really to blame, he said.
Richardson isn't the only UR professor studying rats. Kelly Lambert taught lab rats to drive modified cars, developing research that helps explain how a stimulated brain is more equipped to learn.
Lambert's rats are the same species, Rattus norvegicus, or Norway rat, as the wild rats in downtown Richmond and throughout the world. But unlike the rats discovered behind downtown dumpsters, hers aren't riddled with disease.
Unlike Otto Orkin, Richardson isn't aiming to eradicate the city of its rats. His goal is to catch as many as he can and study them. There will be rats in Richmond long after he's gone.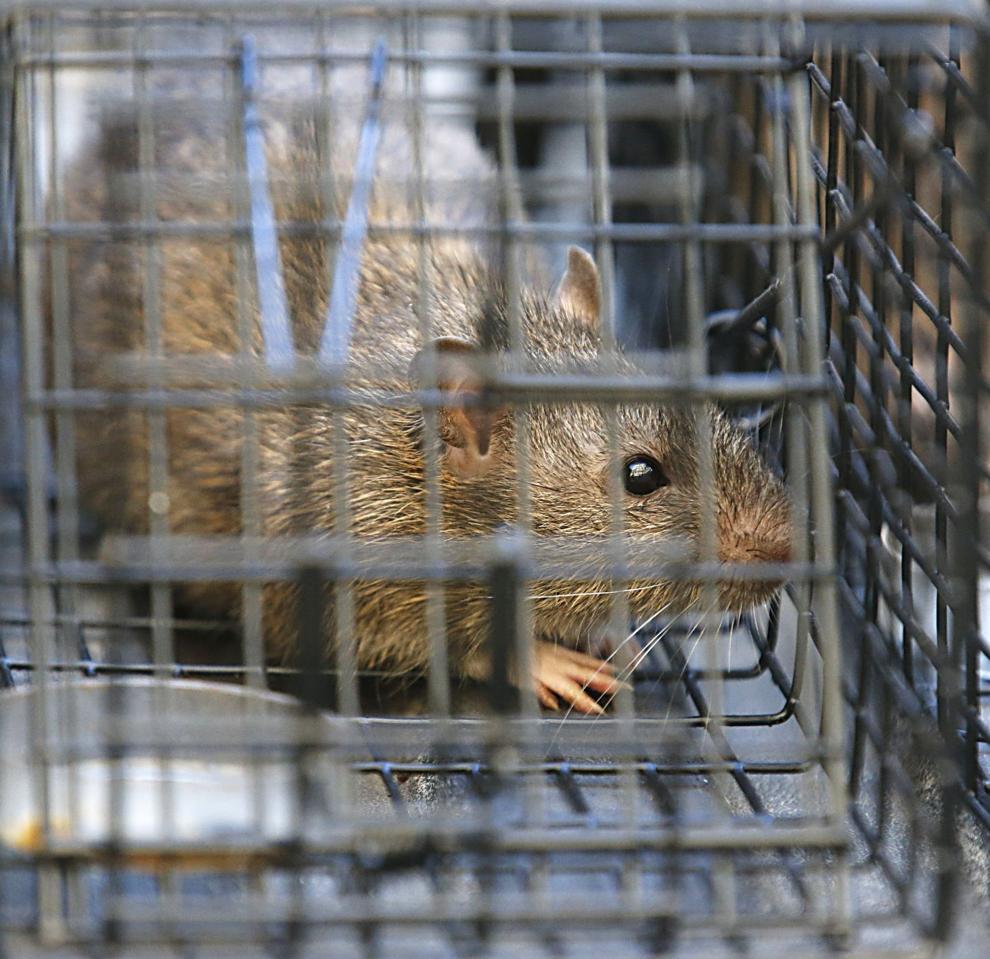 Bait and catch
To catch a rat, Richardson and his students place hunks of bait at the back of a cage the size of a shoebox. Designed specifically for baiting rats, it's a mixture of peanut butter, bacon grease, oats and bird seed, resembling a piece of toffee.
They place the traps at night when the rats are most active. They leave the traps unset, because rats are smart enough to avoid stepping into something new and strange.
On this night, it took just a minute for the first rat in the alley to emerge from a shadow, scurry along the wall and let out a loud squeak. With french fries and garbage to feast on, rats were abundant here. The population was as dense as he's ever seen.
"It's like shooting ducks in a barrel," he said.
A few nights later, he returned to set the traps. The following morning, he came back to reel in his catch. Each rat weighs less than a pound, and most live a year or less. Time is nearly up for these eight.
The Richmond Times-Dispatch agreed not to publish the specific location of this mischief of rats — yes, that's what you call a group of them — because Richardson wants businesses and residents to be able to contact him about their infestations without the public embarrassment.
Someone else has placed poison traps at this location, an approach Richardson never employs. They lead to gruesome deaths, he said, and in this case, they are ineffective, ignored by the rats.
Richardson often zip-ties his traps to pipes. People have stolen his traps, destroyed them or set the rats free.
If he sees a homeless person on the street, he'll ask if there are rats nearby. Homeless people are often the most likely to see rats, and they are often the most vulnerable to them. In this instance, a city worker tipped him off about the horde of rats in a downtown alley.
He took a moment to study the first rat, seeing scarring on its tail, signifying the rats have been fighting. The rats probably pass diseases biting one another.
"There seems to be an association between scars and bite wounds and how many pathogens and parasites they harbor," Richardson said.
During the pandemic, when restaurants had closed, people found severed rat parts in Richmond's alleys. Richardson theorizes that food became so scarce, the rats had turned to cannibalization.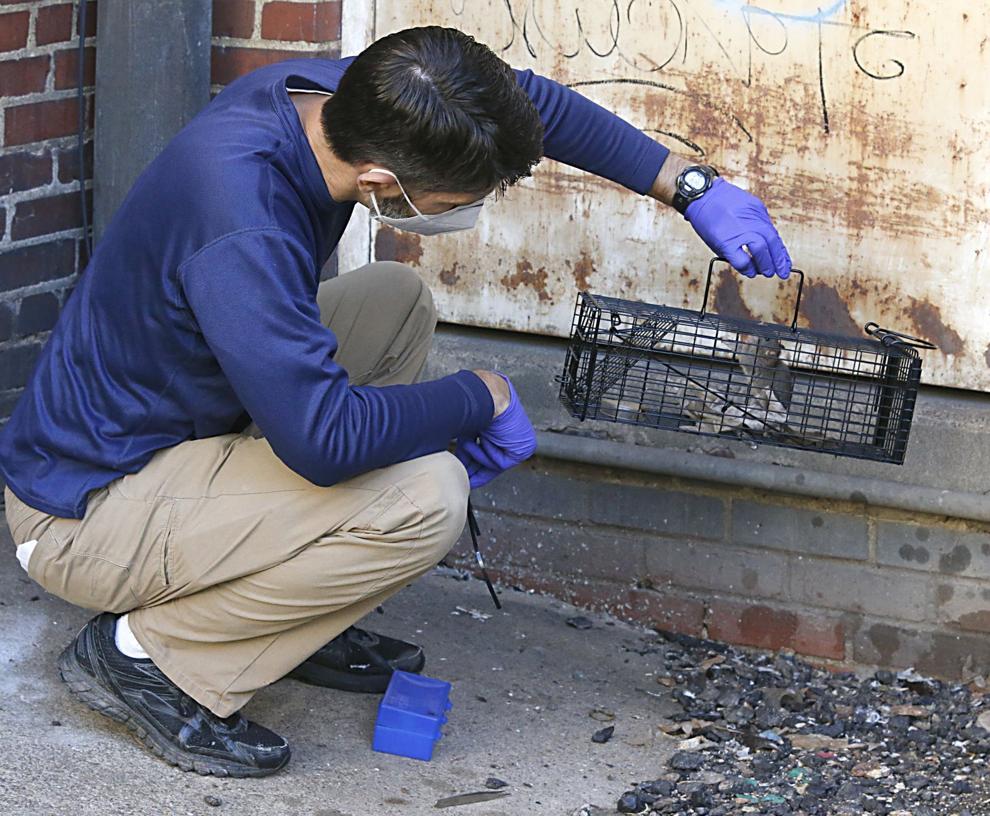 The public health risk
It's likely the rats carry pathogens that can be caught by humans, known as zoonotic disease. Health care providers recommend people bitten by rats should wash the wound, apply antibiotics and call their doctor. A tetanus shot is sometimes needed.
No one has ever studied Richmond's rat population and its overall level of disease, Richardson said. By the time he's done, he hopes to have a sense of what diseases the rats carry, how infected they are, what kind of risk residents face, and whether city rats are sicker than their suburban neighbors.
Lower-income areas tend to have more rats, and it wouldn't surprise Richardson if those rats are sicker, too. Disease is higher in places with more garbage and more competition for food, he said.
The rats can pass leptospirosis through their urine, which can seep into water and infect humans that touch it. Caused by a bacteria, it can cause disease in the liver, kidneys or nervous system. They can carry hantavirus, which can be inhaled, causing respiratory disease. They can carry bubonic plague, too, though that isn't a concern in the U.S.
In a 2014 study in New York, researchers found diseases they didn't even know to look for, he said.
Other cities have found leptospirosis in as low as 5% of their rats and as high as 80%, and a normal infection rate is close to 20%.
Richardson received a $100,000 grant from the Thomas F. and Kate Miller Jeffress Memorial Trust, which pays for equipment and student stipends during the summer. The project will run through fall 2022.
Katelyn Wing, a senior biochemistry major from the Boston area, came to the University of Richmond as an education major. Then she took a class on infectious disease — even before the pandemic hit — and she was hooked.
Now, she's interested in public health and zoonotic diseases, such as COVID-19. Wing wants to attend medical school and continue working in public health after graduation.
Her rat research involves studying data from other cities, including specific rat sightings across Boston. She knows lower socioeconomic neighborhoods tend to have more rats. Now, she wants to find out if those rats also are sicker or more dangerous to humans.
Elmer Sobalbarro-Umana, a junior biology major from New Jersey, said he's learned that where you live often defines your public health risk, whether it's a poor country that lacks the infrastructure to treat COVID or an underfunded school trying to keep the rats out.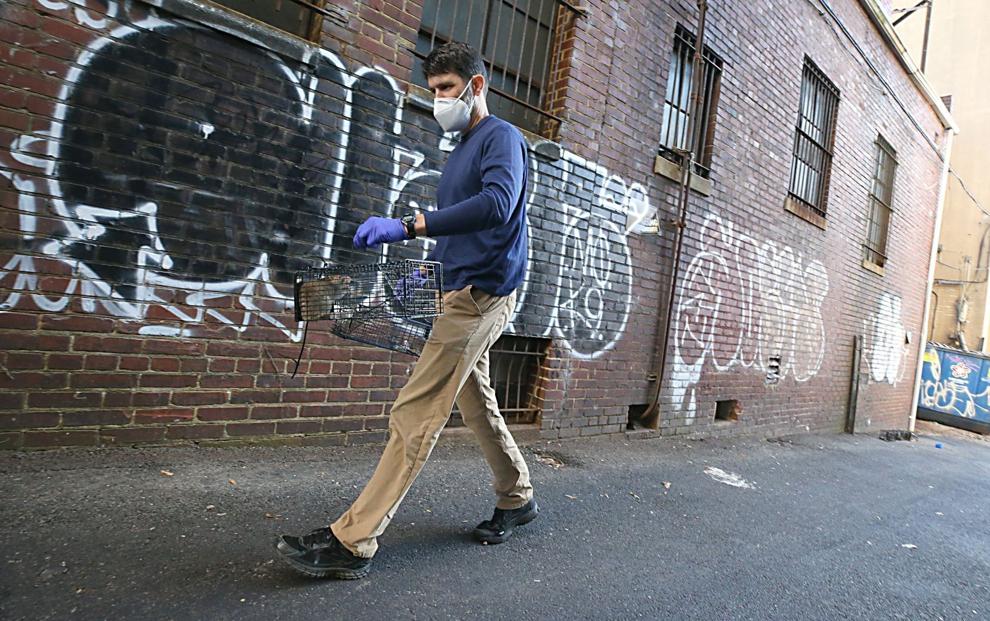 At the laboratory
At UR's Gottwald Center for the Sciences, Richardson and the students euthanize the rats with cotton balls soaked with isoflurane, which puts the rat to sleep.
They extract the rat's spleen, heart, kidneys and gastrointestinal tract. They place the organs in plastic tubes, seal them, identify them and place them in an ice-filled Styrofoam cooler labeled "organs."
Of the 10 rats dissected that day, four were female and three were pregnant. Rats can reproduce a month after birth, allowing their numbers to quickly grow. The male rats seem to be more desperate for food and are caught more often.
Later this fall, they'll test the organs for leptospirosis using a type of polymerase chain reaction, or PCR — the same way a COVID test works. They'll use a thermal cycler, depositing tissue samples into a box the size of a printer, testing them for one disease at a time.
Next spring, they'll conduct a metagenomic test in which they take the rats' blood, extract the various strands of DNA and match them to a database of millions of viruses and bacteria, revealing all the diseases lurking inside the rat.
Richardson plans to keep trapping and harvesting organs to widen his scope.
Despite the ick factor rats often create, Richardson finds them fascinating. They are the only mammal species other than humans to live on every continent except Antarctica. Unlike other animals, they've proliferated because of their relationship with humans. They've lived on Earth for 3 million to 6 million years — far longer than people.
And they're smart, too. Just not smart enough to avoid Richardson's traps.
(804) 649-6109
Twitter: @EricKolenich