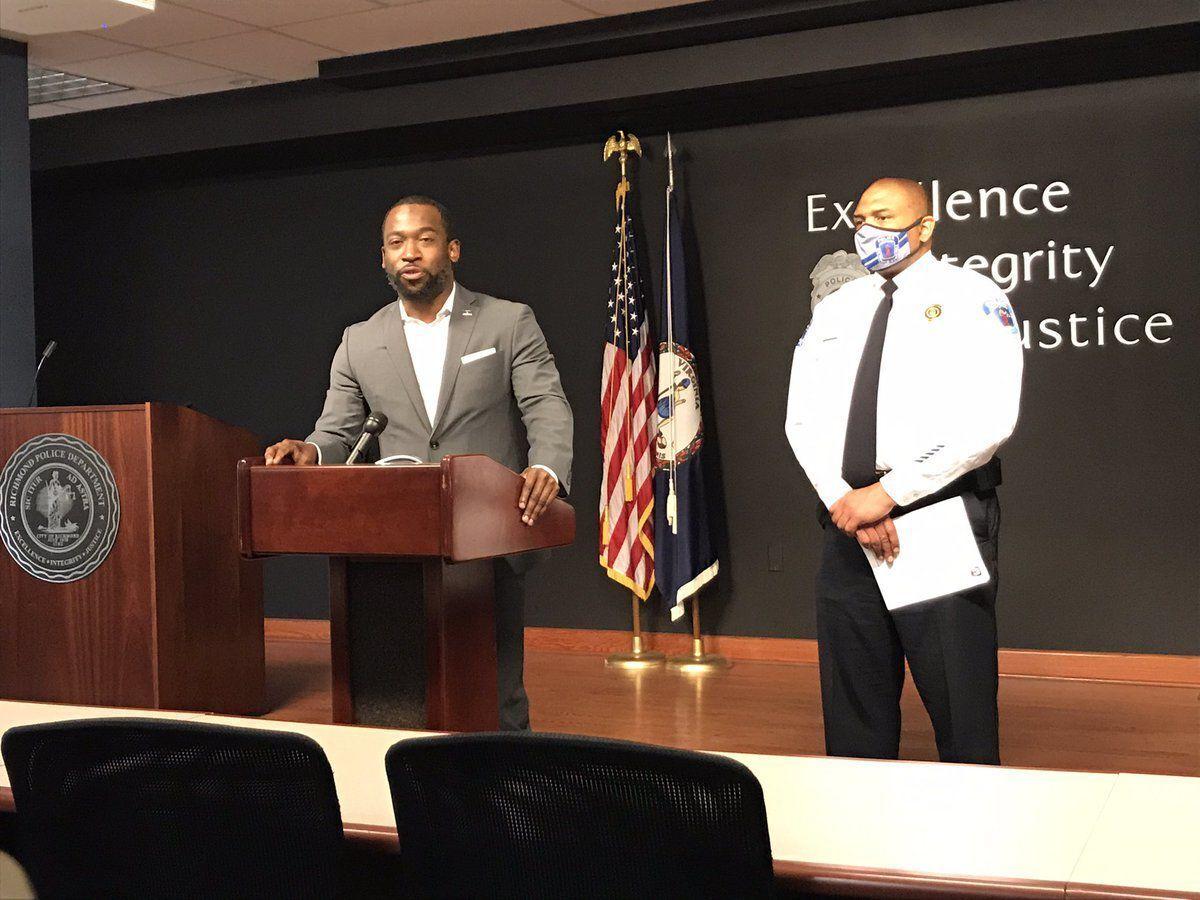 RICHMOND—For a long time, Sharnez Hill had wanted to have a baby more than anything.
She had waited and waited. Finally the day arrived early this year and she became a mother.
"She said her baby was her best friend," said her cousin, the Rev. Donte McCutchen. "She was so excited. Her siblings, her sister, her mom, her dad — they all were so excited."
The 30-year-old Hill, who everyone knew as "Shy-Shy," was only a mother for a few short months before she and her 3-month-old daughter, Neziah Hill, were fatally shot as they were outside enjoying a beautiful evening at an apartment complex in South Richmond. Three other people were wounded in Tuesday's hail of gunfire at the Belt Atlantic Apartments, formerly known as Midlothian Village.
The police said all five victims were innocent bystanders, not intended targets.
"They were just outside playing, taking advantage of the weather," said McCutchen, pastor of Love Cathedral Community Church, also in South Side. "This is what's making it so sad right now. All she wanted to do was have a baby and be a mother, and finally she gets to be a mother — and this happens."
The wounded included a 29-year-old woman, a 15-year-old girl and an 11-year-old girl, all of whom survived Tuesday's "mass shooting," said Richmond Police Chief Gerald Smith at a news conference Wednesday, adding all three survivors were in stable condition.
The gunfire erupted at about 6:30 p.m. at the complex in the 4000 block of Midlothian Turnpike. One of the victims was holding 3-month-old Neziah, but Smith could not immediately say which one.
Smith said a group of gunmen opened fire on the scene and then another group returned fire. Police believe the initial gunmen are responsible for shooting all five victims, and investigators do not think the second group struck anyone.
"They were shooting across those courtyards," Smith said, describing the scene. "That courtyard was filled with kids at the time."
Most of the gunfire was directed at a single apartment, Smith said, which has led police to believe it was the shooters' target.
It was unclear whether the five victims lived at Belt Atlantic apartments.
Detectives are following multiple leads, Smith said, but no one has been charged yet. Smith said the apartment complex had a good surveillance system and police are reviewing footage from it.
At least three different types of guns were used: an assault rifle and two handguns, based on the shell casings recovered from the scene, Smith said.
"But that doesn't mean there were only three guns used," he added. More guns of the those same calibers could have been involved.
Smith couldn't say exactly how many shots had been fired or how many shell casings had been recovered, but he estimated the number would top 50.
Mayor Levar Stoney also spoke about the tragedy at Wednesday's news conference.
"That's exactly what it is, a tragedy," Stoney said. "When a mother, and now a child, is gone because of indiscriminate gunfire without any regard for human life."
"The story is reoccurring too many times in our community," Stoney said. "That our children can't simply go out and play and enjoy themselves."
He begged those who live in the apartment complex, who witnessed what happened or know something, to come forward.
"We can't get these individuals off the street without your help," Stoney said.
Richmond Public Schools Superintendent Jason Kamras wrote on Twitter on Wednesday morning: "To my knowledge, we haven't lost any students to COVID. Thank god. But in same timeframe, we've lost nearly 10 to gun violence. Number goes up to many dozens since I became [superintendent] I'm well past heartbroken. I'm angry. We have to figure out how to stop this."
Neziah Hill is the fifth child under age 18 to be killed so far this year in Richmond. All but one were killed with guns.
This year, 28 people have been killed by violence in the city. (Richmond police only are counting 21 of them as homicides, as they are not required to count death investigations or justified shootings among their total).
In 2020, the city saw nine homicide victims younger than age 18, the largest number of any year since 2017. Another teenager was killed, but police stopped short of calling it a homicide.
"Every day it seems there's another firearms tragedy somewhere in America," said Rep. Donald McEachin, whose district includes the apartment complex, in a statement Wednesday. "We must catch the person who did this and do something about the senseless epidemic of gun violence. Those who are violent or dangerous must not have easy access to firearms because too often, those situations end up like this — with innocent civilians dead and injured,"
"These tragedies must stop. Innocent lives are now lost and more people ... are in the hospital fighting to survive," McEachin said. "My heart goes out to the families and to those in the community of Belt Atlantic who lost loved ones and were in fear of their lives."
A police officer also was involved in a collision responding to the scene. Both the officer and driver of the other vehicle are OK, Smith said, though he added the officer was "banged up." Smith said he hadn't read the crash report yet so he couldn't say what had happened.
Anyone with information is asked to call Detective Russell at (804) 646-7715 or Crime Stoppers at 780-1000.
You also can submit tips by going to www.p3tips.com or using the P3 Tips app for smartphones.
All Crime Stoppers methods are anonymous.