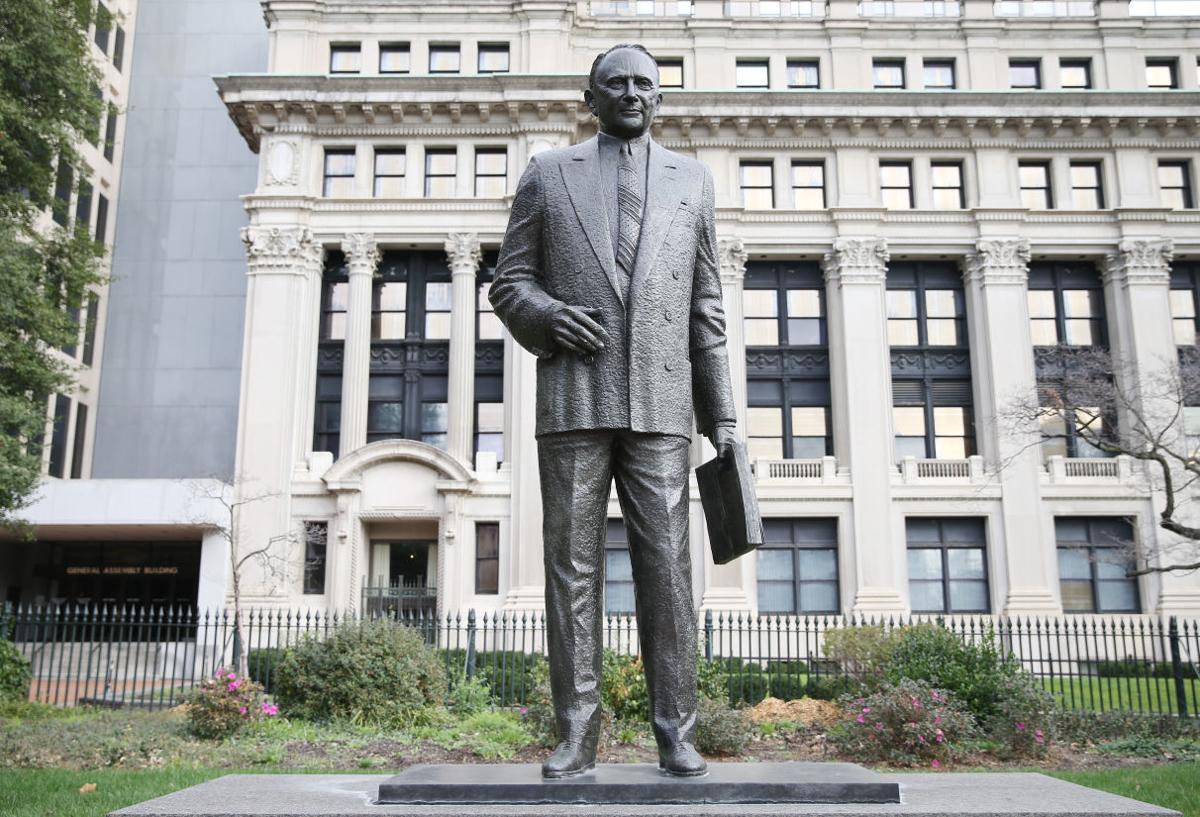 RICHMOND — The Senate Rules Committee on Friday voted 11-0 in favor of a bill to remove the statue of segregationist Gov. and U.S. Sen. Harry F. Byrd Sr. from Capitol Square.
Byrd, a Democrat, was governor from 1926-30 and a U.S. senator from 1933 to 1965. He was the driving force behind "Massive Resistance" to school desegregation following the U.S. Supreme Court's landmark decision in Brown v. Board of Education.
"I'm sure everybody is familiar with Harry Byrd and his legacy of segregation and Massive Resistance that prevented people like my parents from going to public school in Virginia for several years," said the bill's sponsor, Del. Jay Jones, D-Norfolk.
Sen. Creigh Deeds, D-Bath, who did not cast a vote on the measure, acknowledged to Jones that Byrd was a segregationist and a racist, but Deeds said that applies to "just about every Virginia politician that existed before 1960."
Deeds said Byrd created the Virginia Department of Highways that began the modernization of Virginia's economy. Deeds also said that Virginia's Capitol includes "monuments to people that owned other people, like George Washington and Thomas Jefferson."
Jones, who is seeking the Democratic nomination for attorney general, responded: "Obviously for me slavery is abhorrent," but "Harry Byrd didn't write the Declaration of Independence and Harry Byrd wasn't the first president of the United States."
Rita Davis, counsel to Gov. Ralph Northam, spoke in favor of Jones' measure.
"Mr. Byrd actively worked against the rule of law as set out by the Supreme Court in order to keep African Americans from voting, from being educated and from being heard in the political system," Davis said.
She added: "How can the commonwealth continue to venerate Mr. Byrd and in the same breath say to children of color in the commonwealth that we are committed to your success and you are important and matter? In short, it cannot."
Also Friday the House and Senate Rules committees backed resolutions to put a Virginia statue of teenage civil rights pioneer Barbara Johns at the state Capitol. The Johns statue would replace a statue of Confederate Gen. Robert E. Lee, which has been moved to the Virginia Museum of History & Culture.
Earlier Friday, the Senate Rules panel voted 13-4 to defeat a measure from Senate Minority Leader Tommy Norment, R-James City, that would have authorized the Capitol Square Preservation Council to review and approve plans for changes to artifacts within the state Capitol building.
Last June House Speaker Eileen Filler-Corn had a different statue of Lee and seven busts depicting Confederate leaders removed overnight from the Old House Chamber inside the Virginia Capitol.
Norment said Friday that his bill "was not directed at any individual or putting my finger in someone's eye."
He suggested an amendment to his measure so that the preservation council would merely review and not approve such plans. The Democrat-controlled panel voted down the proposed amendment.
House Minority Leader Todd Gilbert, R-Shenandoah, said such decisions "are bigger than any one person" and that in the future such a review might prevent the "unilateral" removal of an object that opponents of Norment's measure cherish.
House Majority Leader Charniele Herring, D-Alexandria, said she perceived Norment's bill as an effort directed at Filler-Corn that would undermine the first woman speaker of the House. Herring said it would send a bad message to young girls who aspire to positions of authority.
Del. Delores McQuinn, D-Richmond, said that when Filler-Corn ordered the Confederate symbols removed from the Old House Chamber the speaker removed a source of pain for people of color.
For years, when walking past the Old House Chamber "what I saw was the remnants of our past still continuing to permeate," McQuinn said.
She said dismantling such symbolism is key to making the former capital of the Confederacy "the capital of conscience, of consideration and of compassion."
(804) 649-6645
Twitter: @AndrewCainRTD