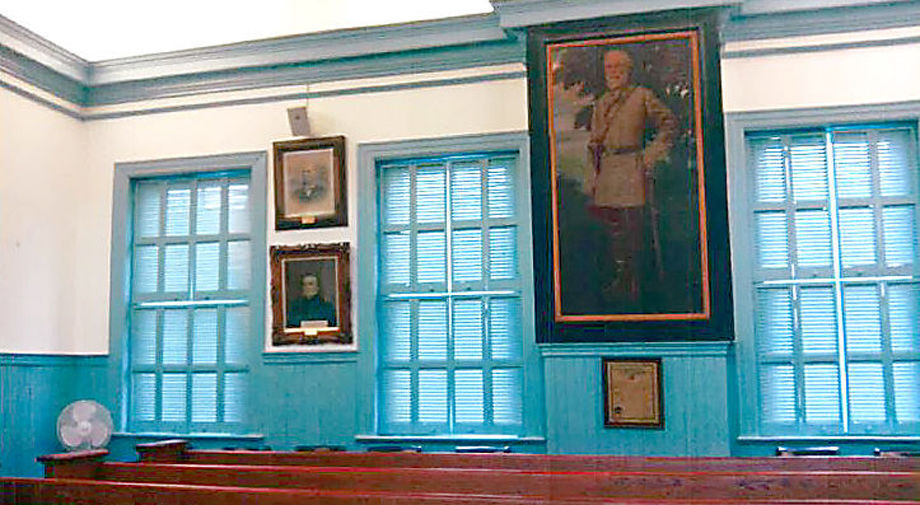 RICHMOND — Circuit Court Judge Timothy K. Sanner has ordered the removal of a portrait of Confederate General Robert E. Lee from its prominent position in a Louisa County courtroom.
Reversing his Nov. 15 ruling that kept the portrait in place, Sanner wrote Thursday that, "while Robert E. Lee's place in history has been controversial, undoubtedly, for some time, the tenor of the debate has changed remarkably in the 10 months that have passed since the court last addressed the issue."
"The court is compelled to conclude that the level of controversy surrounding the image of Robert E. Lee is sufficiently intense that it is foreseeable that it may impair the fair administration of justice," wrote Sanner in his three-page ruling.
"Given the significantly prevalent image of Robert E. Lee as a figure of racial hatred," he added, "the court is compelled to conclude that such image is unwelcoming to many of the African Americans, and others, who are compelled to appear in our courtroom as litigants, witnesses, jurors, attorneys and judges." 
Sanner was responding to motions by lawyers for Darcel Murphy, a Black man facing a capital murder trial in the courtroom beginning Sept. 28.
Douglas Ramseur, one of Murphy's lawyers, said in a statement Thursday that "after two years of litigation over the portrait, we are elated that our client, Darcel Murphy, will no longer face trial in a courtroom that chooses to honor those who would oppress him solely because of the color of his skin."
Sanner ordered the portrait and an accompanying Daughters of the Confederacy plaque removed from the courtroom by Sept. 23, "to be exhibited in such location and manner as best determined by the County of Louisa."
Sanner turned down an initial request to remove the portrait made by Ramseur, noting, in part, that Virginia at the time still had a state holiday in Lee's honor.
"There are many who admire the real or perceived qualities of General Lee," wrote Sanner last year. "The most significant representation of that admiration is the fact that he is one of the few individuals, Virginian or otherwise, who have received the honor of having a Virginia state holiday observed in their honor."
The judge also wrote that he believed such a decision would more appropriately be made by the Louisa Board of Supervisors and not the courts.
This March, however, Gov. Ralph Northam signed legislation passed by the General Assembly eliminating the holiday that honored Lee and Stonewall Jackson, another Confederate general. Ramseur, citing the developments, renewed his motion.
Sanner noted the actions by the governor and General Assembly in reaching his decision. He also wrote Thursday that he still believed it would be more appropriate for the Louisa County Board of Supervisors to decide, but noted that the board did not accept his invitation to address the issue.
Murphy is charged with the March 2016 slaying of Kevin Robinson, 43, who is also Black. Though charged with capital murder, the death penalty is not being sought, said Ramseur. He will be tried before Sanner and not a jury.
In a statement Thursday, Ramseur said that Lee had no particular connection to Louisa County or to its legal system, "Yet his portrait has been displayed in a place of honor in the courtroom for 112 years. We presented evidence that the portrait was chosen intentionally by individuals who sought to promote white racial superiority and to intimidate Black citizens."
"Our courtrooms serve as important forums for justice in our communities," he added. "All who enter them must be made to feel that they are being treated equally and with respect. Judge Sanner's decision welcomes all citizens of Louisa to the promise of equality in the courtroom without regard to race. Louisa County should be very proud today."
Sign up for our Crime & Courts newsletter
Get the latest in local public safety news with this weekly email.