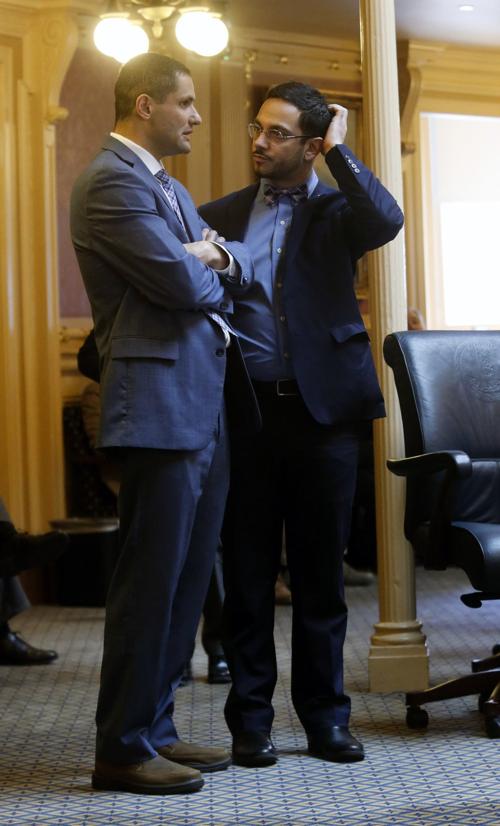 RICHMOND — Legislation to end qualified immunity for police officers facing civil rights complaints cleared the Virginia House on Tuesday — a reversal from Friday, when the legislation narrowly met the ax.
The bill, introduced by Del. Jeff Bourne, D-Richmond, has been a key demand from protesters of police brutality, who have pushed for fewer protections for officers who err.
The bill was defeated in the House on a 48-47 vote Friday, when five Democrats joined Republicans in opposition. Three other Democrats abstained.
Del. Ibraheem Samirah, D-Fairfax, was one of two lawmakers who on Tuesday reversed their stance in order to support the measure, after facing criticism from colleagues. (Having voted on the prevailing side on Friday — to defeat the measure — Samirah had the right to ask lawmakers to reconsider the bill on Tuesday.)
Samirah explained on social media over the weekend he supports ending qualified immunity, but worried the bill was an imperfect product.
"Removing qualified immunity without also preventing law enforcement agencies on a local level from using taxes collected from all Virginians to protect law enforcement in lawsuits only makes the systemic problems of policing at the local level worse," Samirah said.
On Tuesday, Samirah said he would help advance the legislation, but would seek a language change that would prevent local departments from using taxpayer funding on said lawsuits.
"I will utilize the power of my deciding vote to introduce my proposed amendments," he said in a statement Tuesday.
Although the measure cleared a key hurdle on Tuesday, its outlook in the Senate is unclear. The Senate Judiciary Committee has rejected a similar bill introduced by Sen. Joe Morrissey, D-Richmond, referring it for further study to a panel within the Virginia Bar Association.
Del. Kaye Kory, D-Fairfax, had abstained from voting on Bourne's bill last week, but on Tuesday came out in support.
"Although I had concerns about the bill last Friday, I welcomed the reconsideration as an opportunity to do further work with Del. Bourne and my House and Senate colleagues," Kory said in a statement.
Republicans remained unified in their opposition, arguing that qualified immunity is a necessary job protection for law enforcement officers.
On Tuesday, the House also advanced legislation to explicitly allow the Attorney General to investigate police departments over patterns of malpractice, including discrimination.
The bill, introduced by Del. Alfonso Lopez, D-Arlington, passed along party lines, 55-43. Sen. Louise Lucas, D-Portsmouth, who was charged with a felony by her local police department, is championing similar legislation in the Senate.
(804) 649-6254
Twitter: @MelLeonor_
Get Election 2020 & Politics updates in your inbox!
Keep up on the latest in national and local politics as Election 2020 comes into focus.