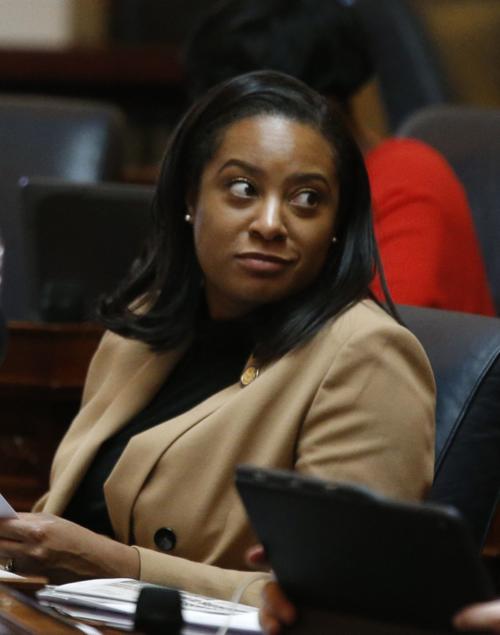 RICHMOND — Virginia lawmakers Wednesday finalized legislation that would ban police officers from using neck restraints and punish officers for failing to intervene if they witness another officer using excessive force.
The sponsors of the measures in the House, however, said the legislation represents a compromise with senators, and argued the resulting measures might not go far enough.
House Bill 5069 introduced by Del. Jennifer Carroll Foy, D-Prince William, would ban the use of restraints that work by applying pressure to the neck.
Carroll Foy said her original bill would have punished violating officers with a Class 6 felony, which she called necessary to ensure officers would be held accountable under the law.
Ultimately, a compromise with senators made a violation of the bill punishable through administrative means, including permanent decertification of an officer, which would permanently remove the officer from the force.
The rift between the House and Senate, both controlled by Democrats, illustrates ongoing tensions between the two chambers over how to approach police reform demanded by protesters in Richmond and liberals broadly in the state.
More contentious legislation on police reform, such as proposals related to the Marcus Alert and community review boards, still are being debated among lawmakers.
The compromise bill would allow officers to use neck restraints if it is "immediately necessary to protect the law-enforcement officer or another person." Carroll Foy opposed that language, arguing that criminal law already allows police officers and other people to protect themselves broadly in the case of a threat, without additional allowances in this measure.
"It's truly unfortunate that we could not get a better version of the bill out of the Senate. People are demanding transformational change," said Carroll Foy, who is seeking the Democratic nomination to become Virginia's next governor.
"What we have to do is continue to push and fight next session."
Sen. Mamie Locke, D-Hampton, who sponsored the legislation in the Senate as part of a broad omnibus bill on reform, could not be immediately reached for comment.
The bill now is headed to the desk of Gov. Ralph Northam, who has indicated support for police reform but has not indicated whether he'll sign this specific legislation.
Also headed to the governor's desk is House Bill 5029, which would require officers to intervene if they witness another officer using excessive force.
Del. Delores McQuinn, D-Richmond, introduced the bill and said the final language would not lead officers to criminal penalties, as her bill originally did.
"It was more important to get something, to move it forward, and bring attention to the fact that often there are situations where excessive force goes unchecked, like with Mr. [George] Floyd and many others across the country," McQuinn said.
Like with Carroll Foy's bill, the compromise legislation would punish violators through administrative means, up to decertification.
Both lawmakers said they were mulling additional legislation during the regular legislative session that starts in January.
Also Wednesday, the legislature finalized legislation that would revamp law enforcement oversight at the state level.
House Bill 5108 introduced by Del. Patrick Hope, D-Arlington, would compel the Department of Criminal Justice Services to develop a uniform curriculum for police training academies and in-service training for officers already on the force.
That curriculum, according to Hope's bill, must recognize implicit biases that might affect how officers interact with people on the job.House Bill 5109 introduced by Del. Elizabeth Guzman, D-Prince William, would change the membership of the Criminal Justice Services Board and its Committee on Training. Of the 20 members, at least one must be a representative of a civil rights organization, at least one must be a mental health services provider and at least two must represent the community interests of racial minorities in the state.
House Bill 5051 introduced by Del. Marcus Simon, D-Fairfax, would require law enforcement agencies who fire a police officer for serious misconduct to notify the state within 48 hours. The state would then be required to begin the process to permanently decertify that officer.
(804) 649-6254
Twitter: @MelLeonor_
Get Election 2020 & Politics updates in your inbox!
Keep up on the latest in national and local politics as Election 2020 comes into focus.