Gov. Glenn Youngkin is aiming at Democrats in legislative elections but hitting Republican candidates in contested GOP Senate primaries — and some of them are firing back.
Matt Strickland, who defied state restrictions on his Spotsylvania County restaurant during the COVID-19 pandemic, publicly denounced the Republican governor on Monday for endorsing Del. Tara Durant, R-Stafford, in the June 20 primary election for the GOP nomination in the Fredericksburg area's new 27th Senate District.
Strickland, speaking to conservative talk show host John Fredericks in a radio broadcast, said the governor's Spirit of Virginia political action committee is part of the Republican establishment that took sides against him despite his support for Youngkin in his successful gubernatorial campaign in 2021.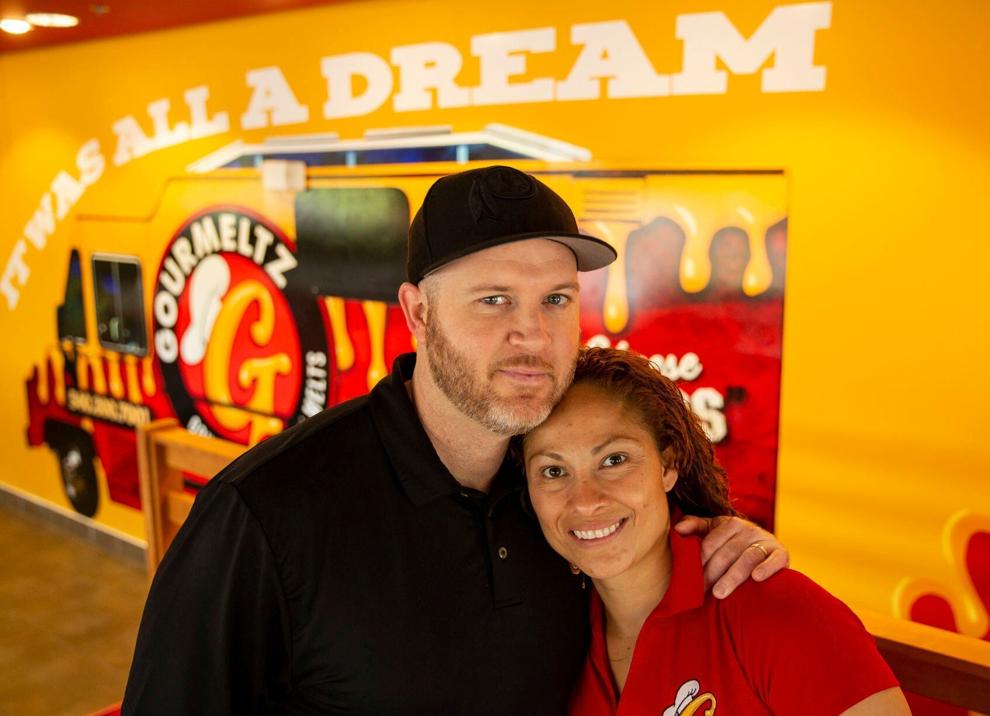 "I'm fighting the war on two different fronts — fighting Democrats and fighting these establishment (Republicans in Name Only)," said the U.S. Army veteran, who called out Spirit of Virginia for its role.
"They're putting money into a Republican primary," Strickland said. "It's absolutely unheard of."
Democrats will choose their nominee in a June 20 primary between Joel Griffin and Ben Litchfield. Stafford County Supervisor Monica Gary also is running as an independent in the general election for the Senate seat in the 27th District, covering parts of Stafford, Spotsylvania and all of Fredericksburg.
Last week, Youngkin endorsed 19 Republican candidates for seats in the Senate and House of Delegates, including six in primary fights against fellow Republicans.
The governor's intervention also did not sit well with Hermie Sadler, a Southside businessman and former NASCAR driver who is vying with Del. Emily Brewer, R-Suffolk, for the Republican nomination for a Senate seat in southeastern Virginia.
Sadler already was unhappy with Youngkin after Spirit of Virginia pushed the Department of Elections to reverse a local GOP decision to hold a primary for the Republican nomination in the 17th Senate District instead of a party convention that may have favored Brewer, who is serving her third term in the House. A Richmond judge ruled in March in favor of former Suffolk GOP Chair Dawn Jones, who had alleged that Youngkin and Attorney General Jason Miyares had tried to get the state to reverse the choice of a primary.
"I am disappointed that the governor decided to intervene, but not surprised," Sadler said Monday. "I have been not only running against my opponent but also against the entire Richmond establishment since I announced I was running. It began with all of them trying to strong-arm a convention in my race and it hasn't stopped."
The winner of the Republican primary will face Del. Clint Jenkins, D-Suffolk, in the general election.
Spirit of Virginia did not respond directly to Strickland or Sadler, but referred to the news release it issued on Thursday to announce the endorsements.
"I know this group of candidates — which includes experienced legislators, law enforcement officials, small business leaders and business executives —are committed to making Virginia the best place in America to live, work and raise a family," Youngkin said in the announcement.
Durant, who was elected to the House with the Republican sweep of statewide offices in 2021, said she is committed to helping Youngkin deliver on the promises they both made during their campaigns.
"These seats are very critical for the governor to get a General Assembly he can work with," she said in a telephone interview.
In an email statement, Durant added, "The Youngkin administration is making real conservative reforms and I'm proud to be a part of the team working to improve our commonwealth for families, seniors, small business, veterans, and law enforcement."
Brewer's campaign referred to her statement after receiving the governor's endorsement last week. "I am proud to have Governor Youngkin's endorsement because he knows I'm a battle tested conservative he can trust to deliver meaningful results for Virginia families and deliver the Virginia Senate to a Republican majority in November," she said at the time.
In addition to Durant and Brewer, Youngkin endorsed Republicans in four other contested primaries:
Strickland faulted Youngkin for siding with his primary opponent after seeking and receiving his support in 2021 because of Strickland's highly public legal fight against then-Gov. Ralph Northam over COVID-19 restrictions at his Gourmeltz restaurant in Spotsylvania.
He alleged that Youngkin and Miyares helped the Alcoholic Beverage Control Authority to prosecute him for serving alcoholic beverages after ABC suspended his license for violating COVID-19 restrictions.
"It's not just the Democrats ruining the country," Strickland said on Monday. "It's also these Republicans who will not stand up and fight for you and me when we need them most."
Michael Martz (804) 649-6964
@mmartzrtd on Twitter