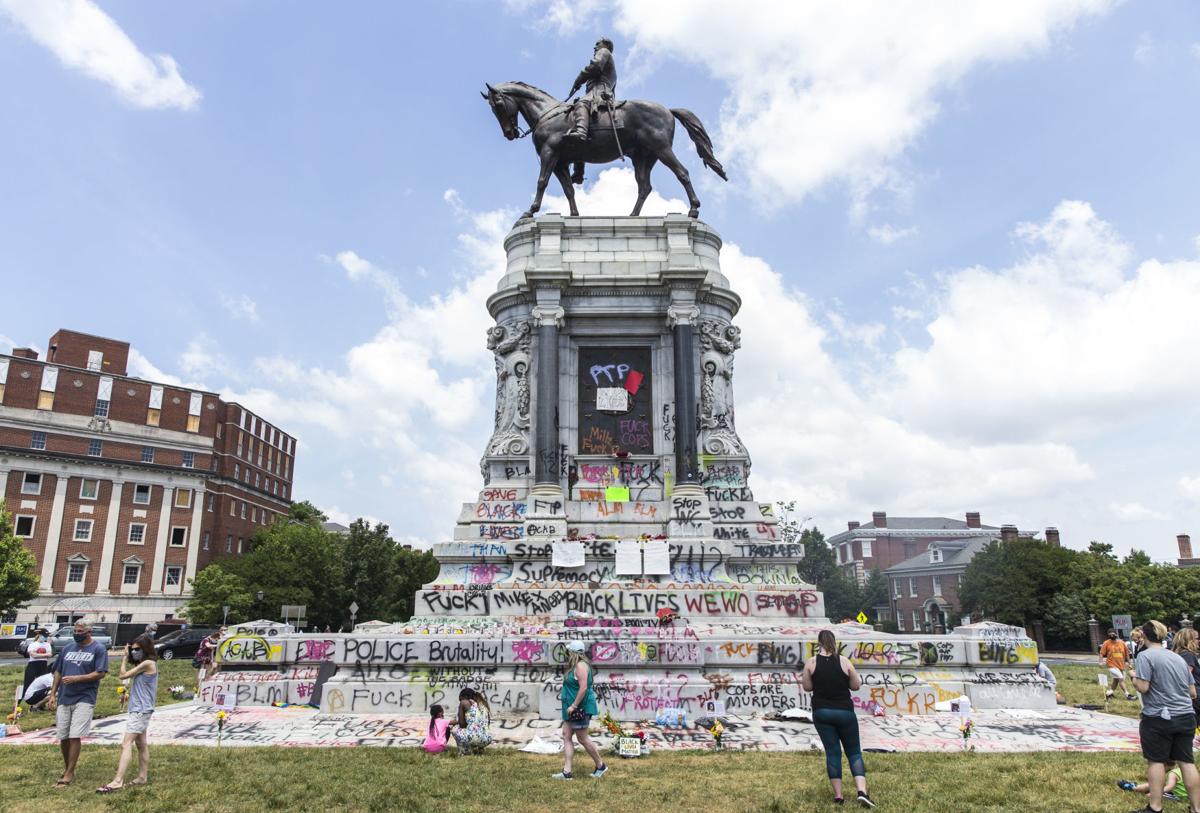 A Richmond judge has dismissed the lawsuit that prevented the Robert E. Lee statue on Monument Avenue from being taken down, but issued an injunction in a separate case that still bars the state from removing the Confederate iconography.
Judge W. Reilly Marchant on Monday dismissed a complaint filed by a descendant of the signatories of the 1890 deed that signed over to Virginia the land the statue stands on. In a separate ruling in a different case, Marchant issued a 90-day injunction that blocks Gov. Ralph Northam's plans to take the Lee statue down while the case is being litigated.
"Issuing the temporary injunction would merely maintain the status quo," Marchant wrote. "However, refusing to issue the temporary injunction might well lead to the removal of the Lee Monument during the pendency of the litigation, and before a full hearing, which clearly would not be in the public interest. At this point in time, the public interest does weigh in favor of the issuance of a temporary injunction."
In that case, five residents of the Monument Avenue Historic District say taking down the statue would decrease property values and hurt tax incentives, among other things.
Attorney General Mark Herring has filed a motion to dismiss the case, a filing that is still pending.
"Attorney General Herring remains committed to ensuring this divisive, antiquated relic is removed as soon as possible," Herring spokeswoman Charlotte Gomer said in a statement.
The monument and the area around it has served as ground zero for Richmond's activism since the May killing of George Floyd in the custody of Minneapolis police. Northam announced his intent to take down the statue "as soon as possible" on June 4. Injunctions have blocked those efforts.
Asked last week if the Department of General Services, the state agency in charge of removal, has more site work to do around the statue or if it's prepared to take it down immediately should the injunction be lifted, agency spokeswoman Dena Potter said, "We'll be prepared to proceed once the way is clear."
That could come no earlier than 90 days from Monday, according to the latest ruling.
(This is a developing story. It will be updated.)
(804) 649-6012
Twitter: @jmattingly306​
Get Government & Politics updates in your inbox!
Stay up-to-date on the latest in local and national government and political topics with our newsletter.