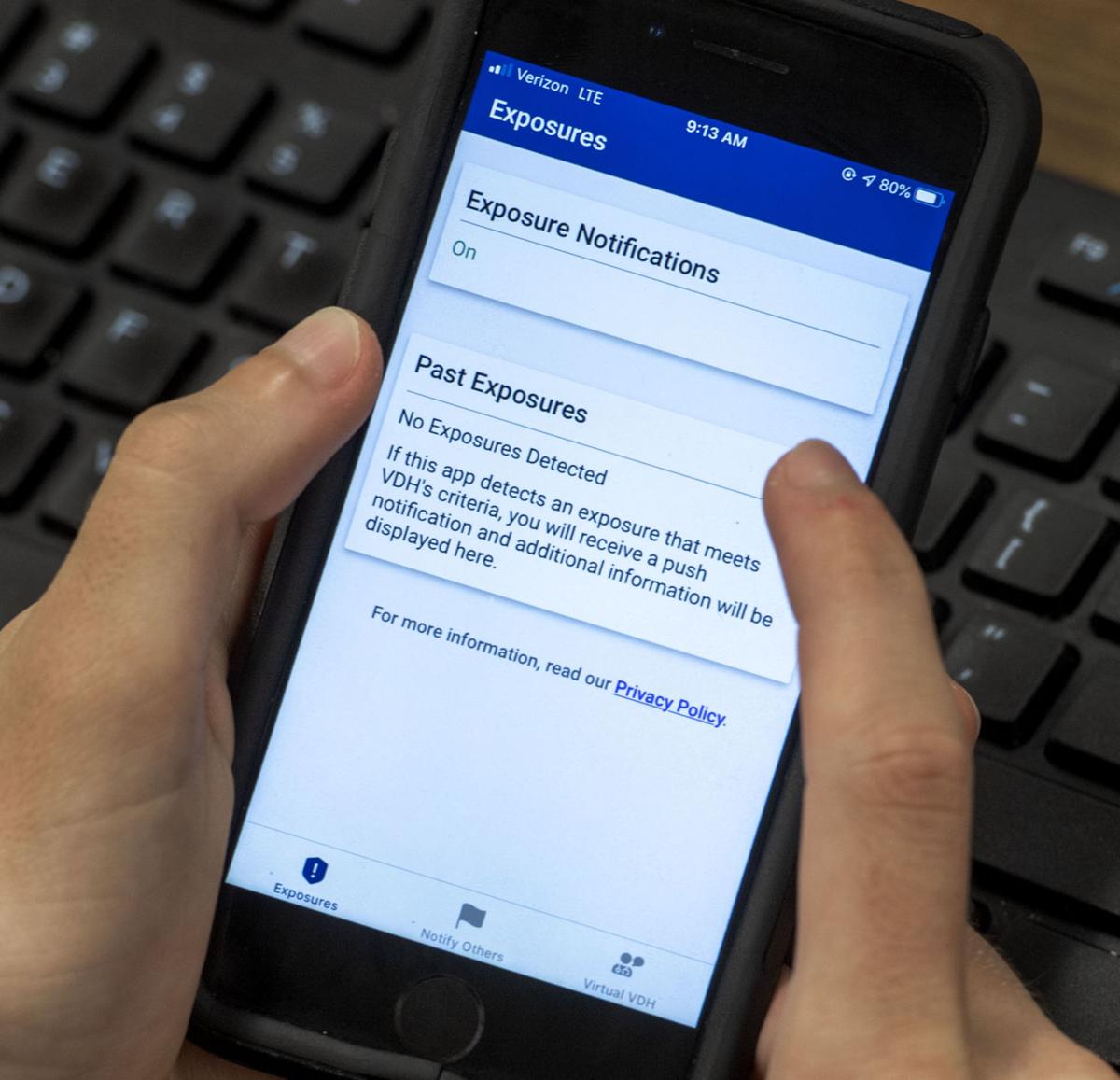 A new mobile phone application in Virginia is offering a way for people to learn whether they've potentially come in contact with someone who has tested positive for COVID-19.
As of Monday morning, the Virginia Department of Health had recorded 292,000 downloads of the COVIDWISE smartphone app since launching it Aug. 5, according to Julie Grimes, a spokeswoman for the agency.
The free service uses Bluetooth technology to exchange anonymous, randomized "tokens" between phones that have downloaded the app, which is available in the iPhone App Store and Android Google Play Store.
Each day, the user's phone downloads a list of anonymous tokens that have been linked to positive COVID-19 cases and compares it to all of the tokens the user has encountered over the past two weeks.
The user will receive a notification if they came into "close contact" with a person who reports a positive COVID-19 test result. The app uses the Centers for Disease Control and Prevention's definition of close contact, which is coming within 6 feet for at least 15 minutes.
COVIDWISE does not collect geolocation or GPS data. Instead, it estimates distance between users based on Bluetooth signal strength.
For the app to be effective, it depends on people opting to download it and then choosing to anonymously submit a diagnosis to the app if they test positive for coronavirus.
When a laboratory conducts a COVID-19 test and sends a positive result to VDH, the agency now provides a unique personal identification number to an infected individual. That person can then decide if they want to report the result in the app by anonymously submitting the PIN.
At a news briefing last week, Gov. Ralph Northam said Virginia was the first state in the country to roll out an app based on this technology, which was developed by Apple and Google. He emphasized that it does not track or store personal data.
"It doesn't rely on GPS or your personal information," he said. "And while we want everyone to download it, it is voluntary."
Jeff Stover, an executive program adviser at VDH, said he expected it would take two to three weeks for users to begin voluntarily submitting positive COVID-19 results to the app and that it's still too early to provide information about the number of PINs that have been distributed.
"It will definitely take time for voluntary positive submissions to occur," he wrote in a recent email. "The best measure of app use for now will be downloads."
VDH has not stated a number of downloads it needs to reach for the app to be effective. However, a spokeswoman pointed to a statement that state Health Commissioner M. Norman Oliver issued last week, which reads, in part, that as more Virginians use the app, "the greater the likelihood that you will receive timely exposure notifications that lead to effective disease prevention."
The app is designed to be used by Virginians, but it can still provide notifications to people who regularly travel into the state or live in communities like Sullivan County, which is along the Tennessee-Virginia border. Still, the only positive test results that COVIDWISE currently records are those that are based in Virginia and reported to state health officials.
"People who live in border states can certainly download the app," Stover said. "If they are in Virginia on a regular basis and have an encounter with someone from Virginia that later tested positive and reported it anonymously via COVIDWISE, then they could receive an exposure notification from that event. They would not be able to report positive results, as VDH only receives and verifies positives from Virginia."
The Sullivan County Regional Health Department did not return a request for comment Monday about whether it would recommend that county residents consider using the app.
A driving force behind COVIDWISE is to break chains of transmission and detect possible infections, especially among people who may be unknowingly spreading the virus without showing any symptoms.
"We know people are contagious before they show symptoms," Northam said last week. "This can really help us catch new cases early before they spread as far."
Concerned about COVID-19?
Sign up now to get the most recent coronavirus headlines and other important local and national news sent to your email inbox daily.