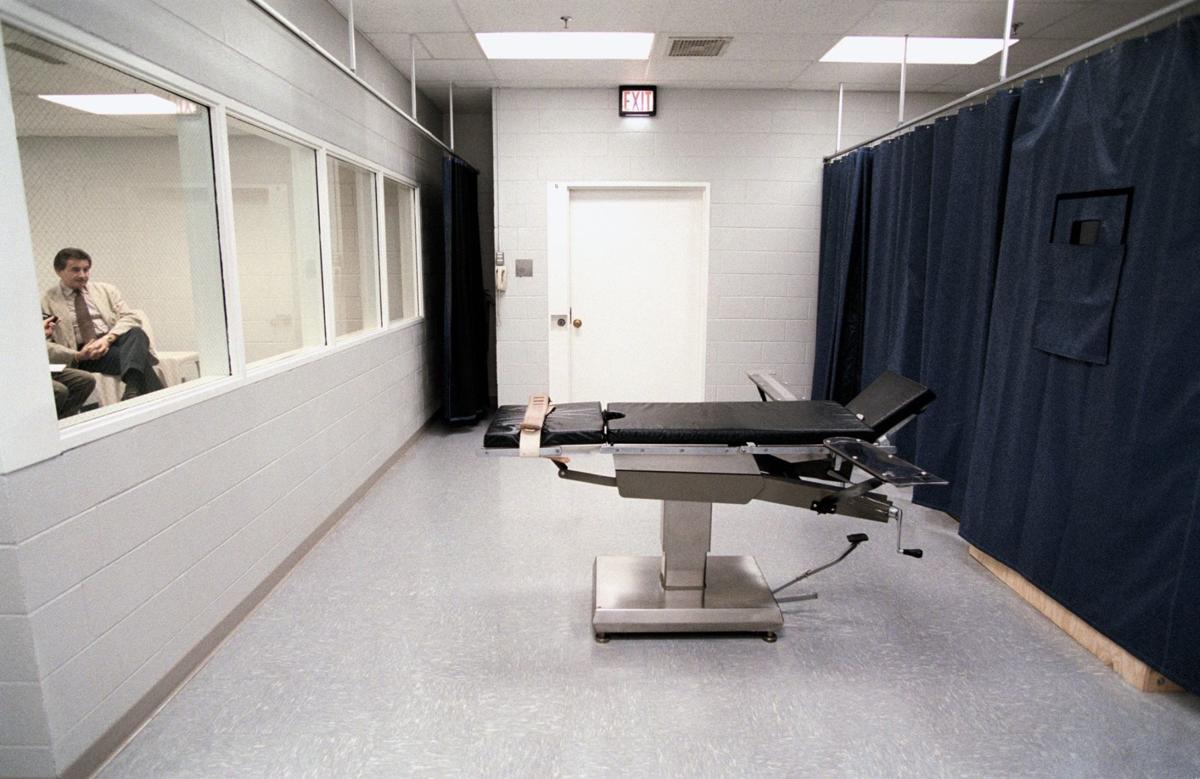 In a landmark vote Friday, the Virginia House of Delegates passed a bill to abolish the death penalty in the state that since Colonial times has executed more people than any other.
With the Senate approving similar legislation Wednesday and Gov. Ralph Northam backing both measures, the action all but ends the death penalty in Virginia which will now join 22 other states without a capital punishment law on the books.
"In the 20th century, few would have thought this was likely to happen at all, much less that Virginia would be the first in the South to eliminate capital punishment," said Larry Sabato, a political analyst at the University of Virginia. "This is a watershed moment. It shows dramatically how different the new Virginia is from the old," he said.
The House passage, 57-41, was largely along party lines, with three Republicans - Dels. Carrie Coyner, R-Chesterfield, Roxann Robinson, R-Chesterfield and Jeff Campbell, R-Smyth, voting with the Democrats who hold the majority in the House. The votes followed passionate debate in each chamber this week over the government's ultimate sanction.
Speaking Thursday on behalf of the bill he sponsored, Del. Mike Mullin, D-Newport News, a prosecutor in Hampton, said, "There are many arguments for why we should abolish the death penalty. These arguments touch on everything from the moral implications of the death penalty, to the racial bias in how it is applied, to its ineffectiveness, to the extraordinary cost."
"But perhaps the strongest argument for abolishing the death penalty is that a justice system without the death penalty allows us the possibility of being wrong," he said.
He cited the case of Earl Washington Jr., Virginia's only death row exoneree among 174 across the U.S.. Washington came within days of execution in 1985 for a rape and murder that DNA later proved was committed by another man.
"How many people are we willing to sacrifice to vengeance," Mullin asked.
Shortly before the House vote Friday, Del. Jay Jones, D-Norfolk, who is vying for the Democratic nod to run for attorney general, urged passage, saying the United States is the only Western country that still has the death penalty.
"The death penalty is the direct descendant of lynching. It is state-sponsored racism and we have an opportunity here to end this today," he said.
On Thursday, Del. Jason S. Miyares, R-Virginia Beach, a former prosecutor whose parents fled communist Cuba in 1965, defended the use of capital punishment for the "worst of the worst" killers and complained that the victims of capital murder along with surviving loved ones have largely been left out of the abolition discussion.
Miyares, who is seeking the Republican nomination to run for attorney general, held up photographs of the victims in some of Virginia's most heinous homicides and graphically outlined the murders - some by firearms, others by knives and even a hammer.
"If there is one word to describe what happened to these victims it is just cruelty, unimaginable cruelty on a scale that's hard to even process. The evil that was practiced on these victims - they did not die with a last meal, they didn't die with the benefit of their priest or pastor or rabbi. They didn't die in the comfort of a hospital bed.
"They died with sheer terror on their hearts with people often taunting them," said Miyares. For such offenders, he said, "the ultimate punishment has to be available for the ultimate crime."
House Majority Leader Charniele Herring, D-Alexandria, pointed out that sometimes the surviving victims' family members do not want the killer or killers executed and support abolition of the death penalty.
But Del. Rob Bell, R-Albemarle, countered that in cases where surviving family members oppose execution, the prosecutor can take that into account when deciding how to proceed. "It doesn't matter that one victim wants it and one victim doesn't. This would say that no victim can have it regardless of what they want."
Bell referred to Robert Charles Gleason Jr., who murdered a man in Amherst County, was sentenced to life in prison and then murdered two other men in prison.
Gleason, Bell warned, "said, 'I will keep killing until you give me the death penalty.' That's the person that this bill ultimately will protect." He also said there is no guarantee that someone sentenced to life without parole will actually serve life.
Discussing egregious slayings and killers is an attempt to appeal to worst instincts, responded, Del. Marcus B. Simon, D-Fairfax.
"Frankly it works. I'm mad. I'm fired up. If I could get my hands on these guys right now I'd love to wring their necks. But that's not how our system works. It's not how it is designed to work. It is not designed to provide individual vengeance," Simon said.
He argued Thursday that, "The government should not be in the business of killing human beings."
On Friday, in apparent response to Simon, Miyares said, "It's not about revenge . . . it's about justice."
"The victims of these monsters cry out to us across time and space and they beg us not to forget them and to ensure than  evil done to them is done to no one else, and they call out not for vengeance, but they're calling out for justice."
Supporters of the death penalty did not have the backing of the Virginia Association of Commonwealth's Attorneys this year as the organization decided to let each member argue their own cases. A dozen top prosecutors in the state favored abolition.
Michael Stone, executive director of Virginians For Alternatives to the Death Penalty, said, Friday's vote in the House, "is a repudiation of the long and violent policy of 1,390 executions carried out by the Commonwealth since 1608. We look forward to Governor Northam signing this bill into law."
Northam, following the Senate passage Wednesday, said, "The practice is fundamentally inequitable. It is inhumane. It is ineffective. And we know that in some cases, people on death row have been found innocent."
Since 1608, Virginia has executed almost 1,400 people - 113 of them since the U.S. Supreme Court allowed capital punishment to resume in 1976, the second-highest toll in the U.S. in modern times.
The period between 1972, when the Supreme Court halted executions, and 1975, when the Virginia legislature enacted a new law was the only time in state history it did not have the authority to execute people. The state resumed executions in 1982 with the electrocution of Frank J. Coppola at the former Virginia State Penitentiary in Richmond.
There have been no now new death sentences imposed in the state since 2011 and no executions since 2017.
Under the legislation approved this week, the two men remaining on Virginia's death row - both convicted in Norfolk - will have their death sentences changed to life without parole.
They are: Thomas Alexander Porter, 45, sentenced to death for the 2005 capital murder of Stanley Reaves, an officer with the Norfolk Police Department; and Anthony B. Juniper, 49, sentenced to death for the 2004 capital murders of Keshia Stephens; her brother Rueben Harrison III; and two of her daughters, Nykia Stephens, 4, and Shearyia Stephens, 2.
If made law, the legislation would mean that all the current 15 types of capital murder - such as murder in the commission of a rape or robbery or the slaying of a law enforcement officer - would become aggravated murder punishable by life in prison without parole.
However, as many critics point out, when sentencing a judge - except in the case of the murder of a police officer - could suspend part or all of such a sentence. That was a sticking point for some Republicans, particularly Sen. Bill Stanley, R-Franklin, who opposes the death penalty but said he could not vote for the legislation if it meant such a killer might someday be free.