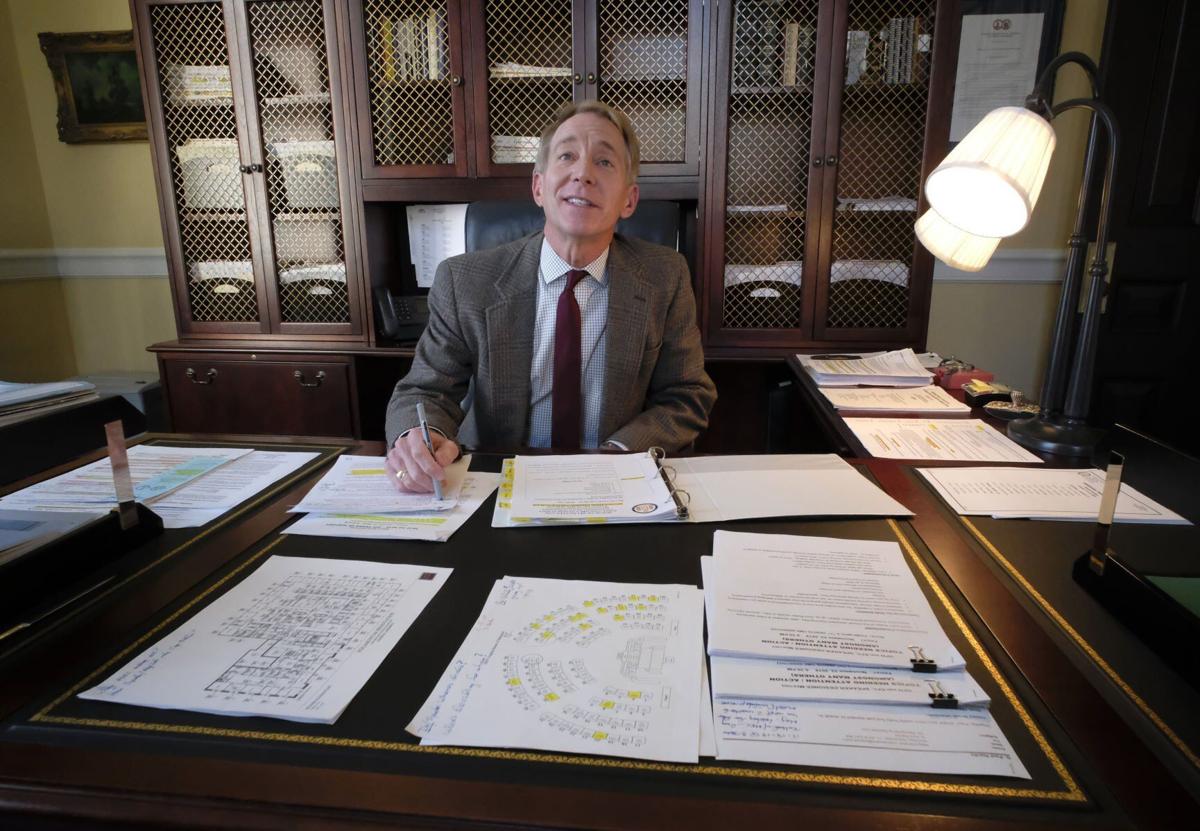 RICHMOND — House Republicans will seek to restore Paul Nardo as clerk of the House of Delegates, two years after Democrats replaced him with veteran state policy adviser Suzette Denslow.
House Minority Leader Todd Gilbert, R-Shenandoah, chosen by ascendant House Republicans as the next speaker of the House, said Wednesday the party caucus has nominated Nardo to return as clerk and keeper of the rolls in January.
Republicans are set to regain control of the House with a 52-48 majority, pending requested recounts in two narrowly decided House races in Hampton Roads. They voted Sunday to nominate Nardo to his old job.
He served as House clerk for eight years under former Speakers Bill Howell, R-Stafford, and Kirk Cox, R-Colonial Heights, before Speaker Eileen Filler-Corn replaced him two years ago as Democrats prepared to take control of the chamber.
"The hallmark of Paul's prior service as Clerk was professionalism, and he ensured the House operated with clock-work precision and efficiency," Gilbert said in a statement. "Scrupulously non-partisan, Paul extended the same outstanding service to every member of the House, regardless of party affiliation or length of service."
Gilbert informed Denslow of the plan to replace her with Nardo. "She has graciously agreed to assist in the transition, for which I am thankful," he said.
Denslow said Wednesday, "I am so honored to serve as Clerk of the House of Delegates. I will do everything possible to make any transition as seamless and positive as possible."
Gilbert praised her work as clerk, especially during the COVID-19 pandemic, when she arranged for the House to meet in Capitol Square for its veto session last year and then in virtual legislative sessions for the remainder of last year and the regular session this year.
Denslow, 65, a former policy aide to Govs. Mark Warner and Tim Kaine, "devoted many hours of service to the House under difficult and unprecedented circumstances," Gilbert said. "From organizing an outdoor session of the House to managing its first 'virtual' sessions, she took on these challenges with purposeful resolve."
Nardo, 55, has a long Republican political pedigree, serving as chief of staff to Howell for nine years before becoming House clerk in 2011.
He also worked as a speechwriter for former Gov. George Allen, a Republican who served from 1994 to 1998, and as a legislative director in the office of former U.S. Rep. Herb Bateman, R-1st.
Before joining Howell's office in 2002, he worked as communications and government relations director for the State Council of Higher Education for Virginia.
Since his ouster as House Clerk, Nardi has cultivated a different kind of expertise as a master gardener in Henrico County. He's currently helping to restore the gardens at Sacred Heart Cathedral in Richmond.