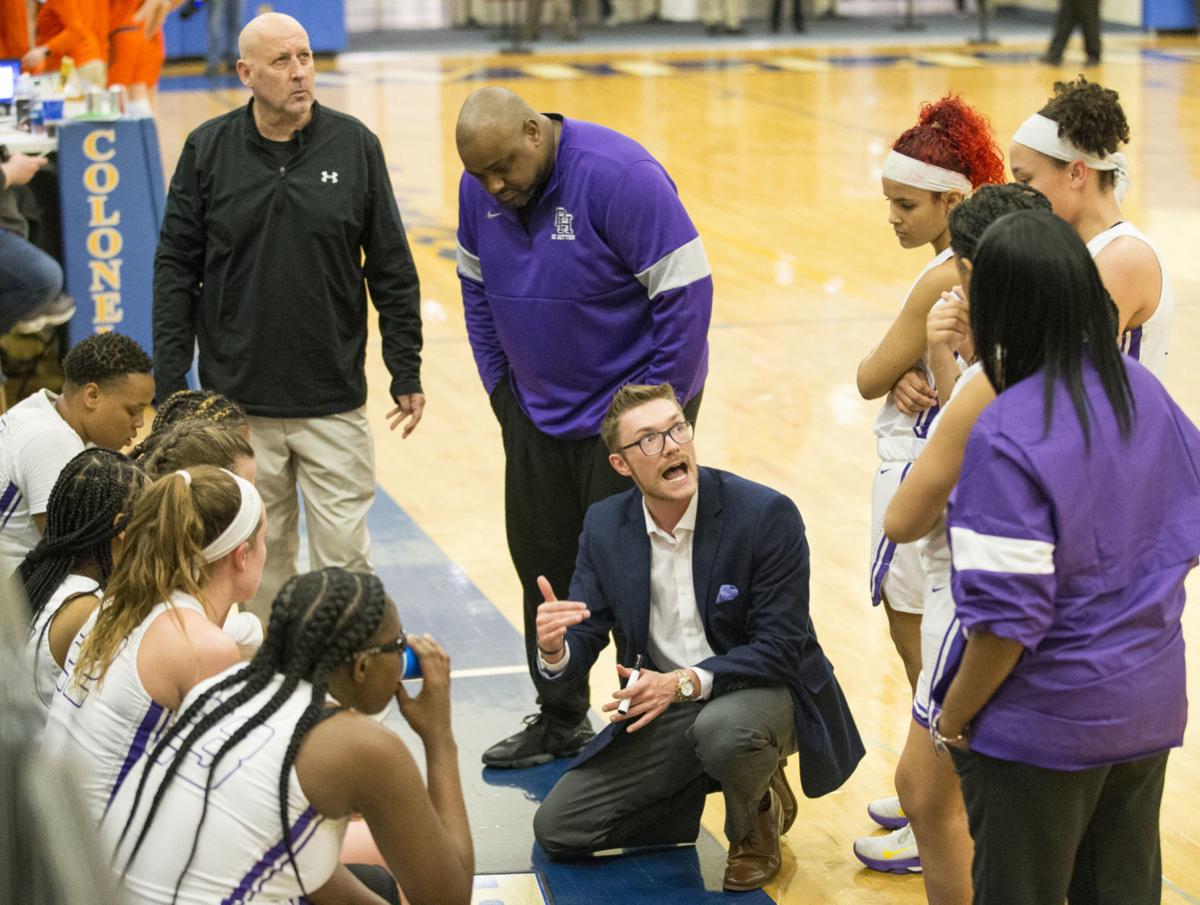 Roanoke Mayor Sherman Lea apologized Tuesday for a Facebook comment he made about the Patrick Henry High School girls' basketball team's regional tournament championship, calling his seemingly critical comment "a joke gone bad."
Following Patrick Henry's 64-25 victory over North Stafford High School in Monday night's Region 5D finals, Lea commented on head coach Mike Hedrick's personal Facebook page that any high school championship "needs [an] asterisk by it" because many schools are not playing basketball during the COVID-19 pandemic. In sports parlance, an asterisk beside a victory or record can connote that there were special circumstances that aided a team or player.
Lea said the message was intended as a joke not to be made public. He apologized to Hedrick when the two spoke by phone Tuesday morning, and he planned to apologize to the team's players in person after Tuesday afternoon's city council meeting, Lea said. The mayor also apologized during the council meeting, when he described his comment as "a joke in bad taste."
The hoops hoopla started Monday night, when Hedrick posted photos and videos after the victory and wrote: "Back to back region champions!!! Final 4 bound!!!" The Patriots advanced to the state tournament semifinals with the region championship.
Among many congratulatory comments, Lea wrote: "Please note a lot of the good Basketball programs in the state are not playing basketball no Richmond.City [sic] schools playing. Because of Covid 19. Everything won this year needs [an] asterisk by it. Mayor Lea."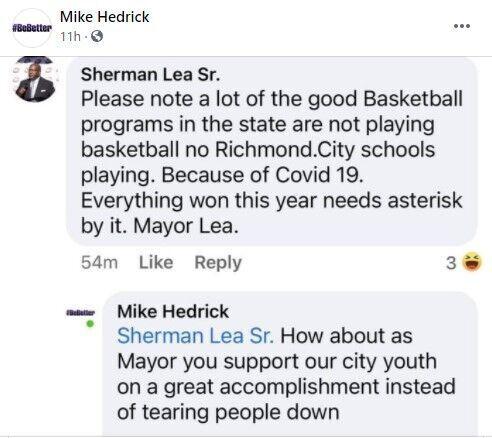 Lea said during an interview on Tuesday that he intended to send the comment directly to the Patrick Henry coach as a personal message in a teasing manner. Lea said that he did not intend for the comment to be public.
The mayor said his intention was to point out that the other schools that opted out of competition due to the pandemic might claim they would have been competitive in the state tournament had they played.
"What I meant was, man, Richmond will say 'y'all put an asterisk by it,'" Lea said. "It was a joke gone bad. I'm a former basketball referee, and I expected [Hedrick] to come back on me with something."
Hedrick did just that on Facebook. Clearly surprised by Lea's Facebook comment, the coach responded online with: "How about as Mayor you support our city youth on a great accomplishment instead of tearing people down."
Lea called Hedrick "a good friend of mine" and said that the two "have a good relationship." He credited the coach with vastly improving the Patriots' program in his four seasons at the school, citing the back-to-back regional titles. The Patriots girls have also played in Lea's own invitational tournament, the Leas Winter Classic, sponsored by the mayor and his son, Sherman Lea Jr., in recent seasons.
"I told him, 'you know me … I'm your guy,'" Lea said.
Lea later deleted his comment and replaced it with a comment that read: "Congratulations Coach! I know you and the team have worked extra hard playing through this pandemic. This is a tremendous accomplishment! Keep going!"
Hedrick said that he accepted the mayor's apology, but the coach added that he would support his players against criticism, even if intended as a joke.
"I accepted Mayor Lea's apology and I appreciated the phone call," Hedrick said. "I have always gotten along with Sherman Lea. He is a friend and supporter of the program. That's why I was so surprised when the comment was made. It kind of discredited the work the players have put in, whether that was intended or not."
Lea said he has long been supportive of city athletics, especially at the two high schools, PH and William Fleming. He pointed to the construction of a new field house at Patrick Henry, which was approved by the council last summer, as evidence of the city's support for high school athletes.
"I cannot think of any council member who has been more involved in athletics," Lea said.
The mayor has been critical of Roanoke City Public Schools' decision to play winter sports during the pandemic. In an editorial published in The Roanoke Times on Jan. 16, Lea wrote that "[t]here is extensive documentation for reasons schools should not be participating in indoor sports, and I personally have difficulty with school administrations and the school board members allowing this to happen."
Lea said that hoped that the Facebook controversy "was not a distraction" for the team as it prepared for Wednesday night's state semifinal game against Potomac Falls. He also said he would take a break from social media.
"I'm going to get off Facebook," Lea said. "I learned that."