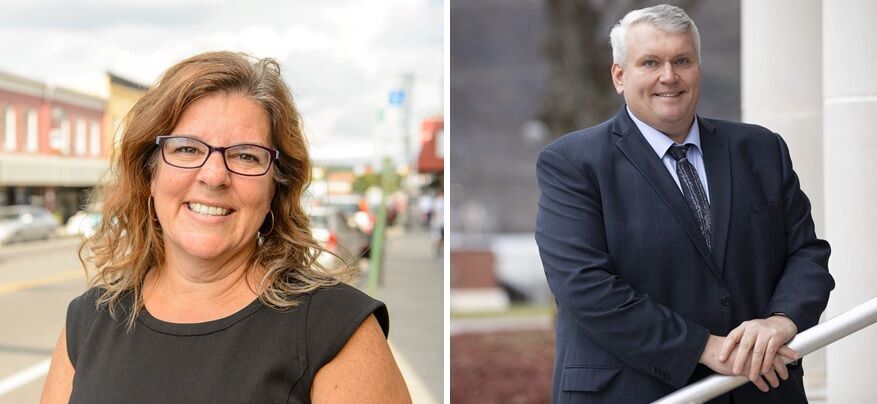 Voters in Southwest Virginia are heading to the polls Tuesday for a special election to choose a state senator to succeed Ben Chafin, who died earlier this year from complications from COVID-19.
Travis Hackworth, a businessman and member of the Tazewell County Board of Supervisors, is seeking to retain the seat for the Republican Party against Democratic challenger Laurie Buchwald, an obstetrics-gynecology nurse practitioner and former Radford City councilwoman.
The massive 38th Senate District stretches from Radford to Big Stone Gap and includes all or part of nine counties and two cities.
It's a bright red district in which former President Donald Trump won 77% of the vote in November, but Democrats are investing time and money in the race.
"I believe strongly we should have contested races, I believe that women should be in office and I believe Southwest Virginia needs a voice to champion what's important to us," Buchwald said.
Buchwald is focusing her campaign on issues that she's hoping she can attract voters from across the political spectrum: expanding health care opportunities, increasing teacher pay and improving public education, expanding broadband and navigating the region through the COVID-19 vaccination and recovery effort.
"In the last five or six years, the focus from the other side has been on one or two issues," Buchwald said, referring to hot-button issues like guns. "We need to be talking about issues that matter to families."
Hackworth has been emphasizing that he is "pro-guns," "pro-God," "pro-life," "pro-police," and "pro-coal." He says these are "Southwest Virginia values."
"We are going to go to Richmond and protect our gun rights," Hackworth told a group of people in Grundy. "How many of you believe the Second Amendment is important? How many of you believe in going up there and making sure the liberals don't limit our free speech is important? How many believe we are still one nation under God, indivisible with liberty and justice for all. I'm proud to say the Pledge of Aallegiance."
There's still a lot of cultural politics around coal in Southwest Virginia. Coal production has been in a steep decline for a decade, and Virginia is on a plan to shift toward renewable energy. Hackworth, who owns a general contractor business that works for coal companies, said he would help market metallurgical coal for export.
"We're going to be loyal to our coal producers," he said.
Hackworth also wants to prioritize K-12 education funding. He said the state is not contributing enough to the region's school divisions. State funding for public schools is based on enrollment, and Hackworth acknowledges that the school divisions are losing funding because of a decline in population and because many people homeschool their children or place them in private schools. He doesn't have an answer to the problem, but he said he'd be interested in working on it.
Hackworth emerged the winner of a six-way firehouse primary in January. This is the second time Buchwald has run for a seat in the General Assembly. She challenged former Republican Del. Joseph Yost in 2015.
The two candidates have made numerous swings through the district to meet voters in person. Because of the pandemic and limitations on social gatherings, they've relied heavily on mailings and phone calls.
The Hackworth campaign has pushed that Buchwald is "pro-abortion" and wants to tax churches. A recent mailer that ruffled feathers accused her of having "plans to force churches to fund abortions."
"Travis is either mistakenly leading the public or a liar," Buchwald said in a statement about the mailer. "These scare tactics are all too common for politicians who don't have the answers or the gumption to stand up to tough questions."
Hackworth then released an undated video of Buchwald, wearing a mask and sitting somewhere with people, saying, "I don't think churches should just be able to be tax-free."
Buchwald said she's been trying to avoid engaging in the partisanship, focusing instead on the issues. As a nurse practitioner, she's familiar with how people struggle to pay for procedures, so she'd like to work on making health care more affordable.
She said she's got the political courage to make tough decisions. She said the school divisions in Southwest Virginia need funding to provide an education that is on par with students in more affluent areas, but she said local governments and the state government both need to both step up to invest.
"I'm not afraid to raise taxes for things like schools and jobs," Buchwald said. "There are not many people who will say that to you. You can't have decent roads, schools, pay for firefighters and police and not pay taxes. I'm a mom, so I know how to pinch a penny, but you have to spend money to take care of people."
Democrats hold a slim 21-18 majority in the Senate. Democrats wrested control of the Senate back from Republicans in 2019. Chafin had flipped it to GOP hands in 2014 when he won a special election to replace Democrat Phillip Puckett, who had stepped down.
The General Assembly is scheduled to meet April 7 to take up any vetoes or suggested changes to legislation from Gov. Ralph Northam, a Democrat.
Republicans have expressed frustration that Northam left the seat vacant during the regular legislative session in January and February. Chafin died Jan. 1. Northam called for special elections to happen more quickly in reliably blue districts, so Republicans accused him of taking advantage of the situation to increase his party's margin in the Senate.
Northam said this month that Chafin was a "dear friend and a wonderful leader for Southwest" and that he spoke with party leadership and people from Southwest about the appropriate timing for a special election.
"The main reason I did that was out of respect to Sen. Chafin, because he was a wonderful man, and I needed to give the family time to mourn, and for the community to do that as well," Northam said.