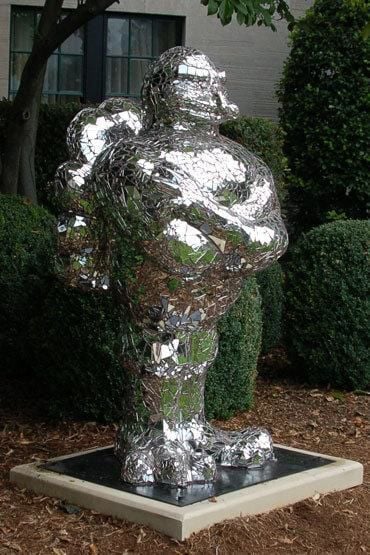 A Virginia Tech Hokie Bird statue stolen from outside the Hotel Roanoke & Conference Center was found Friday off the side of a road near Charlottesville.
The 5-foot tall statue of Tech's mascot, which weighs upwards of 65 pounds, is back in Roanoke, police said Friday afternoon.
The bird did sustain some damage.
While nobody has been arrested in the Wednesday morning theft, a Virginia university has issued a mea culpa.
James Madison University in Harrisonburg said on Friday one of its fraternities is to blame.
"Earlier today, we were informed by the Roanoke Police Department that the pledge class of Sigma Nu fraternity stole an $8,500 Hokie Bird statue from the Hotel Roanoke on Wednesday," Tim Miller, vice president of student affairs, said in a statement released by a university spokesman.
"JMU is fully cooperating with the Roanoke authorities and Sigma Nu National Headquarters to manage this incident and its impact on the community."
Roanoke police declined to comment on any potential suspects in the case.
Sigma Nu Fraternity said a JMU official told them one or more students affiliated with the fraternity may have been involved.
"We have opened an investigation and will be working very closely with JMU officials to learn more," the fraternity said in a statement.
"What is a Hokie," which stood outside the hotel, was designed by local artist Kathy Duncan with shards of mirrored glass.
The statue was one of 75 that the Blacksburg Partnership economic development group began placing around the region in 2006. Since then, they have been a target of occasional theft and vandalism.
In February, a statue that stood outside the Tech Bookstore was stolen and remains missing.
In 2009, charges of property destruction were dropped against a group of University of Virginia students after a Hokie statue was taken in 2007 from Blacksburg to Charlottesville. Tech students later took it back.
JMU's Miller offered an apology to the Hotel Roanoke, the artist and "all of Hokie Nation" for what happened.
"JMU and Virginia Tech share a long history and a healthy rivalry that is based in mutual respect and actions such as these do not reflect the positive relationship we have with Virginia Tech," Miller said.
A Roanoke police spokeswoman said Friday she didn't know where exactly near Charlottesville the statue was discovered or by whom.
Roanoke police ask anyone with information to contact them at 344-8500 or via text beginning with the phrase "RoanokePD" at 274637.
Be the first to know
Get local news delivered to your inbox!