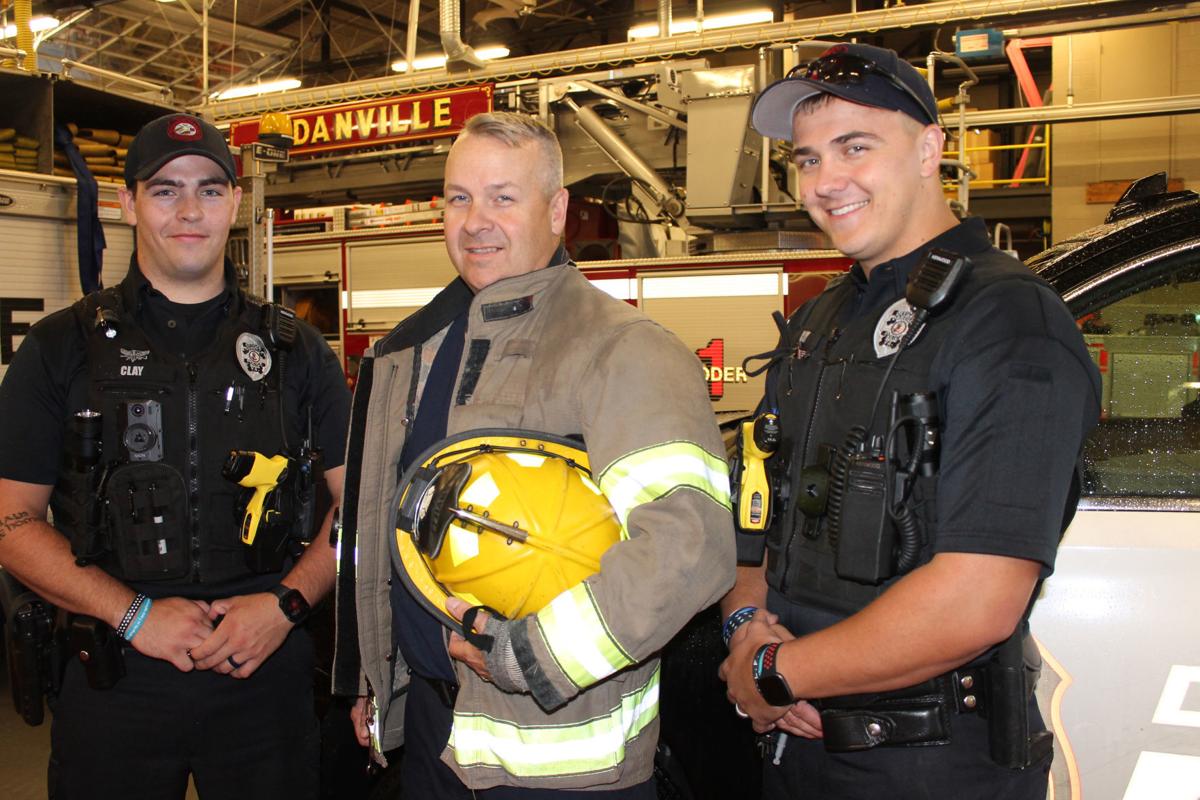 Emergency calls in Danville can be a family affair for the men of the Clay family.
Garret Clay, 49, has been a Danville firefighter since the mid-1990s and now two of his sons, 25-year-old Austin and 24-year-old Kameron, have joined him in serving the public as Danville police officers.
Garret grew up in Las Vegas and said fire trucks always had a way of making him turn his head.
"I had the bug pretty bad and still do," he said, admitting firefighting and law enforcement both have their risks. "To me personally, running into a burning building does seem safer than being shot at, and I pray with every bone in my body that will never happen to my sons. But if it does, I have faith that my Heavenly Father will protect them both."
Both sons say having a dad who is a firefighter inspired them to want to help others.
"I have always felt the pull of becoming a police officer," Austin said. "I was taught from a young age, by a firefighter, the importance of honesty, integrity, compassion and a work ethic, among so many other things."
Kameron always thought it was "pretty cool" that his dad ran into fires, saved lives and helped others.
"I always knew that he was the kind of person who would give the shirt off his back to some random person in need. It's kind of hard to have a dad in public service and not want to be inspired to go into public service myself," he said.
He added he admires his dad because he always is ready to help someone, he is a good husband and father and he has a good attitude, even when he sees difficult things on the job.
The need to help
Austin has been a police officer for two-and-a-half years, while Kameron graduated from the police academy only two weeks ago.
Kameron originally thought about joining the military, but decided after Austin joined the police force that becoming a police officer would give him the opportunity he wanted to serve others.
"The need to do something to help others has always been in my blood," Austin said. "Growing up with a firefighter as a dad was a great childhood. I grew up around the stations and firefighters, which resulted in friendships which last to this day."
Garret said he went into public service to fight fires, then realized he actually was getting paid to help people.
"Grown men are having the worst day of their lives and I can show up and take the load for a bit," he said. "I've witnessed very hard things to see, but I've also witnessed miracles and the fact that God is aware of each and every one of us, no matter where we think we are in this life. The best part of this job is giving service."
Garret has been on a couple of calls with Austin, but not with Kameron yet. He said it's always a treat seeing Austin on the job, and he hears good things from others about his younger son.
"And that makes me proud," he said.
Austin said they watch each other's backs when they show up on the same call.
Their dad says he and their mother, Stacey, who serves others as a nurse, pray for the safety of their sons every day.
"My wife and I will always worry, that's just what parents do. But our faith is strong, and God is ultimately in control of everything," Garret said.
Not afraid
But both sons say they aren't afraid as they go out to do their jobs.
"I have never been afraid to do my job," Austin said. "The day I'm afraid is the day I quit because my brothers and sisters in blue do not deserve that kind of mindset when they are counting on me to watch their backs. I spend my time at work fighting crime to the full extent of my ability."
He agreed with his dad that he often sees people on the worst days of their lives, but he said sometimes he can be the light those people need.
"I have had days that brought me to my knees by things I saw and heard," he said. "I have had countless times where I rely on the morals and standards taught to me by my father to remember to do the right thing."
Austin remembers his dad always said what he wanted from his sons was for them to be good men and he is striving to be one.
"I now have children of my own and know exactly how he felt," he said. "I do what I do because I love making a difference. Police work is challenging and very rewarding."
Kameron said there are times when he has been nervous working as an officer because he never knows what is going to happen next, but he's never really been afraid.
"I know that other officers have my back, God has my back, and in situations where I thought I would be afraid, my training kicks in and a switch flips," he said. "The nerves go away and I know what to do. So far every day has been different from the last. One day could be really slow, not knowing what to do, and others it's so busy you can barely find time to go home."
Teaching the generations
Garret has two other sons and a daughter in addition to his police officer sons and consciously tries to teach them principles such as service and compassion for others. His children in turn are passing those lessons down to their children.
"I've always tried to teach them ... that giving is really the only way to receive. See a need, fill a need by showing respect, having integrity and making your word your bond," he said. "They are a blessing to me and I pray that through their works they can bless others by stopping the lawbreakers, keeping society safe or maybe talking to that person who needs someone to listen. Everything counts, but make the 'everything' matter, and it will, if your heart is in the right place."
Austin's wife, Federica, also is a nurse and mother to their two young children — Liam, 3, and Khloe, 1.
"I hope that my children always know what I knew as a child. That the job I do, I do for them," Austin said. "I go to work every day for my children to grow up in a better world than the one we have. I hope my children know that I gave my all every day and that I was honest and had integrity and compassion even when it wasn't shown to me. I hope my children are proud that they have a police officer as a father."
Kameron has two daughters — Parkyr, 2, and Jordyn, 7 months. His wife, Chelsey, is a stay-at-home mother.
"I hope my children learn to always be kind, help those in need, but also to be firm when needed and to take action when they see something wrong happening to their family, friends and community," Kameron said.
Austin admits it is difficult kissing and hugging his children goodbye and knowing there is a possibility he won't return home.
"That is a tough feeling, but I do it to be the change we all wish for," he said. "We need good men in this line of work, and I hope my children believe I was one of the good ones."
The three men, all dedicated to public service, tease each other non-stop. Even deciding whether to stand in front of a fire engine or a police car was an opportunity for good-natured bantering.
But the love and respect between the three is apparent, not only for each other but for their chosen careers.
Garret summed up the pride he has for the two sons he has taught: "It takes a special soul to put on a badge and rush into danger while others are rushing out, and I'm grateful that's the type of men my wife and I raised."
Elzey is a freelance writer for the Register & Bee. She can be reached at susanelzey@yahoo.com or (434) 791-7991.
Elzey is a freelance writer for the Register & Bee. She can be reached at susanelzey@yahoo.com or (434) 791-7991.
Be the first to know
Get local news delivered to your inbox!