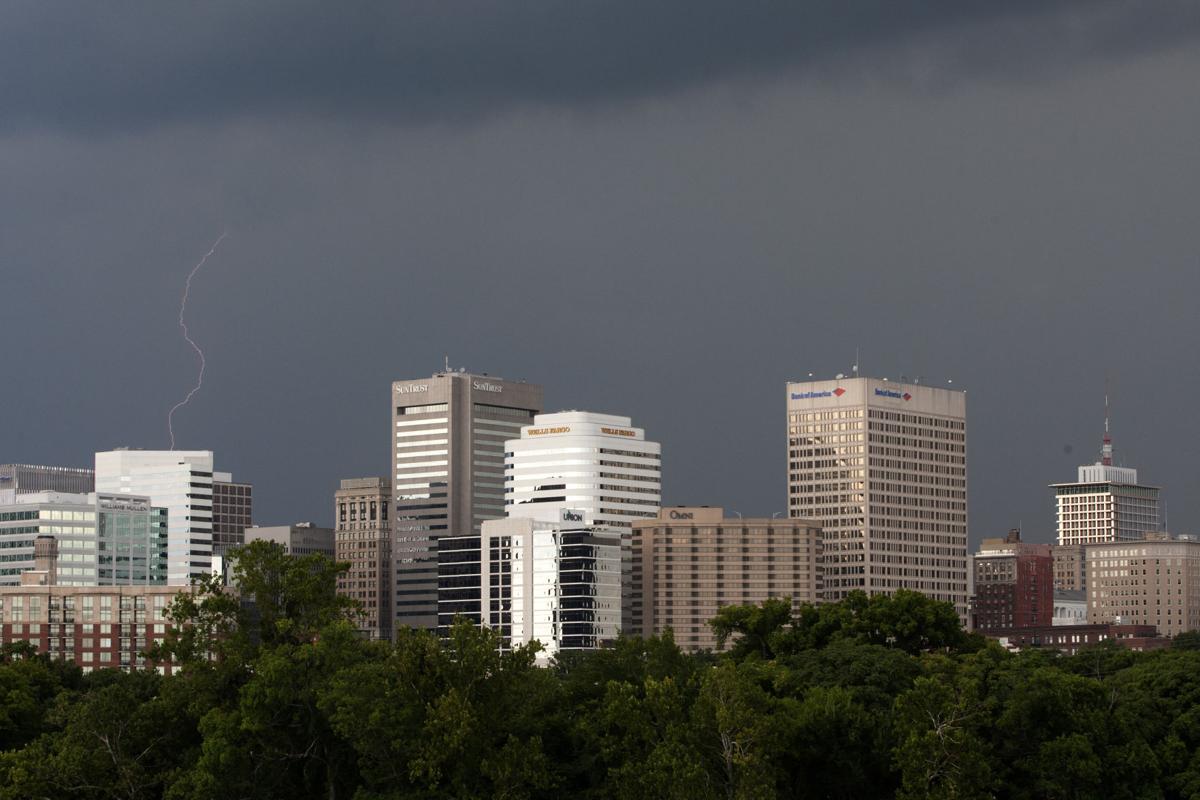 July is in the peak season for heat waves and severe storms in Virginia, plus the occasional tropical storm or tornado.
Here's a selection of some notable weather events and records in Virginia during the month.
1981: Tropical Storm Bret made a rare landfall on Virginia's Eastern Shore, but it was too weak to cause much disruption.
1968: A 5-inch diameter hailstone fell in Loudoun County, one of the largest on record in the state.
1967: Five people were injured when a strong tornado hit Suffolk.
1980: A derecho - a line of storms with damaging wind gusts - that began near Omaha, Neb. swept across Eastern Virginia. Its strong gusts capsized boats, knocked down trees, power lines and phone lines in the metro area.
1977: A rare 105-degree high in Richmond, and the first of three straight days above 100 degrees.
2005: The remnants of Hurricane Cindy spawned several tornadoes across Virginia, including two in Chesterfield County and one in Henrico County. They were relatively weak and brief and caused no injuries.
1896: An unnamed hurricane that came ashore in the Florida Panhandle caused deadly tornadoes near Petersburg and Williamsburg and flooding in Southside Virginia.
2014: A tornado with 75 mph winds injured 10 people at the Oceanfront in Virginia Beach.
1995: Richmond began its longest stretch of days on record with a high temperature at or above 90 degrees. The 27-day run lasted until Aug. 6, 1995.
1996: Hurricane Bertha slammed into North Carolina and its spiral bands lashed Tidewater Virginia with heavy rain and several tornadoes.
1954: Balcony Falls in Rockbridge County recorded a 110-degree high, which tied for the hottest ever measured in the state.
1926: Burkes Garden in Tazewell County reported a frosty low of 31 degrees, possibly the coldest observed in the state during July. Lows in the 40s were common elsewhere in the mountains of Virginia that morning.
1945: A weather station in Virginia Beach picked up 8.8 inches of rain, the most statewide for any single day in July.
2007: A thunderstorm dropped the temperature 26 degrees in one hour in Richmond, from 97 down to 71.
1963: A partial solar eclipse was visible in Virginia. The path of totality went through Alaska and Canada and back into Maine.
1939: Richmond's high was only 65 degrees, the coolest for any July day
1997: The remnants of Hurricane Danny generated damaging tornadoes in Norfolk and Portsmouth.
2010: Richmond's high temperature climbed to 105 degrees for the second day in a row.
1987: Powhatan County experienced a minor tornado. The county would not have another until May of this year, which was an unusually long gap between reports.
1816: A tornado killed two people and injured three more in Henrico County.
1923: Richmond's wettest July day brought 7.24 inches of rain.
1947: A tornado caused considerable damage in Buena Vista and severe storms wiped out some crops in the western Piedmont.
Be the first to know
Get local news delivered to your inbox!