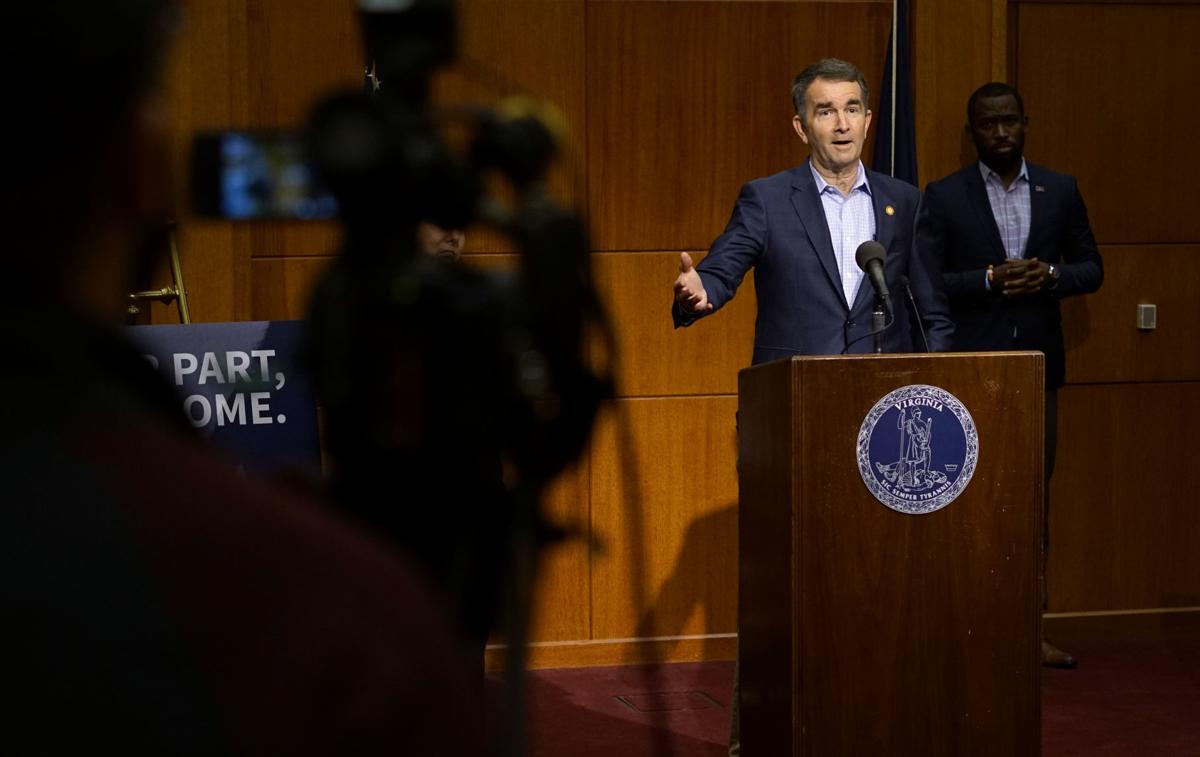 RICHMOND — The deaths of two residents of a Henrico County rehabilitation facility pushed Virginia's statewide toll to at least nine Tuesday as Gov. Ralph Northam batted down a suggestion from President Donald Trump the nation's economy could be "open by Easter."
"While it would be nice to say that this will be behind us in two weeks, that's really not what the data tells us," Northam said in a briefing with reporters. "The data tells us that this will be with us for at least two to three months and perhaps even longer."
Trump said Tuesday during a Fox News virtual town hall his administration is exploring ways to adjust measures that have led businesses to close or lay off workers, in an effort to "have the country opened up and just raring to go by Easter."
Decisions on restrictions to curb the spread of the coronavirus have largely been made by state governors and vary widely across the country, from shelter in place orders to requests people avoid social gatherings.
Trump's statements come as health officials in Virginia and elsewhere escalate admonitions to stay home and warn the new normal of shuttered schools and businesses won't be a quick fix against the coronavirus.
The number of confirmed coronavirus cases in Virginia climbed to 290 Tuesday, up 36 from Monday, the Virginia Department of Health reported in its once-daily update.
Northam said it's important the public not receive "mixed messages" from officials.
"It's fair to say that we all want our lives to return to normal as fast as possible, but I think we have to use science, we have to use data," Northam said, adding Virginia is looking at other countries and states to understand the spread of COVID-19.
The roads around Richmond were noticeably less congested Tuesday as people anxious over the coronavirus stayed home. Some were able to work at home. Thousands have lost jobs as a result of mandatory shutdowns.
Five deaths have been reported in the Peninsula Health District, which serves Newport News, Poquoson, Williamsburg, James City County and York County. One death was reported by the Fairfax County Health Department. The most recent death was reported in the Virginia Beach Health District.
About 4,500 Virginians had been tested for the virus and 45 had been hospitalized, the VDH reported at midday Tuesday.
It wasn't clear whether the VDH's numbers included the 10 residents of Canterbury Rehabilitation and Healthcare Center who have tested positive. Two have died. Four others have been hospitalized.
Health officials last week explained that there's a lag in the reporting of statewide infection numbers, and said figures on the VDH website might not be the same as numbers reported by individual localities or local health districts.
The state has a 5 p.m. cutoff for tabulating daily numbers, so the numbers reported on the website at noon each day are 19 hours old.
There are coronavirus cases in 42 Virginia cities and counties.