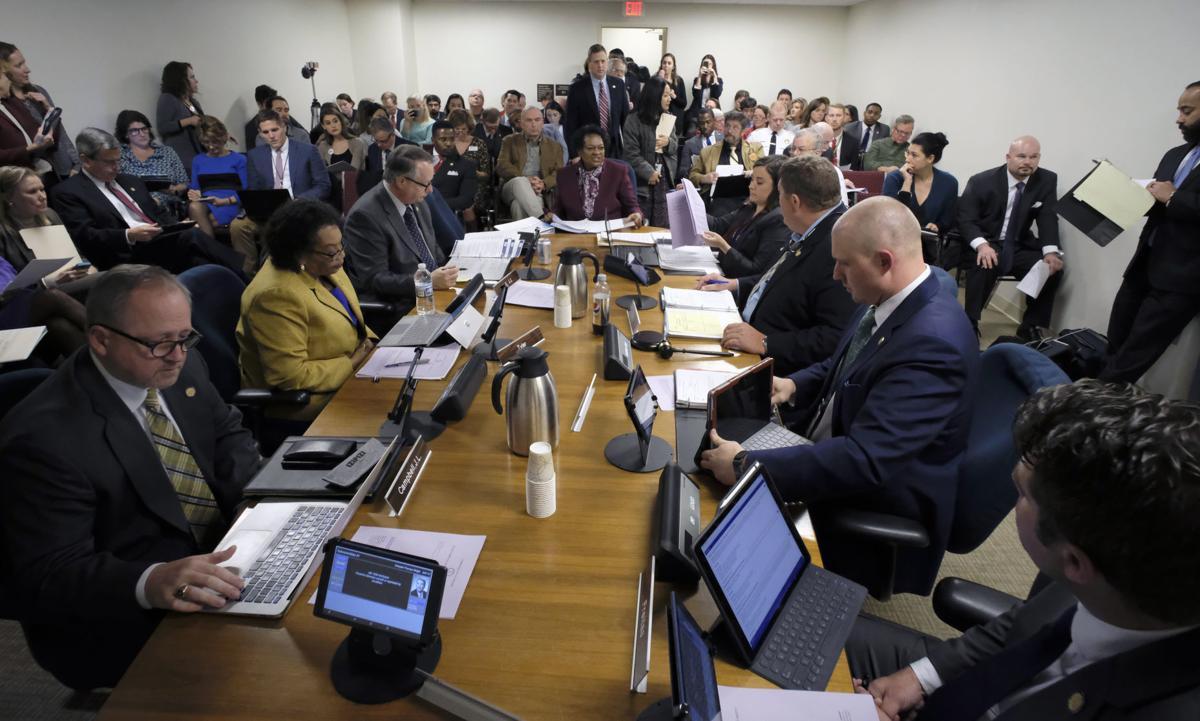 A Republican-led subcommittee in the Virginia House of Delegates voted down more than a dozen Democratic gun control bills Thursday, including a red-flag proposal endorsed by President Donald Trump's school safety committee.
In a packed hearing room, Republicans on a House Militia, Police and Public Safety subcommittee used their 4-2 majority to methodically defeat the gun bills over the course of more than two hours.
For the first time, the panel heard arguments about a bill to create extreme risk protection orders, which would allow authorities to take guns from people whose behavior gives law enforcement reason to believe they may hurt others or themselves.
The idea gained bipartisan support after last year's school shooting in Parkland, Fla., but Thursday's vote indicates Virginia won't join the 13 states that have risk protection laws.
"I had hoped that this bill would show itself as one that could break the partisan logjam that we seem to be stuck in when it comes to gun safety bills," said Del. Rip Sullivan, D-Fairfax, the bill's sponsor. "This is a bill that Republicans all across the country support."
When it became clear the GOP majority was preparing to kill his bill, which Gov. Ralph Northam's administration supported, Sullivan unsuccessfully asked the panel to pass it without a recommendation to allow for more discussion.
"We've heard a lot of good argument about this. And it's time to vote," said Del. Matt Fariss, R-Campbell, the subcommittee chairman who tried to keep the meeting moving by limiting speaking time on each proposal.
The Senate version of the red-flag law failed Thursday on a 7-7 committee vote.
The Republican lawmakers didn't comment on Sullivan's proposal. But gun-rights activists with the National Rifle Association and the Virginia Citizens Defense League said they were concerned the legislation would let authorities take guns away without requiring any mental health intervention.
"This is centered around a person. And you're leaving them there," said VCDL President Philip Van Cleave.
Sullivan and gun-safety advocates pitched the bill as a suicide-prevention measure, saying it would allow families to intervene and help loved ones showing signs of distress.
Van Cleave said there are other ways to commit suicide that don't involve a gun. Bob Sadtler, another VCDL activist, said he was concerned seized guns might be damaged while in law enforcement custody.
A representative of the Virginia Law Enforcement Sheriffs - which represents 86 sheriffs with primary law enforcement duties in their localities - said his group supported the red-flag law.
Among the other bills voted down were proposals to let localities ban guns in libraries and government buildings, ban magazines that hold more than 10 rounds, require universal background checks for gun buyers, restore the state's former one-handgun-a-month policy, and let localities ban guns at permitted events to avoid a repeat of the chaotic white nationalist rally in Charlottesville during the summer of 2017.
The subcommittee again voted down legislation supported by the Richmond Police Department that would require gun owners to report the loss or theft of a firearm within 24 hours or face civil penalties.
Del. Jeff Bourne, D-Richmond, the bill's sponsor, said the legislation would help the city keep track of illegally possessed firearms used in many Richmond shootings.
"There are young men and women dying each and every day in the city that I love and represent," Bourne said.
Richmond Mayor Levar Stoney and interim Police Chief William C. Smith spoke in favor of the bill. Smith said the legislation would help his department intervene in the "illegal lifespan of a firearm."
Pro-gun speakers said the bill would punish people who had already been victimized by having their guns stolen.
"The idea that the government would turn around and violate me a second time, that really bothers me," Sadtler said.