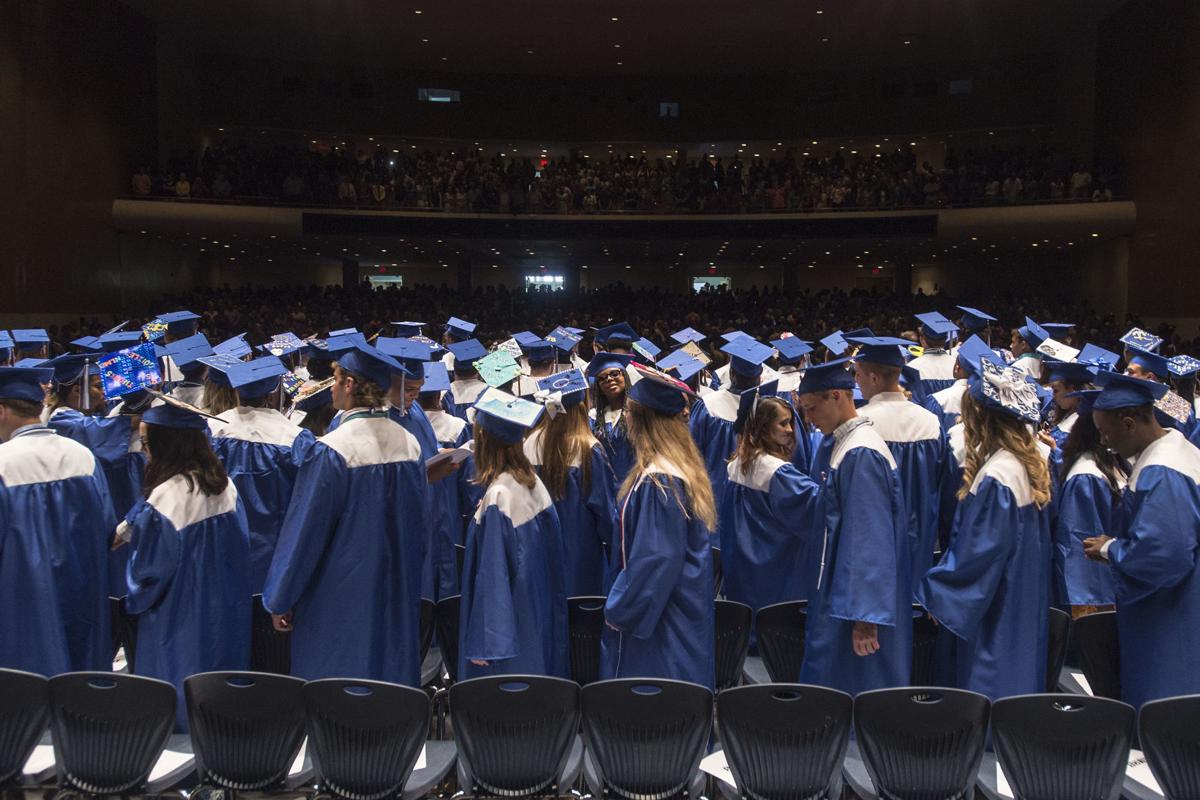 RICHMOND — Guidance from the Virginia Department of Education released after Gov. Ralph Northam ordered state schools to be closed for the rest of the school year provides leniency so members of the senior class can still graduate.
The guidelines, sent to superintendents across the state Monday night, allow school districts to waive eight graduation requirements in an effort to not further burden seniors, who will miss out on staples such as prom and a commencement ceremony after the decision Monday to shutter school buildings for the remainder of the academic year.
"I think everyone recognizes that these students shouldn't be prevented from graduating because of circumstances unforeseen and beyond their control," said Charles Pyle, the agency's spokesman.
The following requirements can be waived, according to the state Education Department:
» Students currently enrolled in a course for which they need a standard or verified credit in order to graduate;
» Students who have successfully completed a course required for graduation, but have not earned the associated verified credit;
» Students who have not completed the student-selected test;
» Students who currently are enrolled in or have previously completed a course leading to a career and technical education credential necessary for a standard diploma but have not yet earned the credential;
» Students who have not completed a U.S. and Virginia history course;
» Students who have not completed a fine or performing arts or career and technical education course;
» Students in the second of sequential courses;
» Students who have not completed an economics and personal finance course.
The state agency said more guidelines will come for the final four requirements listed because those can't be waived outright.
While the Education Department has the power to renounce the requirements, some — students who have not completed training in emergency first aid, cardiopulmonary resuscitation, and the use of automated external defibrillators, and students who haven't finished a virtual course — require action by the General Assembly.
The legislature is scheduled to reconvene April 22 for a one-day veto session, during which it could take action on the requirements.
The Education Department also said in its guidance students enrolled in cosmetology or master barber courses will be eligible to take the licensure test if their instructor submits a form certifying the student completed the VDOE- required training.
The Virginia Board of Education, the state's K-12 governing board, discussed the possibility of extreme flexibility for seniors during a conference call meeting Friday, with board members saying unprecedented times call for unprecedented action.
"We recognize that because this is such an extraordinary situation, the principle of flexibility, that we want students to be able to graduate, to be able to move on to next year, with the anticipation that this will pass eventually and we were well past the midmark of the school year, the presumption should be in favor of helping everyone move on successfully to their next step," board member Anne Holton said.
Board President Dan Gecker said, "We are all in this together."
The guidance released Monday night goes beyond just graduation.
It applies to underclassmen taking classes needed for graduation — districts must give credit by "ensuring that students have completed a majority of required standards, competencies, and objectives, including those that are essential for success in subsequent coursework" — and students in elementary and middle school.
"School division leaders will decide how students can learn the information they were meant to cover for the remainder of the year," Northam said Monday.
For kindergarten through eighth grade students, the state encouraged school systems to offer virtual learning, which most are already doing, while also giving districts the flexibility to offer summer school to students who couldn't receive teaching during the closure, adjusting the current school calendar or the 2020-21 school calendar or incorporating lessons students would have learned this year into next year's schedule.
"As local school divisions begin to explore options for virtual or online instruction and other instructional delivery methods, these decisions should be done with careful consideration of providing equitable access and support for a variety of student learning needs," the guidance reads.
School systems will retain the power to award grades and determine grade-point averages, according to the guidance, but the state is recommending against grading work that is done during the closures.
(804) 649-6012
Twitter: @jmattingly306​
Concerned about COVID-19?
Sign up now to get the most recent coronavirus headlines and other important local and national news sent to your email inbox daily.