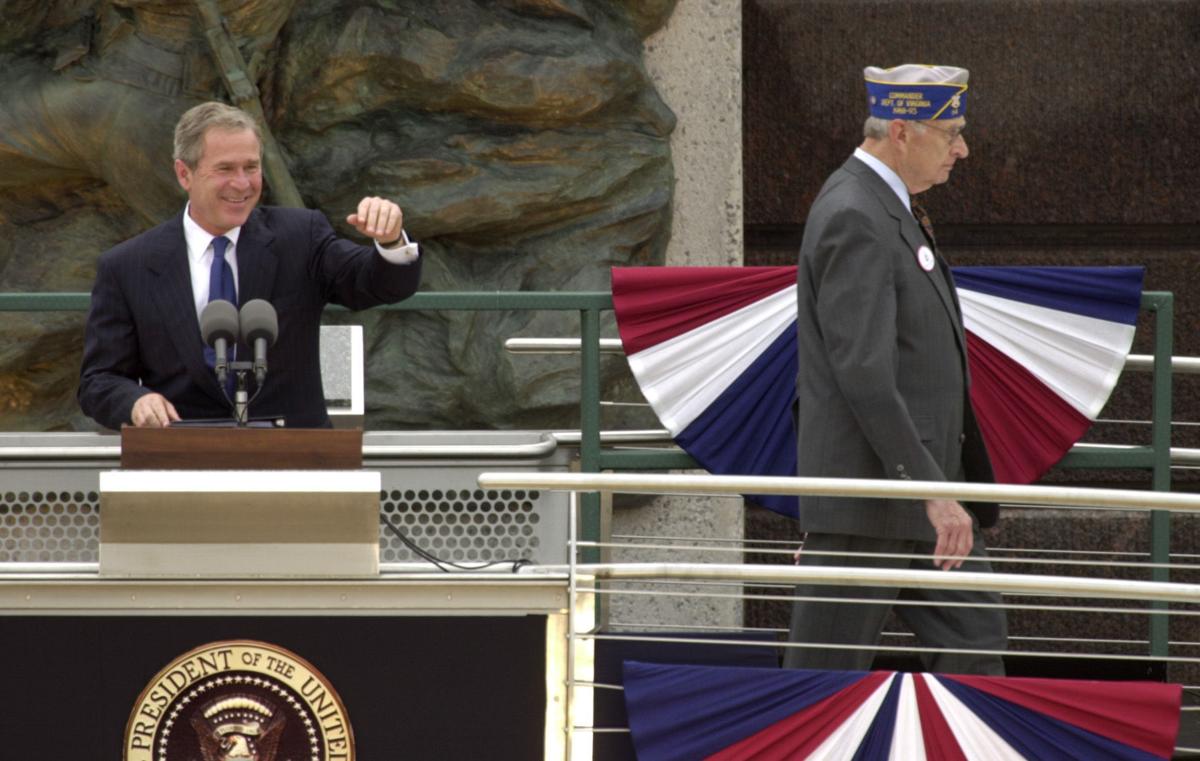 At Mama's Home Cooking in Montvale, almost every customer and employee ran outside to see the sight — the long line of police cars, lights flashing, and then the long black car they were escorting down U.S. 460.
Inside rode the president of the United States, not an everyday visitor to Bedford County.
But 20 years ago today, he was.
Today marks a full two decades since the National D-Day Memorial in Bedford was dedicated. Depending on your perspective, and your age, those two decades are either a passage of time that feels just like yesterday — or, perhaps, a lifetime.
On this date each year, we take time to remember the D-Day landings on the coast of France on June 6, 1944 — not just the largest amphibious invasion in history but the seminal event that broke the Nazi grip on Europe. Consider the alternative: Failure at D-Day might have led to a very different outcome to the war and a very different look to the world today.
Virginia has a special connection to D-Day that only forgetfulness can break. When World War II came, many of the National Guard units from this part of the state were organized into the same infantry division and that 29th Infantry Division was tapped to be part of the mission to liberate Nazi-held France — which is why a disproportionate number of Virginians were among those who wade ashore that fateful morning.
And why a disproportionate number are now buried in the American military cemetery in Normandy.
These facts seem familiar to some of us but bear repeating each year lest we forget: 19 men from Bedford County died that day, four others later in the operation. That is said to be the largest per capita loss of life any single community suffered during World War II. It is certainly why the National D-Day Memorial is in a small town in the eastern foothills of the Blue Ridge Mountains and not, say, in the nation's capital.
The "greatest generation," as the World War II generation has been called, did not come home to build statues. The survivors came home and went to work. Time has a way of putting things in perspective; it took decades for some of them to truly understand what they'd done and feel the need to commemorate while they were still around.
That task fell to John Robert "Bob" Slaughter, who had been just 19 years old that day in June 1944.
"People had forgotten," he once told The Roanoke Times. "There was no doubt about it. And it made me mad."
In 1987, he retired from the newspaper's composing room — a relic of when putting a newspaper together was an industrial process and not a computerized one. "I kept waiting for something to happen," he said. When it didn't, he took the lead. "I thought it would be an easy sell. I found out it wasn't. It was very hard."
It took 14 years for the memorial to come to life, 14 years during which more and more of those who lived through that day passed through theirs. But then on June 6, 2001, there it was — a $14 million memorial, and the president of the United States himself there to dedicate it, a man born two years after the event he was there to memorialize.
So, too, were the French ambassador, every Virginia politician of note, and some 16,000 people, nearly three times as many people as who lived in Bedford.
It's worth remembering just how momentous a day that was. The Roanoke Times reported that American Door & Glass gave its employees the day off.
At the Roanoke airport, a reporter found Roanoker Ron Wood, who was waiting there with his 8-year-old daughter, Mandy. The Roanoke Times reported that Wood "thought the memorial so important that he took Mandy out of school for the day."
When they couldn't get into the dedication ceremony, they came to the airport to get a glimpse of President George W. Bush. Those were simpler times, when it didn't matter that much to people who the president was.
Wood ticked off all the other presidents he'd seen in person — both Republicans and Democrats — and wanted his daughter to start her list.
In Montvale, Branham had set out American flags — and red, white and blue flowers. She had a phone tree set up along U.S. 460 to advise when Bush's motorcade passed by. "Everybody's been calling everybody all the way down the road," she told The Roanoke Times. When the president rolled by, "we had a big crowd out there waving, the kids and everybody."
Bush had been in office barely four months, and some Americans had not yet gotten past the contentious vote count in Florida that had put him there (although no one stormed the U.S. Capitol to protest).
Bush's talk that day was a good reflection of the man — plainspoken and not particularly poetic. In re-reading the text two decades later, it still holds up.
"When people come here, it is important to see the town as the monument itself," Bush said. "Here were the images these soldiers carried with them, and the thought of when they were afraid. This is the place they left behind. And here was the life they dreamed of returning to." And then the line that got quoted the most: "They did not yearn to be heroes." Yet that's how we now think of them.
Here's a line that didn't get quoted much at the time but was true then and still true today: "Free societies in Europe can be traced to the first footprints on the first beach on June 6, 1944."
It's not too much of an overstatement to say that Europeans today owe their freedom to some young, scared but ultimately brave Virginians.
A lot has changed since that dedication day 20 years ago, not all of it for the better.
Two and a half months later, in August 2001, the FBI in Minnesota arrested a French citizen named Zacarias Moussaoui on immigration charges. He'd come to the attention of authorities while taking flight training classes. Authorities never connected enough dots. Three months and five days after going to Bedford to dedicate a war memorial from a European conflict, President Bush found that a very different kind of war had come to America.
There were controversies to come — a court case involving the foundation's president (fraud charges were eventually dropped), loud debates over a bust of Soviet dictator Josef Stalin as part of a display of other Allied leaders during World War II, financial difficulties (since righted).
And time eventually took its inevitable toll. Slaughter passed away in 2012 at age 87. So, too, have many of the others who took part in the memorial's dedication. In time, all of them, all of us, will. But the memorial will remain.
Today will be a good day to visit it. In fact, any day would be.