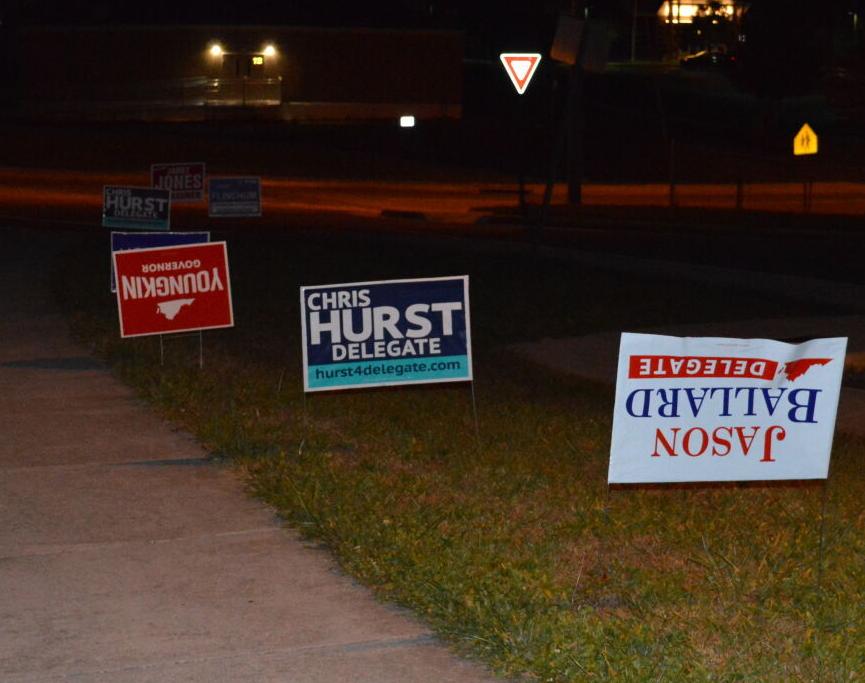 Del. Chris Hurst made news in a way most politicians don't want to make news as polling precincts opened on a drizzly Election Day morning.
Radford Sheriff Mark Armentrout, a Republican running unopposed, released the juicy tidbit that Hurst had been pulled over Monday night after a deputy spotted a woman tampering with campaign signs.
The woman got in a car and the deputy called Radford police. Once a Radford police lieutenant pulled the car over, the driver turned out to be Hurst, and the passenger his girlfriend. No charges resulted from the encounter, though Hurst received a warning that his driver's license was suspended for nonpayment of car insurance.
The video is cringe-worthy. "You're supposed to be representing us," Lt. Drew Szerokman berated 34-year-old Hurst, "not out here acting like a school kid."
Hurst sheepishly explained the incident as "a little hijinks, steam blowing off."
The police report says that up to 16 Republican signs had been disturbed. Hurst and his partner put them back after the chiding from Szerokman.
It might never be possible to truly gauge how much this breaking news undercut Hurst at the voting booths, especially given the many ballots cast in advance. By Wednesday, when video of the Radford police traffic stop become public, the contest was over and Hurst's Republican opponent, Giles County attorney Jason Ballard, was already the definitive winner.
Yet neither can we assume Hurst was simply swept overboard in Tuesday's red wave.
Hurst has a sympathetic back story, informed by heart-wrenching tragedy. A former WDBJ news anchor, he entered politics as an advocate for gun violence prevention two years after his girlfriend, WDBJ reporter Alison Parker, was killed by a gunman on live television.
In 2017 and 2019 Hurst defeated Republican opponents by margins of at least 8 points. On Tuesday he lost by 11 points, exacerbated by a race-deciding rout in Radford, where the late night traffic stop took place.
There's little doubt the incident reminded them of a similar late traffic stop in January 2020. A Christiansburg police officer pulled Hurst over after observing his car weave across yellow lines on U.S. 460. Hurst blew an 0.85% in a Breathalyzer field test, just about the legal blood-alcohol level limit of 0.8%, but ultimately was let go without any charges.
Town police were aware Hurst had immunity from certain types of charges while the General Assembly was in session, though they asserted this was not a factor in how Hurst's case was handled.
Hurst did not try to invoke that immunity or ask for any special treatment during the interaction.
Ballard reminded voters of that incident over and over in the lead-up to Election Day and Monday night's bizarre escapade, which Ballard called "reckless."
Hurst has been an engaged delegate, successful in getting legislation passed, which makes his foibles even more head-scratching.
Although, when it comes to candidates causing their own breaking bad news on Election Day, there have been previous contenders for this awkward crown.
On May 6, 2008, as Roanoke voters prepared to pick three council members, Roanoke Times reporter Laurence Hammack broke the news that an aggressive attack ad against first time candidate Court Rosen had been taken out under a false name. The bottom of the newspaper ad, which ran the weekend before the election, read "Paid for by Joe Smith, Citizens for Sensible Decisions."
However, there was no "Joe Smith." Incumbent candidate Brian Wishneff admitted just before the polls closed that he was "Smith." Wishneff lost his seat, barely edged out in the vote tally by Rosen.
It also turned out that Citizens for Sensible Decisions was not registered with the State Board of Elections as a political action committee, which the group was required by law to do before placing the ad.
Wishneff was ultimately fined $3,700 in civil penalties for violation of campaign law.
Political wonks with long memories might well recall a case that trumps either of these "what were they thinking?" moments.
The night of April 24, 1970, Republicans had gathered in Fincastle to select a candidate for the Virginia Senate. The nominee would almost certainly have been Del. John Hagen, who for six years had spoken for Salem and Roanoke County in the General Assembly — except that word spread among the gathered that Hagen had been arrested that afternoon in Roanoke on a grand larceny charge.
A president of three local businesses who had been named one of the Outstanding Young Men of America in 1965, when he was 30, Hagen was accused of receiving and concealing 30 stolen air conditioners in a warehouse.
In a move reminiscent of another currently beleaguered Democrat — Roanoke Councilman Robert Jeffrey, who awaits trial on four felony indictments — Hagen chose to keep his seat in the House of Delegates, despite a call for his resignation by the Roanoke Times Editorial Board.
Hagen still held office when his first trial in October 1970 resulted in a hung jury. And he was still in office in November 1971 — though he had chosen not to run for reelection — when he pleaded guilty to a misdemeanor count of being an accessory after the fact to the air conditioner theft.
The 1971 trial had been delayed in part by the immunity rule for state legislators, the same one that came under discussion in Hurst's 2020 stop. The judge, who sentenced Hagen to 30 days in jail and fined him $1,000, concluded by saying, "If you haven't learned your lesson by now, you never will."
Hagen had more lessons to learn, as only three years later he was sentenced to 2½ years in prison for selling firearms in Richmond without a dealer's permit — testimony showed he was selling rifles and shotguns in Capitol Square during the 1970 General Assembly session.
Despite his troubles, Hagen, who died in 1999, maintained a friendship with prominent Republican Rep. M. Caldwell Butler for the rest of his life.
Wishneff, whose brush with impropriety was far less serious, continued to have a role in major projects — for example, acting as a consultant for developments and renovations undertaken by Carilion Clinic and Center in the Square.
Hurst, a high profile figure even before he ran for office, can certainly bounce back into public life in some way from this strange incident that he described to his old employer, WDBJ7, as a "prank."
Voters already have ensured he won't be doing it as a delegate.