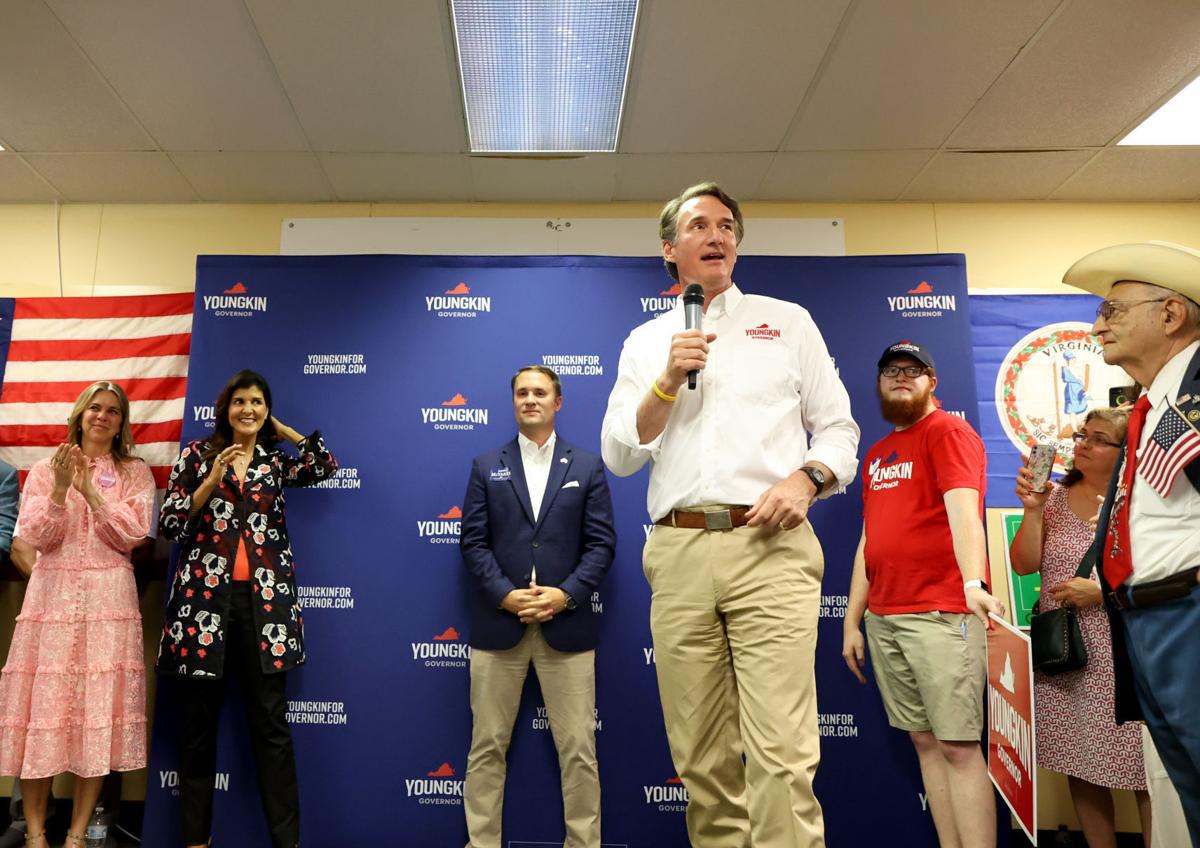 It's time for a round-up. Yee-haw!
1. The National Rifle Association did Republicans a favor by not endorsing Glenn Youngkin for governor. Democrats are trying to portray the Republican nominee for governor as a dangerous extremist, a Donald Trump acolyte. That's both easy and hard to do for the same reasons — Youngkin has no record whatsoever, so he can potentially be whatever Democrats or Republicans make him out to be.
He certainly doesn't carry himself with Trump's crude style; he carries himself more like, well, a corporate CEO, which is what he used to be when he was co-CEO of The Caryle Group, the world's second-biggest private equity firm.
Somehow Youngkin made it through the Republican nominating process — and won — without filling out the obligatory NRA questionnaire.
This, in and of itself, is remarkable. Instead the NRA simply gave Youngkin a grade of "?" Now comes the general election and Youngkin apparently has not been any more forthcoming with the NRA — or voters at large.
An NRA endorsement of a Republican candidate is usually a pretty routine thing. The fact that NRA didn't endorse Youngkin is quite noteworthy — and will complicate Democratic attempts to portray Youngkin as an extremist.
You have to wonder how much of this is calculated: Is this a case where the NRA doesn't feel Youngkin is fully in line with their agenda? Or is this a wink, wink, nudge, nudge situation where the NRA understands Youngkin's strategy to win over moderate voters and is trying to help him out?
Perhaps the only way to know for sure is if Youngkin wins and we find out then what gun laws he wants changed — if any.
2. Mississippi isn't doing Youngkin any favors. The state's attorney general has asked the U.S. Supreme Court to overturn the Roe v. Wade decision that legalized abortion nationwide. That was inevitable, but you can imagine Youngkin advisers asking: "Did they have to do that now?"
Youngkin, by his own admission, is trying to avoid talking about abortion for fear of alienating swing voters. He was infamously captured on video telling supporters in Loudoun County why he's not talking about abortion: "I'm going to be really honest with you. The short answer is in this campaign, I can't. When I'm governor and I have a majority in the House, we can start going on offense. But as a campaign topic, sadly, that in fact won't win my independent votes that I have to get."
Now Mississippi has thrust the issue front and center — and there will likely be developments on this case sometime during the fall campaign. As with guns, we don't know Youngkin's true views.
Maybe he was telling supporters the truth when he said he would "take it to the abortionists." Or maybe he was just telling them what they wanted to hear.
This is both the up side and the down side of a candidate with no record.
For better or for worse, we know everything we need to know about Democrat Terry McAuliffe because he's been governor before. That may be sufficient for some voters on both sides. But we know nothing about Youngkin.
Is he truly a moderate on gun laws, so much so that the NRA wouldn't endorse him, at the same time he's a stealth candidate who wants to "take it to the abortionists"?
That's possible but that would be an unusual ideological combination.
3. No rural representation on state's new cannabis board. Gov. Ralph Northam last week appointed members to the state board that will regulate legalized marijuana (cannabis is the preferred term) and two related boards. For something that deals with an agricultural product, it's noteworthy that there is not a single person from rural Virginia on any of the boards.
The main board — the Cannabis Control Authority — now has members from Henrico County, Midlothian, Portsmouth, Richmond and Roanoke. The latter is Bette Brand, a former deputy undersecretary for rural development in the U.S. Department of Agriculture, and an agricultural graduate of Virginia Tech.
We can't dispute the credentials of any of the five appointees — all seem eminently qualified for this new undertaking. Still, their addresses underscore a point we've been making: If rural Virginia wants a piece of the economic action from legal cannabis, it's going to have to take the initiative.
In other states, most cannabis is grown indoors and those greenhouses are typically in urban settings.
Marijuana Business Daily reports that in California — which has the nation's biggest marijuana market but also some of the most restrictive laws — more than 80% of the state's pot supply comes from indoor operations. The biggest marijuana county in California isn't in farm country but in Santa Barbara.
In Colorado, there are now so many marijuana greenhouses in Denver that at one point they accounted for 3.9% of the city's electricity usage. There are good economic — and biological — reasons from growing cannabis indoors.
Producers can control the environment and grow crops year-round. There's also the security aspect. And it makes sense to locate production near the consumers.
In Virginia, that would mean a lot of marijuana greenhouses in the urban crescent. If that happens, that's a missed economic opportunity for rural Virginia. And by economic opportunity, we mean some share of the estimated 11,000 to 18,400 jobs that legal weed is expected to create in Virginia. It would be nice to have someone advocating for rural Virginia.
4. Virginia's "policy" on renaming things makes no sense. The state community college board told Patrick Henry Community College in Martinsville to change its name on the grounds that Henry — the famous advocate for American independence — was a slave-owner.
But then Northam declared June 29 to be Patrick Henry Day. So which is it?
Is Henry to be honored or dishonored?
Maybe there's some philosophical distinction between honoring Henry for a single day through a routine proclamation that in normal times wouldn't get any attention at all — and having his name emblazoned on a state institution.
If so, though, it would be nice if someone could articulate just what that distinction is, because otherwise it looks as if the state's governor and a board of the governor's appointees are acting at odds with one another.
In the end, the board approved the college renaming itself Patrick & Henry Community College, after two of the localities it serves.
Those localities, though, are named for Patrick Henry, so the college still is indirectly named after him.
We ask, as we've asked before, why is it OK for counties to be named after someone that we have deemed inappropriate to honor in a school's name?