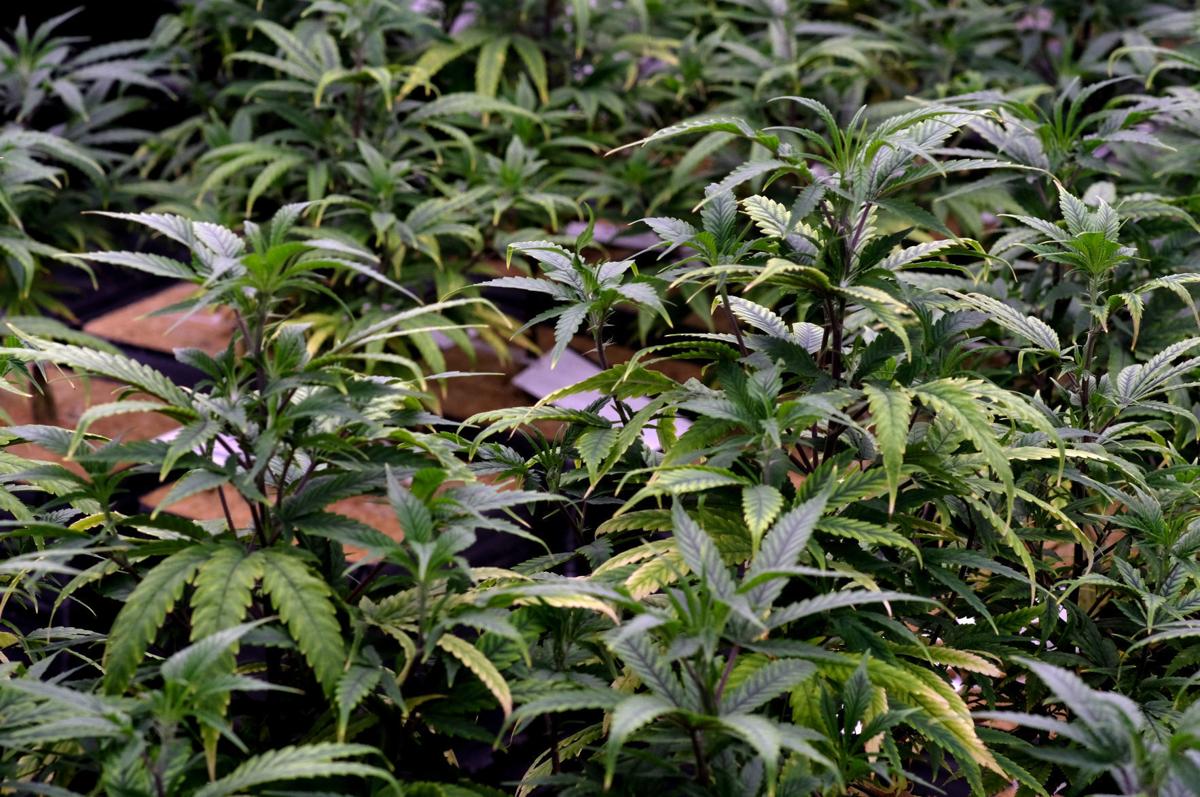 Today is the 20th day of the fourth month, or 4-20, which makes today 4-20 Day. If you think that's just a chronological reference, you may not be ready for what's about to come. The phrase "4-20" has become pop culture shorthand for smoking marijuana, which dates back to five high school students in San Rafael, California, in 1971 who met at that time every day to smoke their weed.
Now Virginia is in the process of legalizing marijuana, something that would have been unthinkable in 1971 or, for some, even 2021. It's happening, though. Starting July 1 you can legally plant four marijuana plants for your personal use (some restrictions apply), and Virginia will legalize a retail market for marijuana in 2024.
Consumer advice for future marijuana gardeners: The website Grow Weed Easy says it takes three to five months to grow marijuana (rest assured we had to look this up; this is not knowledge we are personally acquainted with). That means if you plant some seeds on July 1, you might have your own personal crop before the first frost in autumn. Question: Which county fair will be the first to offer a blue ribbon for marijuana-growing?
This is all rather mind-boggling, even if you haven't had a toke. The politics of pot have changed quite dramatically. In 2012, Colorado and Washington became the first states to legalize the recreational use of cannabis (the scientific term that some prefer). Now 17 states have either done so or, like Virginia, are in the process of doing so. That's a rate of change that's faster than another social change we've seen — same-sex marriage. The difference is that same-sex marriage saw some strong pushback from the right, while marijuana has been legalized even in some conservative states.
The leads us to today's main thought. Virginia's new law contains a curious provision that sets us apart from many of the other states that have legalized marijuana. Even in pot-happy states such as Colorado, Washington and California, most localities still ban retail sales and many ban cultivation. Virginia's new law allows cultivation everywhere and gives localities just one chance to ban retail operations. They can only do so through a local referendum on prohibition in 2022. If voters don't ban retail sales that year, then that locality is open for retail sales come 2024. (The rationale is that companies planning to set up stores need to know in advance where they can and where they can't; that regulatory process will get underway in 2023).
This is a clever provision. Notice that the law requires a referendum. This isn't something a city council or board of supervisors can do on its own. We suspect lots of localities, especially those in rural areas, will feel an obligation to call a referendum and give voters a choice. We also suspect a lot of those voters, even in conservative areas, will vote down those prohibition questions.
We base that prediction on two things. First, virtually all liquor-by-the-drink referenda pass, no matter how conservative the locality. Cannabis isn't a cocktail, but it's still a useful comparison. Voters even in conservative areas tend to be pretty libertarian when it comes to their neighbors' personal indulgences (or even their own). Second, legal marijuana in other states has proven surprisingly popular with many conservative voters. In 2020, voters in two bright red states — Montana and South Dakota — approved ballot measures to legalize recreational marijuana. In Montana, nearly 57% voted in favor. In South Dakota, 54% votes in favor.
If voters in states that conservative are voting in favor of legalizing weed, why would we expect conservative voters in rural Virginia to vote against a marijuana store in a state that's already legalized pot?
Let's take a closer look at South Dakota, where the vote was closest. Donald Trump took 62% of the vote while legal marijuana took 54%. Now let's apply this math to Virginia. What happens if we assume that every Virginia locality that voted up to 62% for Trump will also vote 54% for a marijuana store?
It means, of course, that all that localities that voted Democratic would get a marijuana store — so Roanoke, Montgomery County, Radford, Lexington, Lynchburg, Martinsville, Danville and Staunton, plus all the metro areas in the urban crescent. But so would some otherwise strongly conservative localities. Salem (59%), Roanoke County (60%) and Covington (61%) would presumably vote in favor of pot stores. So would Buckingham County (56%) Halifax County, Mecklenburg County and Nottaway County (all 57%) and Charlotte County (62%), all in Southside. So would Waynesboro and Nelson County, both of which voted 52% for Trump.
Now notice that in South Dakota 62% for Trump translated into 54% for legal weed — but weed only needs 50% plus one to win. We can't swear by this math but for guesstimate purposes, let's look at counties that voted up to 66% for Trump — and figure those four extra percentage points for him translated into four fewer for marijuana. If we're right, then Henry County (64%), Amherst County (65%) and Rockbridge County (65.5%) would also vote for a marijuana store. Floyd County (66%) might. (No jokes about hippies in Floyd County allowed here; we're just doing math).
That would still mean that no locality in Southwest Virginia west of Radford would vote for a marijuana store. Neither would some big chunks of Southside. The difference is that Southside smokers would be able to find a marijuana store a county or so away. Southwest smokers would not; some might have to drive hours to get their legal joints.
Our math here isn't precise and is subject to surprises; voters are only partially predictable. Some counties in South Dakota don't follow our "rule." Meade County voted 72% for Trump and 52% for weed while Jackson County voted 66% for Trump yet voted down weed. Go figure. If Virginia counties were more like Meade County, then Buena Vista (67.5%), Bristol (69%), Pittsylvania County (69.5%), Pulaski County (70%), Franklin County (70.5%), Campbell County (71%), Alleghany County (71.5%) and Botetourt County (72%) might vote for marijuana stores and Appomattox County (72.5%) Bedford County (73%) aren't out of the question. But all the coal counties and the localities from Washington County to Wythe County would be, because their Trump vote ran from the high 70s into the low 80s.
If you're thinking of starting a marijuana store, now you know where your best prospects are (and aren't). For marijuana enthusiasts elsewhere, you might need to start gardening.